How to make a supersports-car out of a sportscar?  9ff demonstrates it with its new 9ff GTurbo850. The basis car is nothing less than a Porsche 997 GT or Porsche 997 GT3 RS. Vehicles, which already have an engine power of 435 HP with the 997 GT3 and 450 HP in case of the 997 GT3 RS. The concept of these cars follows the requirements of motor sport.
The requirements and expectations of a tuner are accordingly high. 9ff has accepted this challenge and put a Bi-Turbo conversion to the engine. The result is a maximum power from up to 1000 HP. Only the highest-quality materials are used.  For example titanium connecting rods an extra strong forged pistons.  However, only the many years of experience and competence from 9ff in the areas of development, construction and set-up of high-end engines make this engine power possible.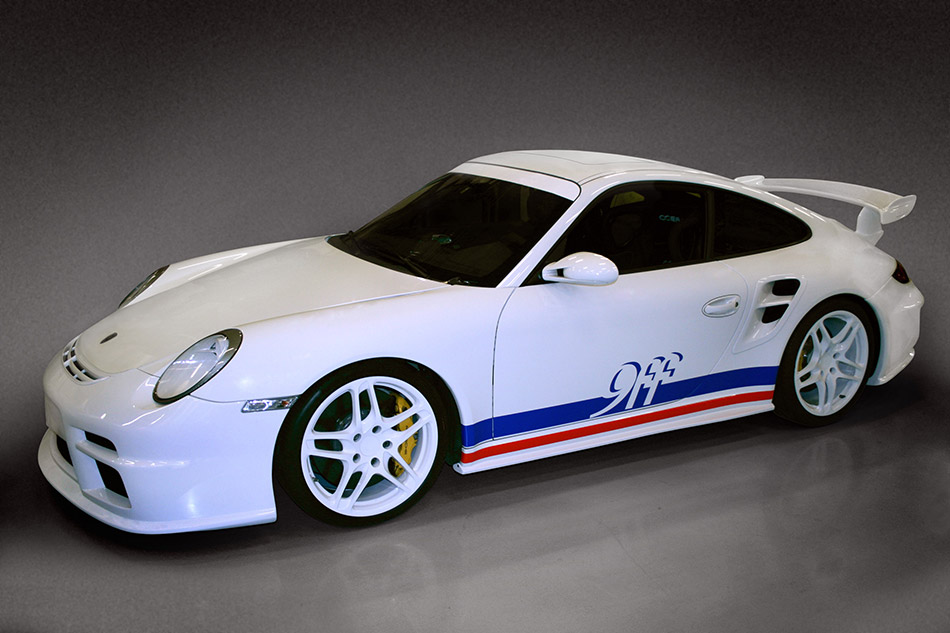 As a result,  9ff offers the following conversions:
9ff GTurbo750: 750HP / 850 NM torque
9ff GTurbo850: 850HP / 910 NM torque
9ff GTurbo1000: 1000HP / 940 NM torque
The fact that these vehicles belong to the super sports cars is also demonstrated by their performance
data:
9ff GTurbo850 9ff GTurbo1000
0-100km/h 3,0 sec. 2,9 sec
0-200km/h 8,9 sec. 8,2 sec.
0-300km/h 18,7 sec. 16,5 sec.
In addition, top speeds according to gear translation up to 392 km/h are facts which make a car to a real super sports car.  In the car body the following adaptations were carried out:
For a better cooling effect of the intercooler, the rear fenders are equipped with air intakes. 9ff put air outlets in the front fender in order to reduce the pressure in the wheel wells at high speed.  But merely engine power is not enough for 9ff. 9ff presents in the 9ff GTurbo850 also for the first time, the new aerodynamics kit in 9ff GTurbo design.
The kit consists of a front apron with LED indicators, side skirts and a rear apron. The rear apron is available in two variations. Once as a variation for the middle exhaust system of the GT3, GT3RS and 9ff Speed9. And the second variation for left / right exhausts systems for all other 997. Naturally we also offer a solution, for the conversion from the side exhaust system to the left / right exhaust system.
The price of the aerodynamic kit 9ff GTurbo design is Euro 8.900,00 (tax, mounting and painting excluded).  Another highlight is the new light alloy wheel in sporty 5 double spokes design. The 9ff GTurbo design rims comes in the dimension 8,5x19" / 11x19" and fits with the regular tires. Price for a set is Euro 4.980,00 (tax, painting excluded).
As another option 9ff offers the 9ff GTurbo design rims with a central lock system. Price for a set of the 9ff GTurbo design rims with central lock is Euro 5.950,00 (tax, painting excluded).
Source: 9ff
Gallery:
9ff Porsche GTurbo (2010)