The word might have spread that the term standard is missing from the vocabulary of VOS company seated in Neckarwestheim. Even for assumingly perfect vehicles of euphonic names the Baden-Württembergers and their head Michael KELLER do have improvements at hand, may it be regarding the casing or the engine. Perfection is always priority in Neckarwestheim without restricting road capability in any way.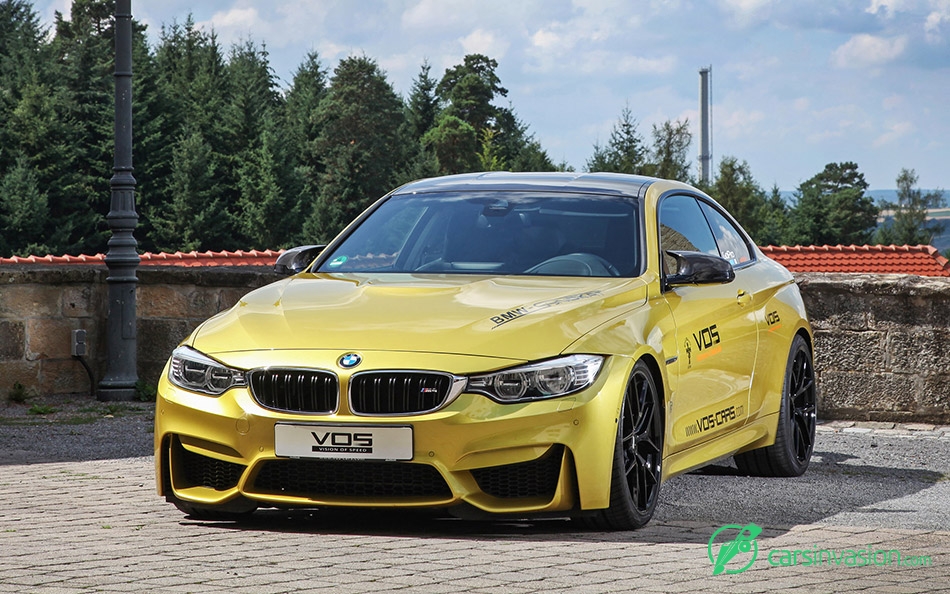 This time the VOS-team picked a BMW M4 to let it shine with all its qualities with their VOS-Performance. First there is the performance improvement of the 3-litre inline six-cylinder to 550 PS (= 404 kW), 710 Nm torque and a Vmax of 310 km/h at the price of 2.490 Euro instead of the usual 431 PS (= 317 kW), 550 Nm and (electronically limited) 250 km/h Vmax. A Clubsport chassis version 3 was integrated in cooperation with KW Suspensions which raises costs of 4.199 Euro plus installation. 4.890 Euro is what you have to pay for an adequate stainless steel exhaust system with valve-control "Made in Germany", consisting of middle silencer and rear muffler (incl. TÜV). The brake system of the front axis is endued with a six-piston-calliper (VOS by Brembo) as well as two-part 380x34 mm-racing-brake-discs while the back axis has four-piston-callipers (VOS by Brembo), also with two-part racing-brake-discs of 380x28mm. The brake-systems on the front and the back will cost 5.425 Euro and 4.425 Euro.
The carbon mirrorcaps will cost 599 Euro, the carbon rear diffuser will cost 799 Euro. This leaves the exiting high gloss set of wheels of 9x20 and 10.5x20 by BBS along with Vredestein-tyres of 255/30-20 and 275/30-20 at the price of 4.595 Euro. Also the parts offered by our cooperation partners - which are (in alphabetical order): Akrapovic, BBS, BMC, DTE Systems, H&R, KW, OZ Racing as well as Vredestein - are available at VOS.
Source: VOS 
Gallery:
VOS BMW M4 (2015)