The Fiat Uno Cabrio Concept, even though only for studies, is the first that experiences the two-door body of the new Fiat Uno, which shortly will be at the market's disposal. This flexibility in terms of conception points towards innumerous possibilities that an advanced project, like the one of the new Uno, can allow.
With the removal of the roof, and consequently the rigid part of the body, the prototype had to receive reinforcements in various parts of its structure. It was a detailed work developed by Fiat Automóveis engineering, in the sense of avoiding torsional movements of the body causing discomfort and unsafeness.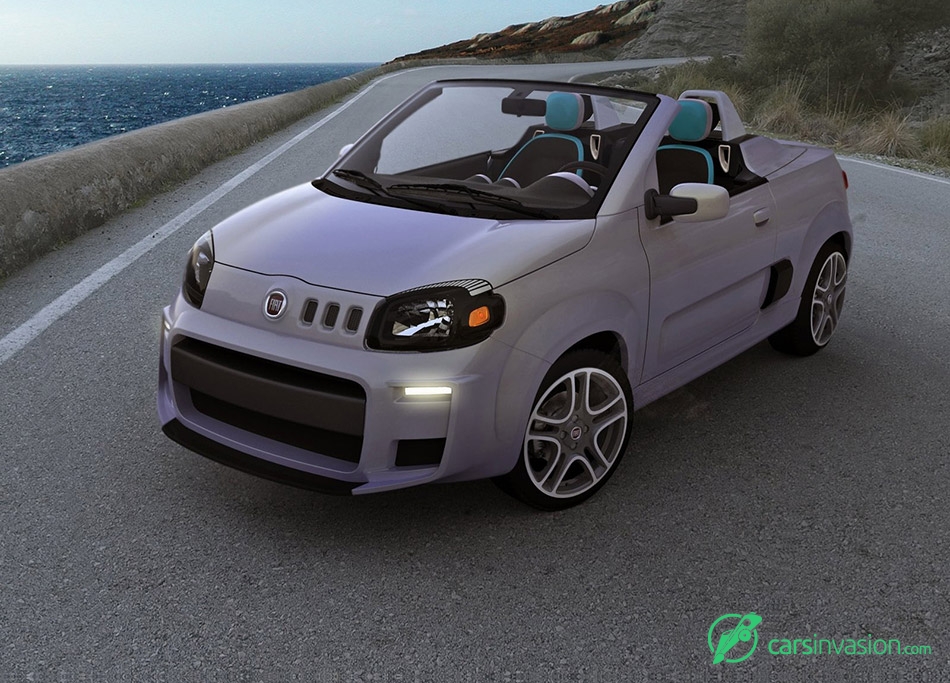 Following the aesthetic proposal defined by the project, Fiat Uno Cabrio Concept received bumpers with new design, which provided a sporty look. The front was characterized by large air intakes and the presence of a pronounced spoiler.
All these cares with the aesthetic change suggests that the automobile has potent engine, which offers high performance. But, at the same time, which continues with the irreverence of the set of blocks that characterize the new Uno. The tail lights and brake lights - positioned at the posterior part of the headrests - are illuminated by LEDs, complementing the automobile's look.
Inspired in the vintage concept, Fiat Uno Cabrio's interior received a series of specific components, like speaker screen, weather controls, air vents, pedals and a chrome-plated fire extinguisher. Likewise allusive to the classic race car models, the steering wheel has three radii, the shift stick knob brings metallic rod and the seats have shell format with four-point safety belt, which sustain better the body of the occupants in situations of sportive driving.
Still internally, the frame of the panel and the central console were adapted to incorporate new measuring instruments: a turbo pressure reader, positioned together with the instrument panel, and two gauges for marking of the oil and fuel pressure, located on the central console. All received new text designs.
Moving between the contemporary desire and the vintage concept, the solution of the interior with sophisticated and punctual aluminum elements and elegant finishes like the new special bicolor leather coverings with quilting stitches and application in matelassé gave the model the merging of sportiveness, velocity and sophistication.
The engine chosen to propel the Fiat Uno Cabrio Concept is the same one as of Punto T-Jet, the Turbo 1.4 16V engine, with 152 hp power, which is capable of carrying it to a maximum speed close to 200 km/h.
To make the new look compatible with the great efficiency, the model received wheels with 17-inch rim and profile 40 tires. The suspensions idealized for Fiat Uno Cabrio Concept are inharmony with the sportiveness suggested by the potent engine and by the set of wheels and tires of a high performance automobile. An invitation to fun and leisure.
Source: Fiat