From the California automaker Fisker Automotive comes the Fisker Karma, the world's first true Electric Vehicle with extended range (EVer™) and a radical expression of what is possible in the automotive world.
Loosely translating from Hindi, Karma implies good deeds are rewarded. The Fisker Karma allows drivers who appreciate style and performance to own and enjoy a car that is also environmentally conscious, one that achieves fuel consumption and emissions performance that is simply beyond the capability of today's conventional luxury automobiles.
Combining striking, elegant design with high performance, ultra-low fuel consumption and zero emissions on demand, the four-door, four-seat Fisker Karma embodies the brand's commitment to creating Uncompromised Responsible Luxury™ vehicles that deliver Pure Driving Passion.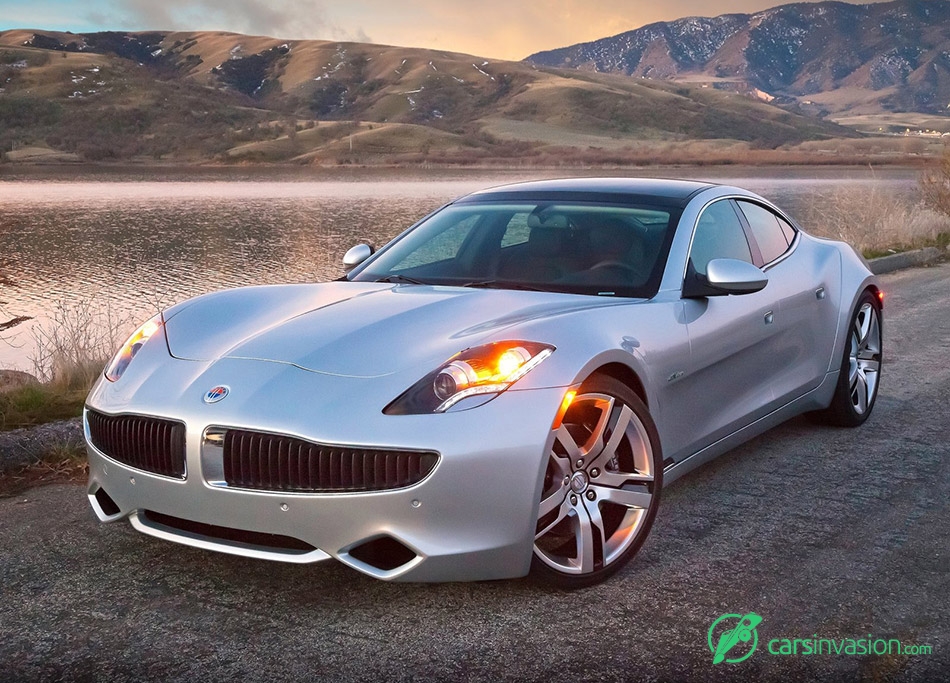 The Fisker Karma - an all-new car with all-new technology from an all-new company - arrives in showrooms this summer, setting a new benchmark for time-to-market after being unveiled as a concept in 2008 and creating the Premium Luxury EV segment.
With its proprietary EVer™ powertrain - inspired by a military stealth vehicle - the Fisker Karma can accelerate from zero-to-60 mph in just 5.9 seconds, yet achieve the equivalent of more than 100 miles per gallon and 83 g/km CO2 emissions in real-world driving on an annual basis.
The Fisker Karma can run purely on electric power supplied by a rechargeable lithium-ion battery for up to 50 miles (80 km); after that, a 175 kW generator driven by an efficient, 2.0 liter, direct-injection, turbocharged gasoline engine extends the range an additional 250 miles (403 km). The Fisker Karma's total range between recharge/refuel can reach 300 miles.
With a U.S. Manufacturer's Suggested Retail Price (MSRP) of $95,900 before federal tax incentives of $7,500, and a €85,500 suggested retail price in Europe, the world-class Fisker Karma will be competitive with more conventional luxury sedans such as the BMW 750i AcitveHybrid, Mercedes-Benz S400 Hybrid, Porsche Panamera S and Audi A8 TDI. Fisker Karma also offers a tremendous value over such super sedans as the $120,000 Maserati Quattroporte and $200,000 Aston Martin Rapide.
With incredible economy, and the ability to drive tailpipe-emission free, the Fisker Karma is the only truly responsible choice for luxury car buyers.
The Karma is Fisker Automotive's first car. It is built according to the company's Sustainable and Accountable Design™ philosophy, which represents a dramatic leap forward for the entire auto industry.
Fisker understands that developing, building, marketing and disposing of cars is an incredibly energy- and resource-intensive proposition. As a new company starting with a clean slate, Fisker sees great opportunity to improve this process and reimagine what the world can expect of its automakers.
By adamantly pursuing ways to raise efficiency and reduce environmental impact - including its carbon footprint - across the entire value chain, Fisker Automotive is striving to be the automaker most dedicated to sustainability and accountability.
The Fisker Karma and all future Fisker vehicles will be sold and serviced through a global network of established, reputable, independent retailers. In the U.S., 45 locations have been identified, with a similar number planned for European markets.
Fisker's European retail network is being developed and will be managed by importers like the Emil Frey Group in Zurich, Switzerland, and Nellemann in Copenhagen, Denmark. Fisker Italia in Merano, Italy, and BD Otomotive in Istanbul, Turkey, round out the company's presence on the continent. Fisker also entered into a non-exclusive distribution agreement with China Grand Automotive in Shanghai in December, 2010.
Significantly, the Fisker Karma is the first American-designed and engineered luxury vehicle specifically developed to appeal to world markets. It is the only luxury sedan in the world that meets future fuel consumption and emission requirements, making it suitable for any international city.
Other variants of the Fisker Karma, including a convertible, are planned, and Fisker is preparing to build a second, lower-priced model line in a 3.2 million square foot (297,000 m2) assembly plant the company is refitting in Wilmington, Delaware.
Fisker's approach to Uncompromised Responsible Luxury™ goes well beyond minimizing fuel consumption and tailpipe emissions. At every stage of engineering, production and marketing - even in the furnishing of company facilities - Fisker employs reused or renewable materials and the lowest-impact technologies available.
As one example, the three types of interior wood trim available in the Fisker Karma are sourced from timber reclaimed from California forest fires and windstorms and raised off Michigan lake bottoms. No live growth is ever harvested for this purpose. Also, 'Bridge of Weir Low Carbon Leather™' interior trim is made with a uniquely low-impact process in an energy self-sustaining facility.
True EVer™
The Fisker Karma is the first and only true production Electric Vehicle with extended range (EVer™). Simply put, that means the Karma is driven solely and at all times by electric traction motors. An on-board range-extending gasoline engine drives a generator to power the motors as needed; there is no mechanical link between the internal-combustion engine and the drive wheels.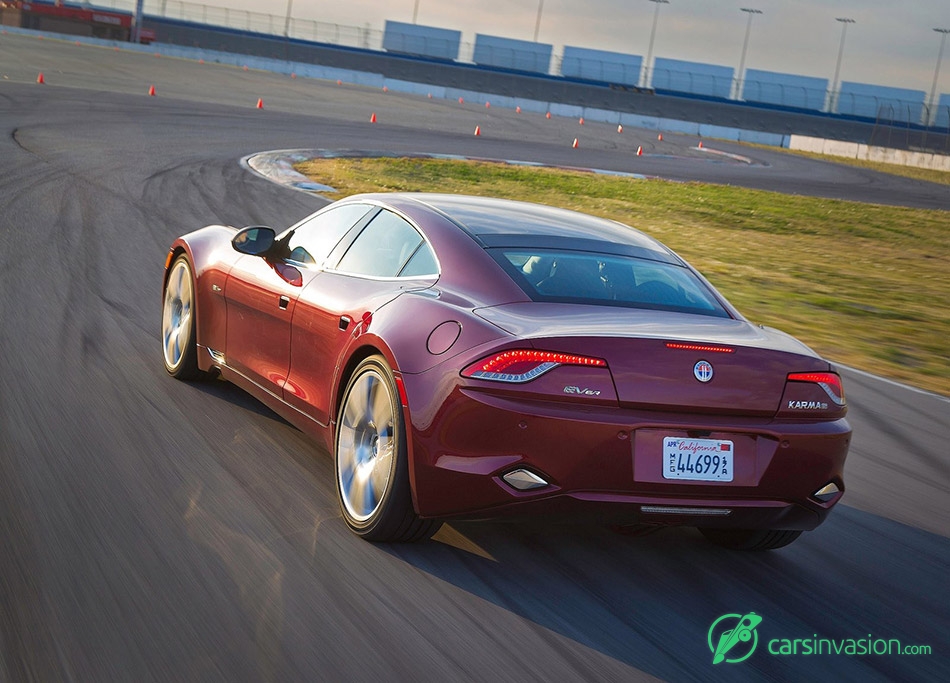 This exclusive EVer™ powertrain was inspired by a high-performance stealth vehicle created for U.S. Military special operations. At its heart is a 20 kWh rechargeable lithium-ion battery developed by Fisker Automotive's strategic partner A123 Systems of Watertown, Massachusetts. State-of-the-art Nanophosphate™ technology maximizes energy, power, reliability and safety.
Running on the battery alone - which can be charged in about six hours using Fisker's available 220V wall charger - the Fisker Karma can cover 50 miles (80 km); after that, the range extender - a front/mid-mounted gasoline engine/generator set - provides another 250 miles of range by supplying supplemental power to dual rear-mounted electric motors, for a total range of 300 miles (483 km).
The Fisker Karma contributes to sustainability even when parked, with the world's largest and most powerful automotive solar panel integrated into its roof, as standard. It is the only solar installation on a production vehicle that collects energy to be stored. Enough energy can be collected by the roof over the course of a year to power the Fisker Karma for nearly 200 cost- and emission-free miles.
Two Driving Modes
The Fisker Karma is also the first and only car that allows the driver to manually select all-electric or hybrid-electric drive modes on demand. The default Stealth mode maximizes efficiency, giving the car its greatest range on battery power before activating the gas engine-driven generator to sustain battery charge. In Stealth mode, the Fisker Karma can accelerate from zero to 60 mph in 7.9 seconds and achieve a top speed of 95 mph (153 km/h).
More telling of the Fisker Karma's acceleration capability and feel, however, is the massive 981 lb.-ft. (1,330 Nm) of peak torque available instantaneously (from zero rpm). By comparison, most conventionally-powered luxury sedans develop less than half of that torque and at a much higher rpm. Because the Karma is always driven by its electric motors and a single-ratio transmission/differential combination, the driver can always feel and enjoy powerful, seamless, linear acceleration.
A single pull on the Fisker Karma's left-hand steering wheel paddle engages Sport mode. Now the gasoline engine drives the generator to provide additional current that supplements that from the battery. This is enough electricity for 403 total system horsepower, allowing the Karma to accelerate from zero to 60 mph in just 5.9 seconds and achieve a top speed of 125 mph (201 km/h).
Because of the electric motors' torque characteristics, the Fisker Karma will feel even quicker.
Sport mode conserves, and in certain circumstances replenishes, battery charge. The driver can switch back to Stealth mode at any time; this can be useful when arriving in low-emission zones, which are being designated in many cities around the world.
The Fisker Karma also features a fully-blended regenerative braking system. Regenerative braking captures kinetic energy that would otherwise be wasted as brake-rotor heat, and feeds it back into the battery. Using the right-hand steering wheel paddle, the driver can operate Hill Mode to vary regenerative braking effect in three steps; this unique function provides an effect similar to downshifting a conventional car's transmission to offer varied levels of speed control. Hill Mode is ideal for downhill grades and can be used to shorten braking distances.
World Class Ride and Handling
In all aspects of performance, the Fisker Karma is designed to be a true driver's car, one dedicated to the concept of Pure Driving Passion. Its proprietary, advanced aluminum space frame incorporates new levels of rigidity and strength that give the Karma world-class ride and handling characteristics.
Fisker Automotive's engineering team designed the Karma's space frame around the car's unique EVer™ powertrain, filing for multiple patents in the process.
Housing the car's battery pack in a structural tunnel running down the car's centerline helps endow the Fisker Karma with a very low center of gravity, and also contributes to the car's ideal weight distribution.
As a result, the Fisker Karma drives more like a midsize sport sedan than a full-size luxury sedan. In addition, the Karma does not need expensive, complex and power-robbing suspension aids to deliver flat cornering.
The four-wheel independent SLA suspension, also employing aluminum components, has been specially tuned to work with the first standard 22-inch aluminum wheels on a production car.
The Fisker-designed Circuit Blade™ wheels first appeared on the original concept vehicle in 2008. Electro-hydraulic, variable-ratio and variable-assist power steering is tuned for optimum control and feel.
The Fisker Karma's space frame also forms the foundation of occupant safety - and protection for the sealed batteries - helping the luxury sedan to exceed global crash protection standards.
Eight advanced airbags, Antilock Brakes (ABS), traction control (TCS), Electronic Stability Control (ESC) and Panic Brake Assist (PBA) are all part of the package.
Brembo® 6-piston monoblock front brakes and 4-piston rear brakes provide incredible stopping power, bolstered by the regenerative braking.
Timeless Styling, Revolutionary Design
Fisker Automotive is a new company, without entrenched attitudes, where designers and engineers have the liberty to pursue uncompromised solutions to previously unsolved problems. The sculptural quality of the Karma's body shape is one result of that liberty.
The Fisker Karma's elegant and striking exterior design incorporates the dramatic proportion that is signature Fisker style. In his previous career positions, company CEO Henrik Fisker designed some of the most iconic automobiles of the modern era, including the BMW Z8 roadster and the Aston Martin DB9 and V8 Vantage.
True to Fisker Automotive's goal of bringing the Karma concept to reality in its original form, the production car retains, and even adds to, all of the original concept's elegant design, powerful stance and unique detailing.
A sedan with coupe-like appearance, the Fisker Karma exudes a distinctly athletic presence highlighted by a long hood and short deck, a low roofline, wide stance, pronounced fenders and standard 22-inch wheels.
The Fisker Karma is built on a long 124-inch (3,160mm) wheelbase, yet short overhangs keep overall length to 196.7 inches (4,996mm). The car's 53.4-inch (1,330mm) height is as low as some sports cars, though interior room is comfortable for four. These dimensions are nearly identical to those of the original Fisker Karma concept car.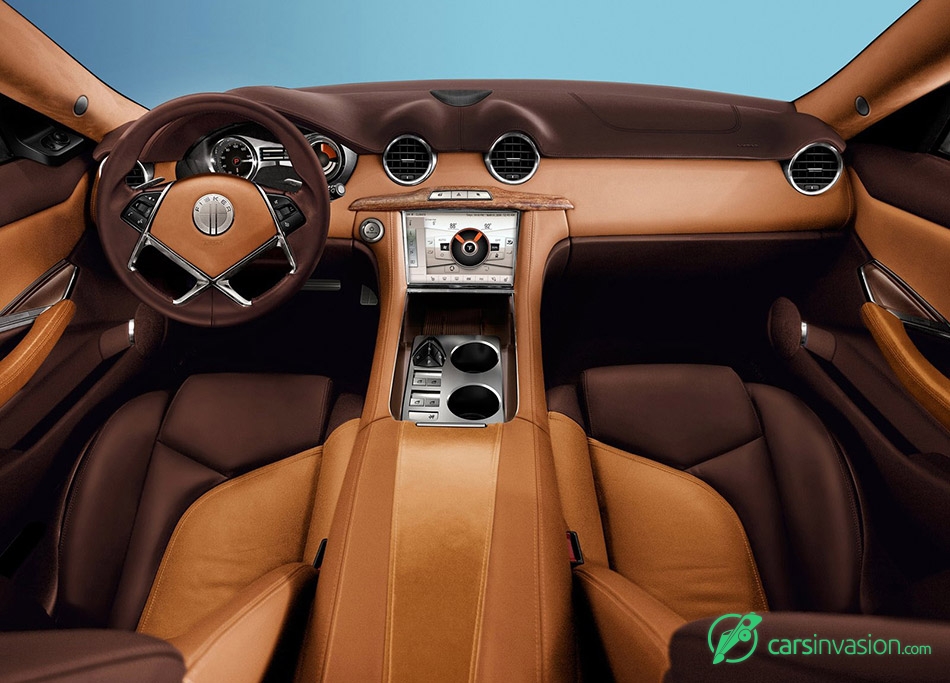 Sustainability is Beautiful
Fisker Automotive's Sustainable and Accountable Design™ philosophy is apparent throughout the Fisker Karma's cabin, exemplified by the use of reclaimed, recycled and reusable materials.
Fisker leads the luxury category by offering the most sustainability-conscious interior in its top-line EcoChic™ package. The exclusive EcoChic™ series replaces leather with a high-grade textile and Premium EcoSuede™ trim.
Leather for the mid-line EcoSport™ model is sourced from the world's first energy-self-sufficient, closed-loop leather manufacturing plant; both gas and electricity are generated on-site from by-products of the leather making.
Hides are purchased exclusively from suppliers that adopt the Five Freedoms set of principles for humane animal treatment. The processing is low-pigmentation and chrome-free, greatly reducing environmental impact. Yield is the highest in the industry, which means fewer hides are used. Each Karma EcoSport interior has its own unique texture and appearance; no two are the same.
Optional Diamond Dust™ paint - another world first - contains a 35 to 55 percent recycled glass flake mixture, and the water-based paint process releases no volatile organic compounds (VOC). This luxurious paint option leads the industry in reflectivity, shine and gloss.
As in the original concept car, the production Fisker Karma has a four-seat cockpit with a large center console running from the dashboard to the rear seatback. Fisker designers took inspiration from both nature and classic sports cars to craft the Karma's interior. The lines of shifting desert sand dunes inspired interior shapes; metal and glass-inspired materials add depth and clarity. The Fisker Karma's chrome-bezel digital instrumentation, reminiscent of the finest Swiss timepieces and classic sports car instrumentation, focuses on ease of use.
Easy-to-Use Technology
The centerpiece of the Karma's cabin is the Fisker Command Center™, which uses an industry-first 10.2-inch (250 mm) haptic force-feedback touch-screen that consolidates controls for climate, audio, standard navigation, telephone and other vehicle systems.
It nearly eliminates the engineering, tooling, assembly and user complexity associated with the dozens of buttons found on traditional dashboards, and greatly reduces associated waste at the end of the vehicle's service life. Inputs are met with instantaneous tactile, audio and visual feedback that enables the driver to confidently confirm system commands.
The full-featured Fisker Command Center™ also offers iPod® integration and Bluetooth® phone pairing. In addition, the Fisker Command Center™ can display vehicle power flow from the battery pack, engine-driven generator and regenerative brakes, as well as energy gain from the integrated solar roof panel.
Operational modes are accessed via fixed icons; individual controls within each mode instantly appear on the touch screen. There is no computer paradigm to learn, nor menus to navigate.
Quality Build
Assembly for the first-generation Fisker Karma has been contracted to Valmet Automotive in Finland, and reputable Tier 1 OEM suppliers. Valmet has built more than one million quality cars for various automotive brands since 1969. It currently builds the Porsche Boxster and Cayman sports cars.
The Fisker Karma comes standard with a New Vehicle Limited Bumper to Bumper Warranty for 50 months or 50,000 miles (100,000 kilometers), whichever comes first.
Source: Fisker
Gallery:
Fisker Karma (2012)