At the 2004 North American International Auto Show, Ford introduced a completely redesigned Mustang (code named "S-197") on an all-new D2C platform for the 2005 model year. Exterior styling was designed by Sid Ramnarace, drawing inspiration from 1960s Mustangs. The car featured an aesthetic that Senior Vice President of Design J Mays referred to as "retro-futurism."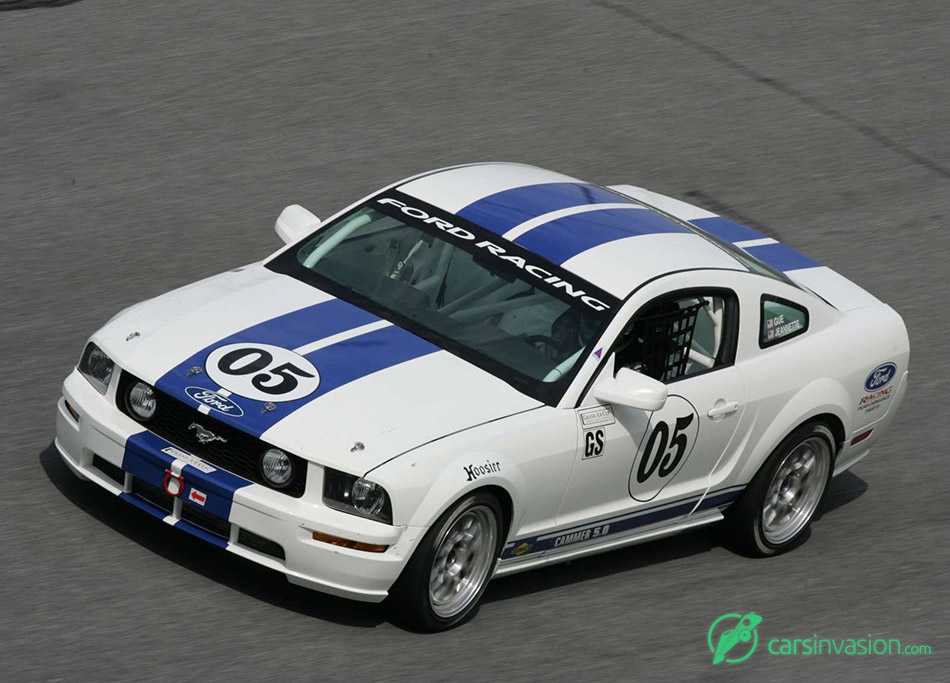 The base Mustang uses a 210 hp (156 kW) Ford Cologne V6 engine. The GT has a 300 hp (224 kW) 4.6 L 3-valve Modular V8 with variable valve timing. Both motors seem to be underrated. Muscle Mustangs and Fast Fords recently dynoed a V6 automatic at 182 rwhp, which is about 235 hp at the flywheel. 5.0 Mustangs and Super Fords recently dynoed a new GT to 287 rwhp and 305 rwtq. Thats about 340 horsepower and around 360 lb.ft of torque at the flywheel, and is enough to propel the new GT's through the 1/4 mile in the lower 13-second bracket with some good shifting. It retains the traditional but controversial live rear axle,no doubt for its reliability in drag racing, and offers improved handling and ride. Modern production facilities and computer aided design have allowed the new Mustang to have 100% more structural rigidity over its predecessor, and have greatly increased build quality as well as fit and finish. One particularly interesting feature is optional changeable color gauges.
Shortly after its launch at the North American International Auto Show in January, Ford started production of the Mustang convertible, available with either the V6 or V8 engine. The 2005 Mustang convertible was designed from the ground up to deliver a more rigid body structure without additional weight. Ford engineers designed a z-fold top that gives it a finished appearance with the top lowered.
The new Mustang was an immediate sales success for Ford—half of all "sports" cars sold in the United States are now Mustangs.[citation needed]
The 2006 model year offered a new "Pony Package" for the popular V6 model, which included upgraded suspension, Bullitt-style wheels, wider tires, unique grille treatment with road lamps, rear deck spoiler, special door striping and special emblems. Dozens of new aftermarket products are being released for the new Mustangs. The V6 Mustang had scarce aftermarket support in the past, but that all changed with the S-197 Mustang, which now has an array of V6 aftermarket support. Carroll Shelby has built special editions of the V6 with Paxton Superchargers and a 350 hp rating.
Source: Wikipedia
Gallery:
Ford Mustang FR500C (2005)