The sleekly styled Honda FCEV Concept, made its world debut at the 2013 Los Angeles International Auto Show. The concept expresses a potential styling direction for Honda's next-generation fuel-cell vehicle anticipated to launch in the U.S. and Japan in 2015, followed by Europe.
Showcasing exciting and modern styling, the Honda FCEV Concept features sweeping character lines underscored by an ultra-aerodynamic body. The Honda FCEV Concept also delivers ample passenger space and seating for 5-passengers thanks to new powertrain packaging efficiencies.
"The Honda FCEV Concept hints at Honda's future direction for fuel-cell vehicles," said Tetsuo Iwamura, president and CEO of American Honda Motor Co., Inc. "While this car is a concept, it points toward a very real future."
Next Generation Honda Fuel Cell-Electric Vehicle
Honda's next generation fuel cell-electric vehicle launching in 2015 will feature the world's first application of a fuel-cell powertrain packaged completely in the engine room of the vehicle, allowing for efficiencies in cabin space as well as flexibility in the potential application of FC technology to multiple vehicle types in the future. Significant technological advancements to the fuel-cell stack have yielded more than 100kW of power output. The power density is now 3kW/L, an increase of 60 percent, with the stack size reduced 33-percent compared to the FCX Clarity. The next generation Honda FCEV is anticipated to deliver a driving range of more than 300 miles with a quick refueling time of about three minutes at a pressure of 70 MPa.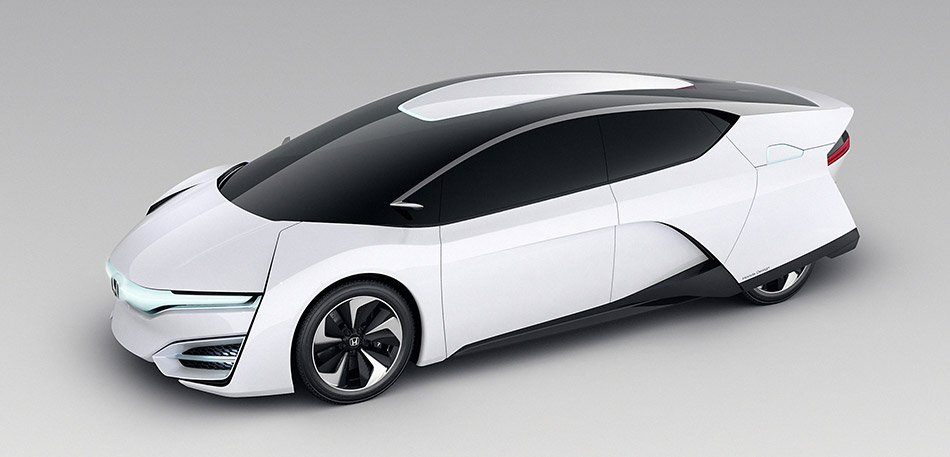 "The Honda FCEV Concept not only sets our direction for our next generation fuel-cell vehicle in 2015, but for future improvements in electric drive technology," said Mike Accavitti, senior vice president of American Honda Motor Co. "The advancements we are making are substantial, meaningful and very real."
Honda Fuel-Cell Leadership
Honda has led the industry for nearly two decades in the development and deployment of fuel-cell technology through extensive real world testing, including the first government fleet deployment and retail customer leasing program. Honda has made significant technological advancements in fuel-cell operation in both hot and sub-freezing weather, meeting stringent emissions requirements and safety regulations since the introduction of its first generation fuel-cell vehicle, the FCX in 2002.
Honda began leasing its first-generation FCEV, the Honda FCX, in 2002 and has deployed vehicles in the U.S. and Japan, including its successor, the FCX Clarity, which was named the 2009 World Green Car. Honda has delivered these vehicles to individual retail consumers in the U.S. and collected valuable data concerning real-world use of fuel cell-electric vehicles and hydrogen stations.
Honda's current fuel cell-electric vehicle, the FCX Clarity, launched in July 2008 and was quickly heralded as a technological breakthrough in the areas of design, packaging and efficiency. As the world's first dedicated fuel-cell vehicle, the FCX Clarity features a striking silhouette and a low-slung cabin. With the V-flow fuel cell stack positioned down the center of the vehicle and the electric motor located in the front of the vehicle, Honda was able to maintain the Clarity's futuristic styling while delivering 240 miles of driving range.
In the effort to speed the advance of a refueling infrastructure, in May 2013, American Honda joined the public-private partnership H2USA, which brings together automakers, government agencies, hydrogen suppliers, and the hydrogen and fuel-cell industries to coordinate research and identify cost-effective solutions to deploy infrastructure that can deliver affordable, clean hydrogen fuel in the United States.
In July 2013, Honda entered into a long-term collaborative agreement with General Motors to co-develop the next-generation of fuel-cell systems and hydrogen storage technologies, aiming for the 2020 timeframe. The collaboration expects to succeed by sharing technological expertise, economies of scale and common sourcing strategies.
Source: Honda
Gallery:
Honda FCEV Concept (2013)