Southern California residents will have the opportunity to peek into Hyundai's future when the NEOS 3 Crossover Utility Vehicle (CUV) concept makes its North American debut at the 2006 Greater Los Angeles Auto Show. The CUV is the third in a signature series of futuristic concept cars to be styled at the company's Chiba Design Center in Korea. NEOS 3 offers the utility of a 4WD, but thanks to its unibody construction and opulent appointments, it retains the feel of a luxury sedan.
The sleek, aerodynamic exterior looks as impressive as it performs. Spindle-shaped character lines run the length of the car adding an innovative design touch. Door- integrated side mirrors auto-dip in reverse gear and help improve downward visibility. Neos' rear aerodynamic design minimizes the drag coefficient while keeping the bodywork simple and clean.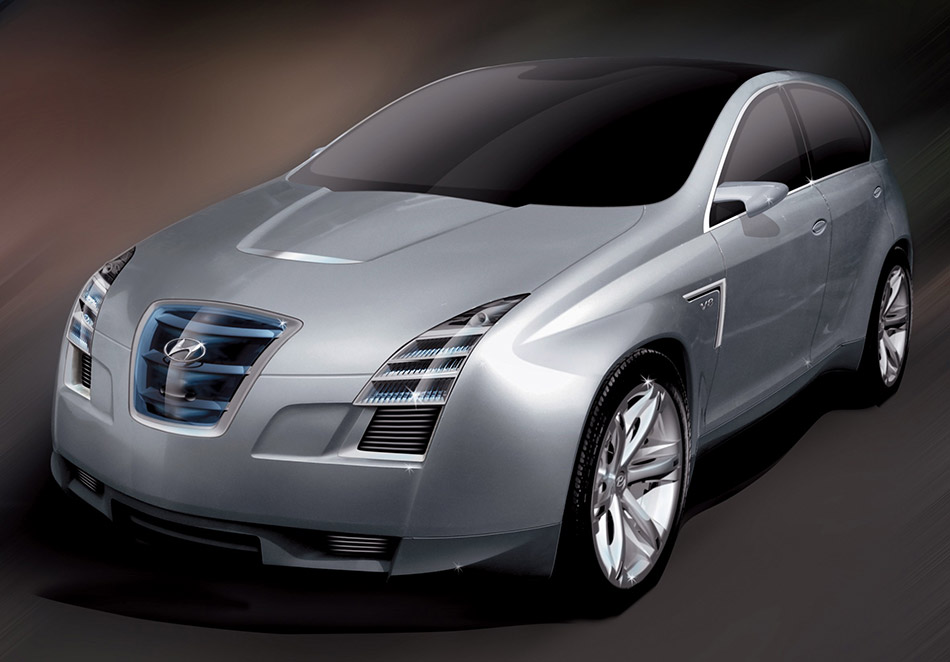 The front grille and headlights incorporate advanced features for safer driving. These include pre-crash sensors and proximity control using Extended High Frequency radar. Forward cameras provide extended visibility to left and right. Headlight-integrated technologies include an infrared night vision system plus adaptive front lighting that automatically direct the headlight beam in the steering direction.
Inside, the large display is packed with information technologies, while control switches are clustered in the center console.
Under the hood is a newly developed 4.6-liter 32-valve V8 engine mated to an electronically controlled 5-speed automatic gearbox.
Neos' interior features a three-zone design. The front seats are the "excitement zone" for pure driving enjoyment. Second-row seats are the "comfort zone" for enjoying travel as if being transported in a private jet. The third-row seats are the "versatile zone" that accommodate both passengers and luggage.
Adding a new dimension to vehicle interface is a Heads-Up Display and a trackball that offer centralized control of the climate regulation, navigation and entertainment systems. Readouts including night vision and rear camera images are displayed on a large 11-inch LCD screen in the center stack. A multi-meter module tracks critical vehicle functions allowing the driver to be constantly informed about vehicle status and driving conditions.
NEOS 3 Specifications
Overall length x width x height: 196.06 x 77.17 x 65.9 inches
Wheelbase: 117.52 inches
Drive system: 4WD
Engine: V8 DOHC 32 valves
Transmission: Electronic 5-speed AT
Source: Hyundai
Gallery:
Hyundai Neos 3 Concept (2006)