Since five years AHG-Sports has been extremely positively talked about as in-house tuning department of the car dealer Günther, which is represented four times in Hamburg especially with cars of the precious Nissan-offshoot Infiniti. And cooperation agreement recently reached with LARTE Design resulted in additional opportunities on a truly highly competitive market.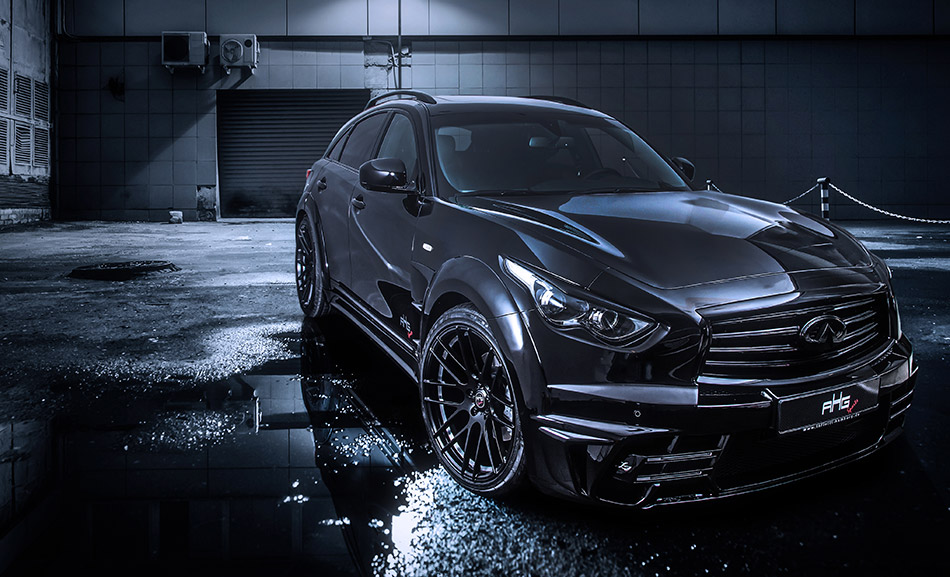 The Infiniti QX70 can be justifiably considered as a successful synthesis of a SUV and a sports car. The standard all-wheel driven 5-litres-V8-petrol engine with 7- speed automatic transmission can initially provide performances, which easily stand any comparison. AHG-Sports – led by Michael PENNING – tailored a body kit for QX70 with LR3 designation. "LR3"comprises an extremely successful front bumper including daytime running lights, the side skirts, fender extensions all around, a rear bumper with F1-rear fog lights, modified exhaust embellishers and a spoiler on the roof edge. For coating application, assembly and registration the amount of 16.900 Euro shall be paid. The list price for QX70 equipped in this manner, including accessories, destination charges and VAT is 101.500 Euro.
Since not everyone wants LR3 with all its components, AHG-Sports offers individual positions, which are listed hereinafter - each with price: AHG-Sports 25mm lowering for 1.250 Euro, AHG-Sports wheel set shift 22" with 285/35R22 tyres for 5.200 Euro, AHG-Sports 25 mm wheel spacers for 500 Euro, AHG-Sports performance increase up to 420 hp (= 309 kW) for 1.250 Euro, AHG-Sports sports exhaust (flaps activated) cat back for 4.990 Euro, red-painted motor covering for 200 Euro, roof rails, door handles and radiator grill shining black-painted for 1.150 Euro, shine-black coated chrome strips all around for 800 Euro and finally radiator grill painted for 600 Euro.
Source: AHG-Sports
Gallery:
AHG-Sports Infiniti QX70 LR3 (2015)