Jaguar Cars is proud to unveil the new 2008 Model Year S-TYPE range, which comes with a host of exterior and interior design changes as well as a series of new standard and optional features.
The latest S-TYPE continues to be loved and admired by customers throughout the world, attracted on an emotional level by its spirit of individuality, iconic design and sporting performance. There is also a rational attraction as well, with the recent addition of the acclaimed twin-turbo 2.7-litre diesel engine which offers outstanding performance alongside superb fuel economy.
For the 2008 Model Year, all S-TYPE versions feature an updated front end, with the addition of the sporting S-TYPE R bumper and mesh grille to all models. The new-look front is more contemporary, giving every S-TYPE a more poised and dynamic appearance.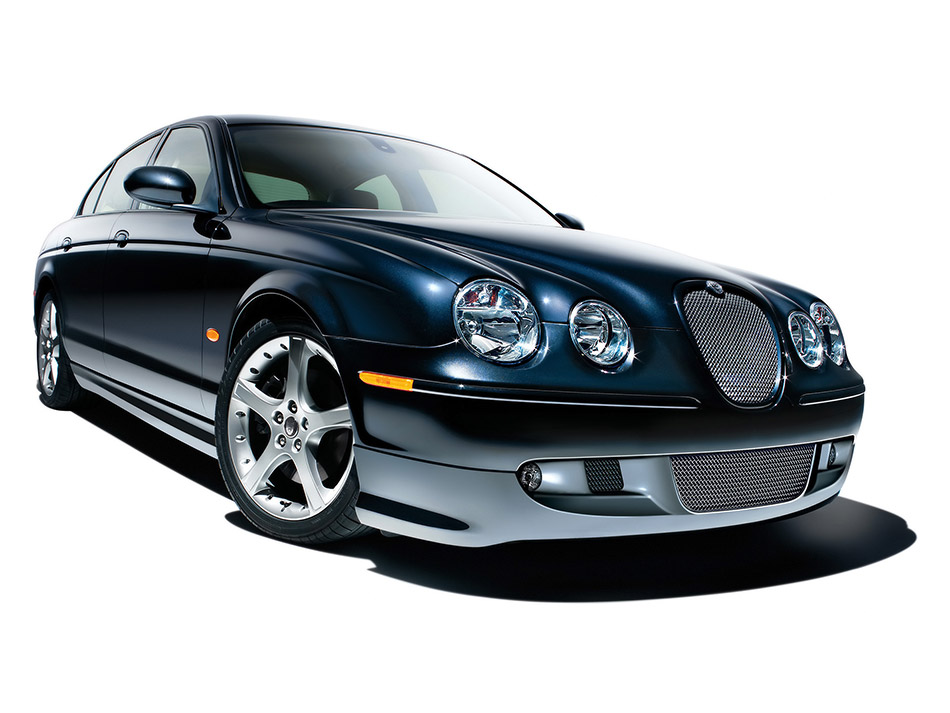 A new series of beautiful alloy wheels adds to the sporting appearance of the 2008 Model Year. Entry level versions now come with the multi-spoke 17-inch Antares wheel as standard. The 18-inch Triton alloy wheel is standard on all SE models (18-inch Triton on UK Sport version), while the top-of-the-range S-TYPE R now comes with the stunning 19-inch Barcelona wheel as standard (except Japan, Austria, Germany and rough road markets).
The S-TYPE's interior is also upgraded, with the introduction of multi-function Sport seats (with non-perforated leather) instead of the previous Classic seat for all SE and Sport models. Entry-level S-TYPE models come with a leather-trimmed steering wheel as standard, while a new Satin Mahogany veneer is available as an option across the range. Choice is further extended with the option of a beautiful new Ivory and Charcoal leather colour combination for SE models.
Technical innovation is part of the S-TYPE's appeal and every new model will now come with Rear Park Assist as standard.
The 2008 Model Year S-TYPE range will be unveiled at the Bologna Motor Show in December 2006.
2008 Model Year S-TYPE at a glance
Executive Jaguar saloon with four engine variants including class-leading 2.7-litre twin-turbo diesel, 3.0-litre V6 petrol and renowned 4.2-litre naturally aspirated and supercharged V8s
Streamlined styling combined with advanced technology and legendary Jaguar ride and handling make the S-TYPE the epitome of the contemporary, sporting Jaguar saloon
From the top-of-the-range 400bhp (DIN), 155mph supercharged S-TYPE R which is capable of 60mph in just 5.3 seconds to the highly acclaimed twin-turbo 2.7-litre diesel which offers a 0-60mph time of just 8.1 seconds yet returns 41.5mpg on the combined fuel economy cycle, outstanding Jaguar innovation is clear across the range
The diesel-engined S-TYPE is offered with either a much-admired six-speed automatic or six-speed manual transmission. The 3.0-litre petrol is available with either a five-speed manual or six-speed automatic gearbox, while both 4.2-litre V8 models are equipped with the six-speed automatic transmission
AJD-V6 diesel engine is the lightest unit of its type and size, weighing just 202kg
Latest generation, high pressure, common-rail direct-injection technology, including 'multiple pilot' injection with piezo-electric control, ensures maximum efficiency
Maximum power of 152kW (207PS) EEC, 153kW (206bhp) DIN and maximum torque of 435Nm (320lb ft) make this a diesel Jaguar with real performance: a top speed of 230kph (143mph), and 0-100kph (0-60mph) in just 8.5 (8.1) seconds in the manual version and 8.6 (8.2) seconds in the auto
An impressive combined fuel economy figure of 6.8l/100km (41.5mpg) with manual gearbox, and a low CO2 figure of only 179g/km
Comprehensive safety features in every S-TYPE include front, side and side-curtain airbags, Jaguar's Adaptive Restraint Technology System (A.R.T.S.) and Anti-lock Braking System
Wide range of standard interior features in every S-TYPE including automatic climate control with dual zone control for driver and front passenger, Rear Park Assist, electrically adjustable seats, multi-function steering wheel controls for audio, cruise control and (where fitted) Bluetooth® telephone connectivity and voice control, trip computer, Jaguar Alpine Sound System with AM/FM radio and single slot CD player
Comprehensive security system includes remote central locking and driveaway locking, ultrasonic intrusion sensing, radio frequency remote control and engine immobiliser (Thatcham 1 approved)
Key optional features include 19-inch wheels across the range, electrically adjustable pedals, Front Park Assist, Adaptive Cruise Control with Forward Alert, in addition to existing driver aids.
Source: Jaguar
Gallery:
Jaguar S-Type (2008)