"FR" signals sportiness in the production range of the Volkswagen subsidiary Seat. JE DESIGN is now injecting even more sportiness into the Ibiza of the same name (type 6J). The tuning company from Leingarten in Germany has developed a range of accessories for the little Spanish model to emphasize its features.
These include the impressive Aerokit with its successful design and customary high quality. All the components are superbly manufactured and are installed using the original mounting points. The aerodynamic components, which are made from high-quality ABS plastic, fulfill the legal requirements with flying colors. JE DESIGN supplies the Aerokit and accessories with German and Swiss road worthiness certification documents.
The Aerokit includes a front spoiler, headlight bezel, side skirts, carbon-look tail panel, carbon-look rear apron diffusor and a roof edge spoiler. Aerodynamic components are also available for the Ibiza ST station wagon (with no roof edge spoiler or carbon-look tail panel). A stainless steel sports exhaust system with a left/right tailpipe is available, too.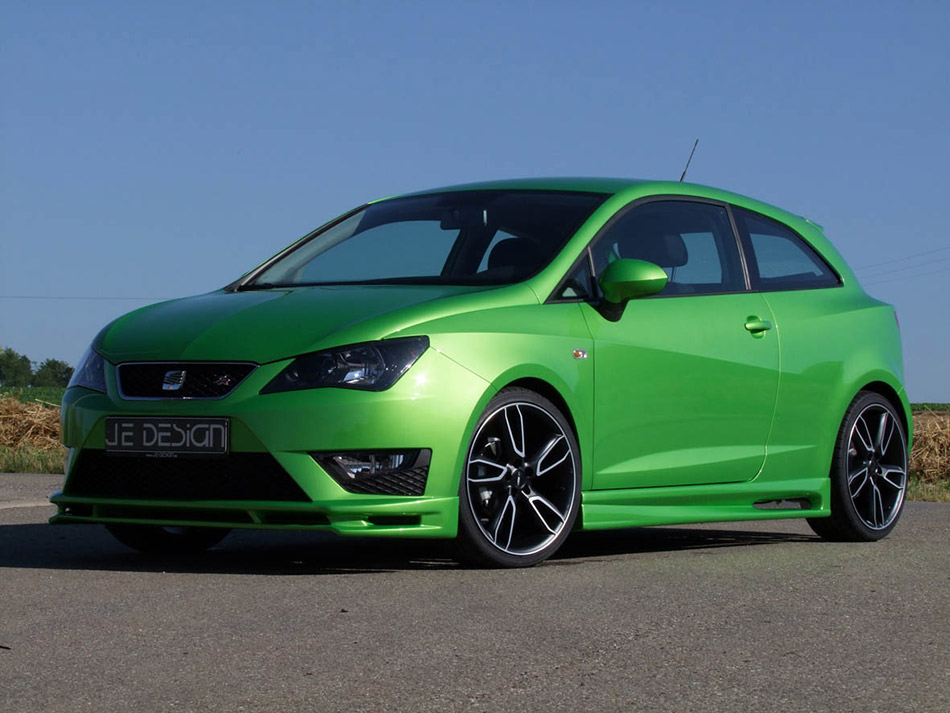 Lowering springs specially designed by JE DESIGN emphasize the sporty appearance. They bring the small car about 35 millimeters closer to the asphalt. Coil-over suspension with lowering of 50 to 60 millimeters is available as an option. Thus, the alloy wheels look even more dynamic with a multi-spoke design. The complete wheel set measuring 7x17 inches comes in the colors shadow silver or matt black with polished rims.
Alternatively, a wheel set measuring 7.5x18 inches with 215/35 R 18 tires is available. New to the range is the "Scorpio" wheel with 5 double spokes, which is available in matt black with polished silver front.
JE DESIGN has also made modifications under the hood. The power output of the 1.2 liter TSI has increased from 77 to 103 kW. This allows the Ibiza FR to accelerate 0.7 seconds faster from 0 to 100 kilometers/hour. The torque is increased from 175 to 230 Newton meters.
The Leingarten team can also enhance the performance of the 1.6 liter TDI CR on request, increasing the power output from 105 to 125 hp and the torque from 250 to 295 Newton meters.
It is also possible to request more power for the powerful 143 hp 2.0 TDI CR diesel model. After the performance increase, the TDI has a whopping 170 hp of output, while the torque increases from 320 to 370 Newton meters.
More performance too for the current flagship, the 150 PS TSI: after the electronic performance upgrade, the 1.4 TSI in the FR boasts 180 hp, with a torque of 288 Newton meters. It has 240 Newton meters as standard.
Source: Je Design
Gallery:
JE DESIGN Seat Ibiza FR (2012)