MANSORY has long been known has the specialist for refining luxury automobiles. Now, the company from Brand in Bavaria has added an additional traditional brand to their tuning portfolio. The stylish and sporty conversion of the Maserati GranTurismo is once again proof of the fact that MANSORY has excellent know-how when it comes to customising Italian premium sports cars. Besides, the star, Emily, Flying B, leaping race horse, Bugatti oval and Aston wings, MANSORY products now also adorn sports cars with Neptune's trident.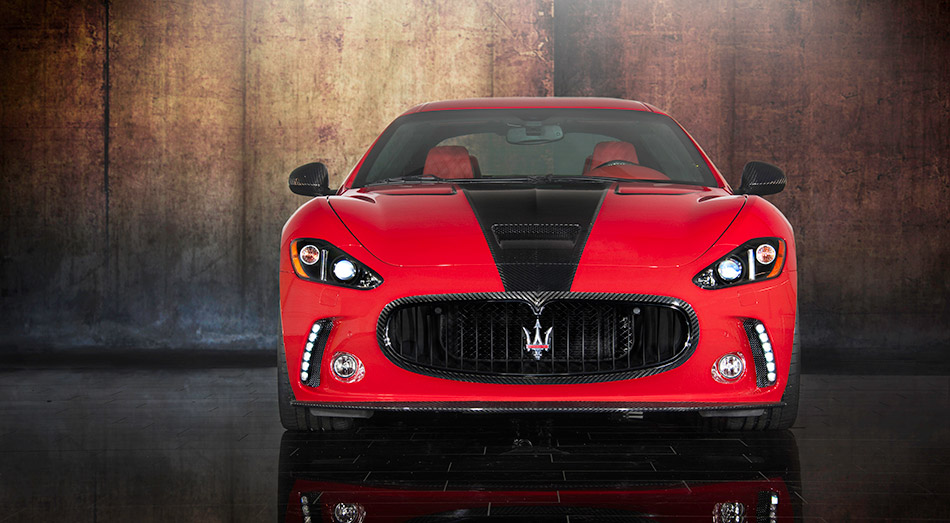 In the first instance, the eye is drawn to the striking MANSORY bodywork modifications: a newly designed front spoiler with discreet spoiler lip gives the front a significantly more sporty appearance, and the carbon fibre radiator grille highlights the famous Maserati trident in the centre of the grille. Additional air inlets and outlets enable the new light-construction bonnet to optimally regulate the temperature in the V8 engine compartment. The GranTurismo seems much closer to the tarmac thanks to the drawn-down deep door-sills. The carbon fibre spoiler lip at the back, the carbon inlay for the integrated exhaust pipes in the rear apron and a diffuser complete the sporty look. All add-on parts are made from carbon fibre and are manufactured by MANSORY using autoclave prepreg processing.
To ensure extra focus to the sporty add-on parts, MANSORY uses progressive sport suspension in the front and rear axles, which lower the vehicle's centre of gravity by around 30 millimetres. Contact to the tarmac is maintained by 255/30 R 20 front tyres and 305/30 R 21 tyres at the back. MANSORY is the first manufacturer worldwide to market forged wheels exclusively for Maserati GranTurismo models. On request of the customer, these wheels are sprayed in the colour of the vehicle and decorated with black accents.
The Maserati GranTurismo and GranTurismo S also gain power under the bonnet, thanks to MANSORY. A performance-optimised ECU, an air filter with increased air throughput and a sports exhaust system with two double-suction tail pipes enhance the performance of the V8 aggregates by 30 HP each (series: GT 405 HP / GTS 440 HP). At the same time, the torque is increased by around 40 Nm compared to the series models (GT 460 Nm at 4750 / GTS 490 Nm at 4750).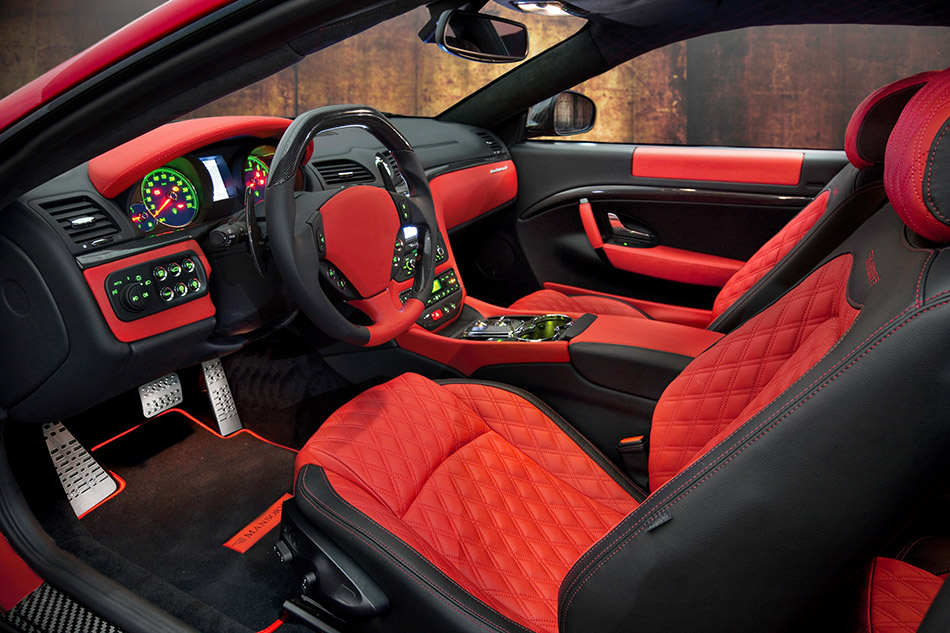 The interior features MANSORY's own brand of upholstery. The finest materials have been processed in traditional top-quality craftsmanship to add that individual touch to the inside of the MANSORY GranTurismo. The leather used by MANSORY for the interior is hard-wearing yet exceptionally soft. The chequered stitch in the ornamental seams on the inside makes for elegance as well as sportiness. Wherever you look: expert handcraft, individual design and top quality. The aluminium pedals and new ergonomically designed sporty steering wheel are additional visual highlights.
Source: MANSORY
Gallery:
MANSORY Maserati GranTurismo (2010)