With the launch of the Mazda3 hatchback and two spirited MZR petrol engines in September 2003, Mazda began a new chapter in its C-segment history with a fresh and confident vehicle, whose complete package of attributes deliver a memorable driving experience.
Mazda is now completing the Mazda3 European line up with a sleek and sophisticated sedan version and two new engines — a frugal and lively 1.4-litre MZR in-line four-cylinder petrol for the hatchback and a 1.6-litre MZ-CD common-rail turbo diesel, which is available for both body styles. Added to an eye-catching exterior design, confidence-inspiring dynamic performance, a large and flexible interior and one of the segment's best safety packages, and Mazda3 is poised to take on the best the European C-segment has to offer.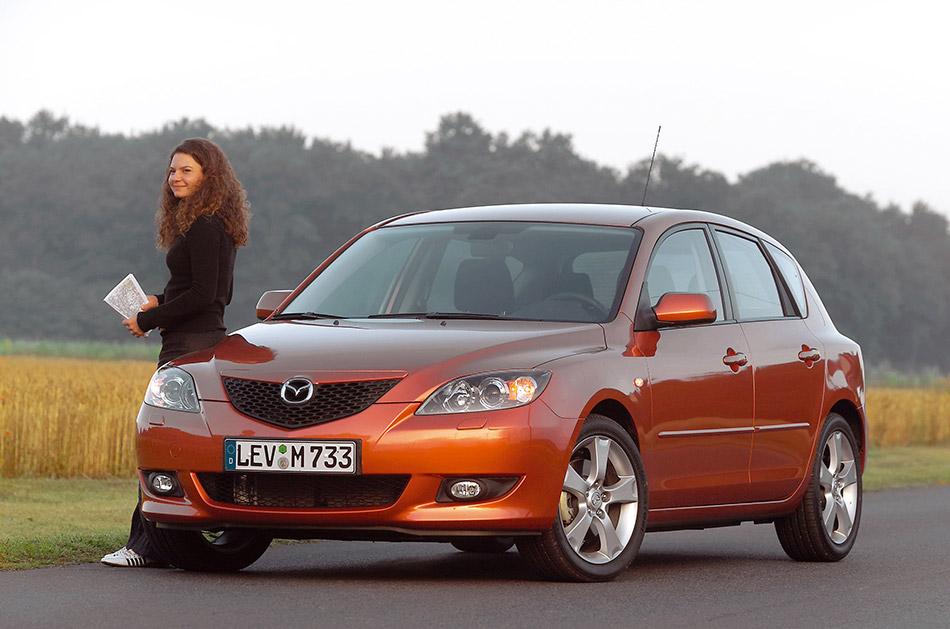 Positioning – Exciting Without Compromise
Mazda3 sedan is targeted to appeal to Europeans looking for a sophisticated and stylish four-door with a sporty touch and good dynamic capabilities, high levels of build quality, excellent craftsmanship and a good safety package. With its large luggage compartment, it will address the needs of small families as well as active singles that are searching a car with an exciting design that doesn't make any compromises when it comes to space and flexibility.
Design – Sleek and Sophisticated
The exterior design of the new Mazda3 sedan offers a refined, sleek and sophisticated high-deck, four-door body style that still radiates a degree of sportiness. It is this unique combination of sportiness and sophistication that sets it apart from other modern compact sedans. The front end features a flared fender, and a Mazda five-point grille with lines delineating a powerful bonnet bulge that is carried out in a way that gives the Mazda3 sedan a more elegant look than the hatchback version. The dynamic sweep of its rounded roofline combines with a short and high rear deck, flared rear fender and rear combination lamps to give the new sedan body style a stability and refinement that sacrifices nothing by way of Mazda3 sportiness. High levels of build quality are obvious in every detail of the exterior, which delivers consistently small gaps between abutting body panels.
Interior – Design, Functionality and Space
On the inside, Mazda3 is large, comfortable and functional with a design that is pleasing to look at and use on a daily basis. As one of the largest cars in its segment with a long wheelbase, it has an open and spacious cabin with plenty of head and shoulder room, and rear knee clearance. The seats are comfortably upholstered and give excellent side support. The driver's seat features seatback tilt, horizontal and vertical adjustment. Combined with steering wheel height and telescope adjustment and a raised hip point for a good view of the road, and drivers of just about every size can find the right position behind the wheel. For storage, there are deep door pockets front and back, a pocket in the back of the passenger seat, one of the segment's biggest glove boxes with 11 litre capacity, and a large double-bottom centre console with two cup holders. The sedan's luggage compartment with 413 litres of load capacity rounds out the picture of an interior that is functional, fun to be in and large enough for five people to travel in comfort and style.
Powertrains – Expanding the Line Up
The launch of the new Mazda3 sedan also sees the introduction of two new engines to the powertrain line up. An MZ-CD 1.6-litre 80 kW/109 PS DOHC 16-valve common-rail turbo diesel delivers power, 240 Nm of torque at only 1750 rpm, low fuel consumption, operating refinement similar to a petrol and a Euro Stage III emissions rating. A Euro Stage IV version of the same engine will be available in selected markets in summer this year with an engine-induced regenerating diesel particulate filter for environmentally aware customers.
Rounding out Mazda3's petrol line up is an all-new MZR 1.4-litre 62 kW/84 PS base engine for the Mazda3 hatchback. Joining the 1.6-litre and the 2.0-litre petrols launched in September 2003, it delivers the same spirited driving experience that the entire MZR engine family does, but in a version that is low cost to own and operate.  All Mazda3 engines are mated to a low friction five-speed manual transmission. Optionally available with the MZR 1.6-litre MZR is a four speed "Activematic" automatic transmission that delivers high levels of driving comfort.
Chassis – Zoom-Zoom Handling
New-generation handling characteristics are major contributors to making the Mazda3 sedan and hatchback fun cars to drive. Mounted to a rigid body structure that resists flexural and torsional bending is a MacPherson strut-type front suspension and a multi-link rear suspension based on the Mazda6, designed and tuned to provide both handling stability and ride comfort. Two steering systems — an electro-hydraulic power-assisted (EHPAS) system standard for the MZR 2.0-litre petrol and the MZ-CD diesel, and hydraulic power-assist for all other engines — deliver optimal road feedback and precise steering control, while robust disc brakes at every wheel provide excellent braking performance. With these chassis systems, Mazda3 delivers the ideal combination of driving enjoyment and control that epitomizes Zoom-Zoom.
Safety – Protection and Control
Mazda3' state-of-the-art safety technologies deliver high levels of passenger protection and vehicle control. Stable, predictable handling and an optimised driver environment are designed to give the driver superior control of the vehicle under normal driving conditions. If an emergency situation arises, Mazda3 is well equipped to avoid a collision. Its has a robust brake system, with large discs at every wheel and a 255 mm single vacuum brake booster for enhanced brake effectiveness and response. Standard as well is four-wheel ABS with electronic brake distribution (EBD), mechanical brake assist, and dynamic stability control (DSC) available as an option. These work together to stop the new Mazda3 sedan and hatchback from 100 km/h in just 37 meters.
Mazda3's passive safety system includes a stiff body structure that delivers a strong passenger cell designed to not only resist deformation, but also to disperse impact energy throughout the body, regardless of direction of impact. Inside are front airbags, side airbags and optional curtain airbags. Further protection is provided by front seatbelts with pretensioners and load-limiters and headrests on all seats. For the driver there is a collapsible steering column and brake pedal, and for enhanced child safety ISOFIX child seat anchors with top tethers at the outer rear seats. Internal safety analyses predict at least a 4-Star Euro NCAP ranking for both body styles.
Source: Mazda
Gallery:
Mazda 3 Hatchback (2004)