The all-new Mazda6 is the second model of Mazda's Zoom- Zoom line-up (after Mazda 2) to be evolved to the next level and is engineered to deliver three key values to customers. It is 'emotional and sporty' with design appeal and high levels of driving fun. It provides an 'exclusive experience' with quality feel and superior driving attributes, and an 'insightful package' that delivers roominess and comfort without negatively influencing the car's dynamic design. The combination of these three values is meant to create a strong emotional tie between the car and its owner, like a close friendship, which is called Kizuna in Japanese.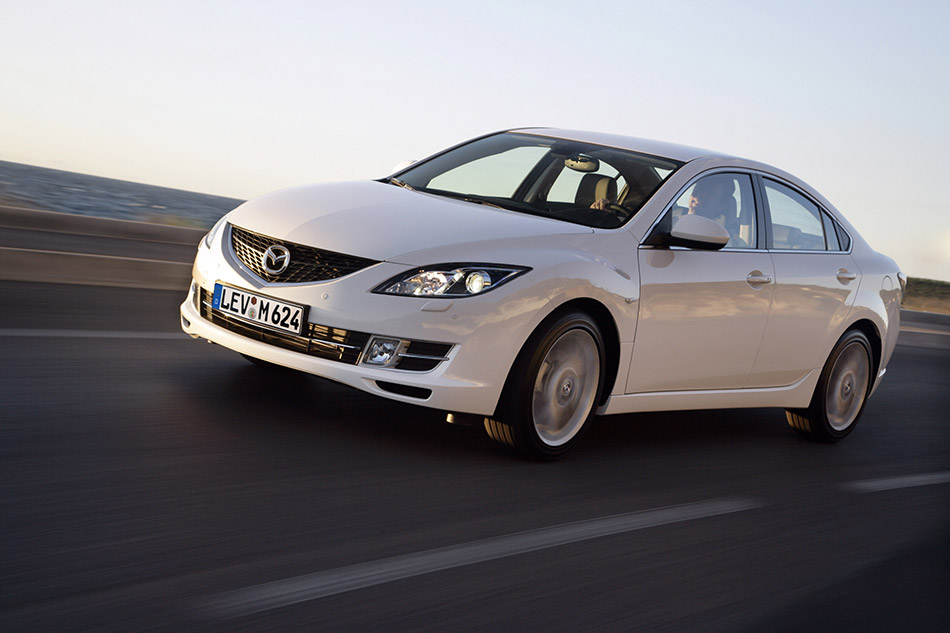 Design - Japanese Aesthetics
The new Mazda6 inherits the same athletic look as the very successful outgoing model, but communicates this in a more radical way. Longer, wider and taller with a longer wheelbase, its exterior design is executed with exquisite build quality and a sense of form based on Japanese aesthetics for high emotional appeal that is unmistakably Mazda. The new Mazda6 sedan is longer (4,735 mm + 65 mm), wider (1,795 mm + 15 mm), taller (1,440 mm + 5 mm) and has a longer wheelbase (2,725 mm + 50 mm) than the outgoing sedan. It features a flowing roofline that is steeper at the C-pillar with a sculptured rear end for a sporty elegance. The new hatchback is much different. It has the same dimensions as the sedan and features a sleek roofline at the C-pillar for a coupe-like character. The estate is the longest (4,765 mm + 75 mm), and it is wider (1,795 mm + 15 mm) and only slightly higher (1,490 mm + 10 mm) than the previous model with a kick-up belt line and sleek windows. On the inside, the new Mazda6 is even roomier and inviting than before. It has higher levels of quality feel with interior forms that are appealing to look at and use. Its cockpit allows the driver to feel one- with-the-car and it has a floating-look instrument panel that gives a sense of roominess.
Quality, Comfort & Equipment - Premium Look and Feel
Mazda6's design appeal does not come at the expense of C/D- segment (family-sized) roominess and practicality. In fact, it has more of both. The new Mazda6 has more rear legroom (+20 mm) and shoulder room (+ 9 mm) thanks to its larger vehicle dimensions. The driver enjoys a better view of the road with one of the segment's best forward-upward visibility levels and it has newly-designed rear head restraints and door mirrors for a better view to the rear. It is more convenient than before as well, with one of the segment's widest boot/ tailgate openings (1,066 mm for the estate), a Karakuri rear seat folding system that not only drops the 60/40 rear seats down by pulling a latch in the boot trim, but also has a new Karakuri tonneau cover that automatically rises when you open and close the liftgate (estate only). Comfort is improved too with new seat frames for good long-trip and side support and a new heating, ventilation and air conditioning (HVAC) system with separate temperature controls for the driver and the passenger. The cockpit is now even sportier with a one-with-the-driver feel. It features blackout driver metres (depending on grade) with new amber-red illumination circled by indirect blue lighting, new sports car-like steering wheel and gear shift lever positions that are closer to the driver for easier control and shifting.
All this is carried out to deliver an 'exclusive experience' with Mazda quality evolved to the next level . In an interior with lower levels of cabin noise (-2.5 dB from 70 dB to 67.5 dB at 60 km/h on coarse road), choice leathers and fabrics are used, and the floor console has a premium dimpled finish and a sliding armrest in leather with detailed stitching (depending on grades). Available as well is a new Action Illumination system with light fade up and down, and interactive light reaction when using the CD and radio. Four grades will be offered (depending on market), each with a long list of equipment, some onboard a Mazda for the first time ever.
By employing a cross-functional network (CF-Net) , for instance, more steering wheel control functionality (audio, navigation, air-conditioning, trip computer and Bluetooth® system) than ever before is used. New equipment includes Bi-xenon head lamps , adaptive front lighting (AFS), a tyre pressure monitoring system , a Bluetooth® mobile phone system with seven languages, a parking sensor system, a premium BOSE® audio system and a navigation system featuring a touch screen, a voice command and a 7-inch split display.
Powertrains - New MZR 2.5-litre Petrol
Further enhancing Mazda6's 'exclusive experience' is a new top of the line engine, the MZR 2.5-litre petrol, replacing the MZR 2.3-litre petrol of the outgoing model. It not only produces more maximum power of 125 kW/170 PS (+ 4 PS) at 6,000 rpm and more maximum torque of 226 Nm at 4,000 rpm (+ 19 Nm) than the 2.3-litre, it also uses 6.9 percent less fuel per 100 km (sedan). It is smooth and cultivated with low engine noise thanks to its high-rigidity block, a stronger crankshaft and a dual-mass damper and a flexible flywheel . It employs sequential-valve timing (S-VT) and a variable intake system (VIS). At the same time, the new MZR 2.5-litre petrol has reduced exhaust resistance for even better engine efficiency.
The second-generation Mazda6 inherits three fun and frugal engines from the previous model, all of them updated to use less fuel than before. The most popular engine of the line-up is onboard: the MZR-CD 2.0-litre common-rail turbo diesel with diesel particulate filter (DPF). It produces 103 kW/140 PS at 3,500 rpm and 330 Nm of maximum torque at just 2,000 rpm, and uses 6.7 percent less fuel than the outgoing 2.0-litre turbo diesel version (sedan). Also carried over from the previous model are two MZR petrol engines in 1.8-litre and 2.0-litre displacements. The 2.0-litre produces 108 kW/147 PS of maximum power at 6,500 rpm and maximum torque of 184 Nm at 4,000 rpm, while using 10.3 percent less fuel (sedan). The MZR 1.8-litre base engine produces 88 kW/120 PS of maximum power at 5,500 rpm and maximum torque of 165 Nm at 4,300 rpm, while using 11.7 percent less fuel than the outgoing base petrol (sedan). The second-generation Mazda6 comes with a choice of three transmissions (according to model) including Mazda's five- speed and six-speed manual gearboxes for all models. To this it adds a five-speed automatic with manual shift mode for the 2.0-litre petrol version for near-manual-like shifting in every gear.
Chassis & Safety - Sporty, Predictable and Safe
To deliver on the 'emotional and sporty' key value, engineers improved further Mazda6's renowned handling and steering. This was not easy, since the car is larger and better equipped. To avoid any gain in weight, which would negatively affect handling and fuel consumption, engineers strictly controlled the weight during development as was done with the third- generation Mazda MX-5 and the new Mazda2. For instance, Mazda6's all-new body shell has 7 percent more high and ultra-high-strength steel, which result in double-digit increases in both flexural and torsional rigidity for all body styles - without a gain in weight. These efforts resulted in the new Mazda6 being up to -2.4 percent or 35 kg lighter than the outgoing model for better handling and fuel efficiency, with enhanced crash resistance.
A high-mount double wishbone front suspension system is employed with two new perimeter frame mounting points (now six vs. four of the outgoing model), new dynamic dampers for the upper arms and stiffer damper settings for excellent overall rigidity and ride comfort. This is combined with a new front suspension, single-pivot type lower arm (the outgoing model uses a double-pivot type) which gives more precise steering and predictability. Mazda's E-type multi-link suspension is employed at the back axle with several updates, including larger-diameter (+ 10 mm) trailing arm bushes now placed 25 mm higher for improved rear lift control and a more linear toe-angle change during the rebound. The rear dampers now have an upright layout which realises linear vehicle movement and a feeling of stability.
Rack-drive electric power assist steering (EPAS) is new as well for a firmer steering feel and less fuel consumption overall (-2 percent). Mazda6 also has vastly improved aerodynamic performance and stability at high speeds thanks to its dynamic and sleek exterior design. All external components were wind optimised to produce a coefficient of drag (Cd) of only 0.27 (sedan and hatchback) and just 0.28 (estate).
Active and passive safety systems round out the new Mazda6's outstanding package of attributes. It has larger diameter ventilated front disc brakes (now 299 mm + 16 mm) and 280 mm rear brake discs for dependable deceleration; backed up by ABS, electronic brake distribution (EBD), brake assist, dynamic stability control (DSC) and traction control system (TCS) as standard on all models. An Adaptative Front Lighting System is available as well. Its new body shell has a newly-introduced perimeter frame extension at the front of the car, and extended joints between the front side members of the perimeter frame, for a 10 percent improvement in impact-absorption here compared to the previous model. On the inside there are new active head restraints to protect the neck in case of rear impact, six airbags, front seat belts with pretensioners and load-limiters and collapsible brake and clutch pedals to reduce the chance of leg injury in a frontal impact. Also onboard are ISOFIX child safety seat mounts and tethers in the outer rear seats, a visual seat belt warning system for rear passengers, pillar trim with energy absorbing ribs and a further improvement of pedestrian protection measures.
Source: Mazda
Gallery:
Mazda 6 Sedan (2008)