Standing at the vanguard of Mazda's new-generation product lineup, CX-5 was the first model to fully adopt SKYACTIV TECHNOLOGY and the KODO-Soul of Motion design language. The model offered much more than the basic values of utility and practicality that customers expect from an SUV; KODO design imparted a powerful sense of vitality, and SKYACTIV TECHNOLOGY delivered high levels of both driving pleasure and environmental and safety performance. Not surprisingly, the model was exceptionally well received by customers around the world, and has grown to become one of the company's core products alongside Mazda3. Since the launch of the original model, Mazda has made steady refinements to the CX-5 each year, aiming to deliver customers even greater value and sophistication. For this round's update, the company aimed to bring new levels of depth and maturity to a variety of areas, including design, the quality and functionality of the interior, ride comfort and quietness, as well as safety performance.
The 2016 Mazda CX-5 features the following enhancements. While the exterior retains its distinctive SUV looks, the updates to the front grille and other design features refresh the model with the latest design expression of the Mazda brand. For the interior, particular effort went into improving the quality feel of the ornamentation and materials used, and also to improving the functionality and usability of the cockpit zone, based on Mazda's unique Human-Machine Interface (HMI). Enhancements to dynamic performance include updates to the front and rear seats and suspension system, as well as to sound insulation performance throughout the body. The result is greater ride comfort and cabin quietness that makes time spent in the vehicle more pleasant. Mazda's renowned AWD system is also updated and real-world fuel economy improved. The 2.5L FWD engine has seen an improvement in its fuel economy as well.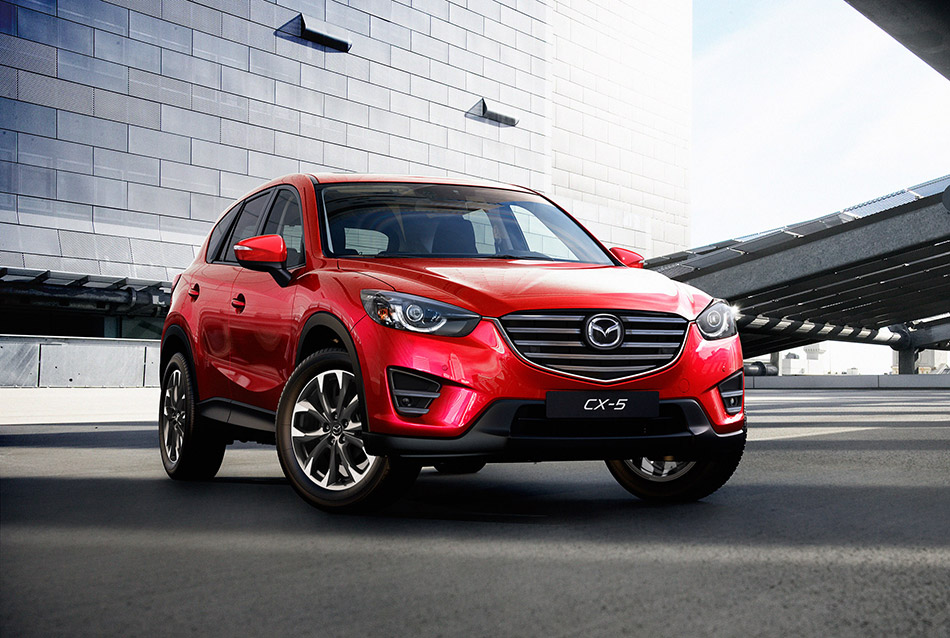 Exterior Design
Launched in 2012, CX-5 was the first production model to adopt Mazda's KODO design language. Features unique to KODO design, including a front nose with presence, a forward-leaning stance, as well as the rearward placement of the A-pillars and compact cabin, realized an exterior design with a sharper sense of vitality and dynamism. SUV styling completely different from anything that came before has earned the CX-5 high acclaim.
For this round's update, Mazda added further polish to these unique characteristics in the pursuit of higher quality. The front grille was evolved to create a design that is bolder and tauter, while the eye-like design of the headlamps further heighten the car's look of vitality. The refreshed CX-5 also adopts a new 19-inch aluminum wheel design and newly developed body colors. Taking to new heights its presence and powerful looks as a crossover SUV, as well as its level of quality, the refreshed CX-5 realizes a sophisticated exterior design that conveys the evolution of the brand.
    The front grille was evolved to create a design that is bolder and tauter with horizontal fins painted metallic gray.
    The headlamps create an enhanced sense of vitality by adopting a redesigned interior layout and new LED lighting signature (optional with Technology Package).
    The rear combination lamps feature an LED lighting signature (optional with Technology Package).
    The 19-inch aluminum wheels adopt a new design with machining that highlights a look of three-dimensionality.
    The lineup of nine colors includes the newly developed Sonic Silver Metallic and Titanium Flash Mica, which was first applied to Mazda3.
Interior Design & Functions
The interior design for the CX-5 features an expression of SUV power and a driver-oriented space that heightens anticipation of the drive to come.
While retaining a design that supports confident operation by positioning each function where the driver can recognize it at a glance, particular effort for this round's update went into enhancing the quality of every related detail. The design of the center stack and floor console were greatly evolved, while the coordination of the ornamentation and mating of parts aim to achieve a unified look. In addition to SUV functionality and a look of power, the new interior design conveys a sense of taste and high quality. The refreshed CX-5 adopts a variety of advanced functions, including Mazda Connect, Mazda's next-generation car connectivity system, and an Electrical Parking Brake (EPB), while greatly evolving the convenience and ease of use of storage space by increasing the capacity of the door pockets and floor console box.
The interior fuses a driver-oriented cockpit design based on the Heads-up Cockpit, Mazda's new Human-Machine Interface (HMI) concept, and SUV functionality and a look of power, as well as a sense of taste and high quality.
Adopting an Electrical Parking Brake (EPB) gives the floor console a clean and uncluttered look of higher quality.
The design features metallic-finish trim that produces solid-looking forms and a sense of power extending out to the sides on a horizontal plane.
Three types of decorative panels are available for the instrument panel: an aluminum-look panel featuring a vertical hairline finish and a thin satin chrome strip, a metallic-finish panel, and a piano black panel.
The refreshed CX-5 continues to offer a black leather interior, as well as black or sand fabric interiors. Leather interior choices include a new Parchment leather offering. For the fabric interiors, the center of the seats adopts newly developed materials.
The Mazda Connect car connectivity system paired with a smartphone makes it easier to take advantage of functions including internet connectivity and access to social networking services.
Storage space with increased capacity includes an open space in front of the shift knob, floor console cup holders and storage for small items, a console box, and front door pockets.
Driving Dynamics
CX-5 was the first in the Mazda product lineup to adopt SKYACTIV TECHNOLOGY for its engine, transmission, body and chassis. It added further polish to all the basic performance attributes of driving, turning and stopping to realize dynamic performance that delivered driving pleasure with a tangible sense of oneness between the car and driver. The results of this round's update include the suspension system, NVH performance and seat performance achieving a more sophisticated and higher quality driving experience. The SKYACTIV-DRIVE automatic transmission newly adopts Drive Selection, which brings greater pleasure to driving.
The powertrain lineup for the refreshed CX-5 includes the 2.0-liter and 2.5-liter SKYACTIV-G direct-injection gasoline engines, and the six-speed automatic SKYACTIV-DRIVE and six-speed manual SKYACTIV-MT transmissions. It also continues to offer Mazda's new-generation AWD system. All variations deliver the right balance of linear, powerful acceleration, as well as excellent fuel economy and environmental performance.
A smooth, flat ride realized by adopting a new structure for the front and rear dampers and optimizing the bushing shapes for the front lower arms.
Further evolved NVH performance realizes a cabin environment in which occupants can better enjoy conversation while driving. Cabin noise when driving at highway speeds is reduced by approximately 10 percent over the previous model.
The evolved front and rear seat structure provides a feeling of comfortable snugness and a good fit, excellent holding characteristics, as well as ride comfort. The length of the rear seat cushions was also extended, enabling the occupant to relax and sit naturally.
CX-5, powered by a gasoline engine and paired with SKYACTIV-DRIVE, adopts Drive Selection, which allows drivers to switch drive modes for a more responsive driving experience.
Safety
Mazda pursues safety performance based on its Mazda Proactive Safety philosophy. The fundamental performance of the Mazda CX-5, based on SKYACTIV TECHNOLOGY, has been further polished. This combines with Mazda's i-ACTIVSENSE advanced safety technologies to achieve world-class safety performance, allowing customers to enjoy the drive with peace of mind, whatever the driving scene.
In constant pursuit of providing higher levels of safety, Mazda made a concerted effort with this round's update to keep the driver more aware of conditions so they can enjoy driving at night or at highway speeds with greater reassurance. The CX-5 also newly adopts features such as Mazda Radar Cruise Control (MRCC) and Smart Brake Support (SBS). Supporting the driver with this variety of technologies reduces risks and provides the right condition for driving with reassurance, which results in a reassuring driving experience for all cabin occupants. With this in mind, the updates implemented this round employ a wide range of advanced safety technologies.
Source: Mazda
Gallery:
Mazda CX-5 (2016)