Vorsteiner is proud to announce the first of five 10-Year Anniversary vehicles, the Range Rover Veritas. The Vertias transforms the Range Rover into an elegantly purposeful vehicle that features full carbon fiber front bumper, side skirts, and rear bumper. Each carbon fiber piece is produced with an eye for innovation and style, while retaining the factory utility and full capability that each Range Rover possesses. Our bumpers are specifically formed to retain all OEM aspects and electronic options. The weave in the carbon fiber is laid by hand allowing the existing PDC (Park Distance Control) sensors, as well as all exterior cameras, to function flawlessly using the factory hardware.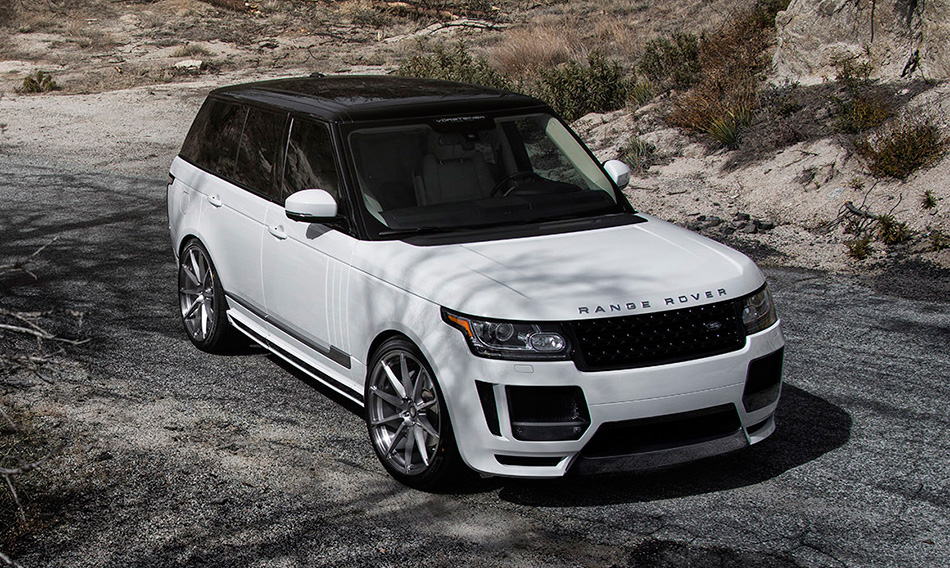 Featured on our Range Rover Veritas are the Vorsteiner Sport Race Forged VSR-163 wheels in Gloss Brushed Shadow. The VSR-163 were machined specifically in 24x10J to complement the vehicles size, effortlessly filling up the wheel wells. Every design detail from aero fitment, to carbon fiber weave, to wheel design is very important to us at Vorsteiner. Each individual spoke on the VSR-163 is machined in a triangular shape that gradually gets wider toward the rear. This small element significantly increases machine time over standard squared spokes that gives the VSR-163's a unique twist in straight spoke wheel design.
In celebration of the Range Rover Veritas, for a limited time we're offering custom leather upholstery along with a comprehensive bespoke build service that includes complete installation and paint service here at the Vorsteiner facility! With our Range Rover Veritas, Vorsteiner has brought to life a purposeful work of art to celebrate a decade of excellence, and it continues a trend that embodies our dedication to perfection.
Vorsteiner Range Rover Veritas features Full Carbon Fiber:
Front Bumper with integrated PDC sensors
Rear bumper with integrated PDC sensors
Side Skirts
Vorsteiner Sport Race Forged VSR-163:
Forged Monoblock
24x10J all around
285/35/24 Pirelli Tires
Gloss Brushed Shadow
Source: Vorsteiner
Gallery:
Vorsteiner Range Rover Veritas (2014)