The Acura "Concept TL" performance luxury sedan debuted today at the 2003 New York International Auto Show. The concept features sleek, performance-oriented exterior styling indicative of the design of the next generation TL production model.
"Every aspect of this concept's design, from the aggressive front end to the short rear overhang, contributes to an aggressive, muscular style that conveys the TL's high-performance nature," said Tom Elliott, executive vice president, auto operations. "The Concept TL's dynamic design is a pure expression of Acura and provides an advance preview of the all-new 2004 TL."
The "Concept TL" was designed to evoke the image of the "ultimate athlete," a combination of power, speed and agility that delivers world-class performance.
The Concept TL is several inches shorter than the current production model for a tighter, sportier look. The stance is muscular and aggressive with pronounced fender flares and large, 4-piston Brembo brakes accenting the flangeless 19-inch alloy wheels and low profile, high performance tires.
The muscular body slopes forward in a pronounced wedge shape. On each side, a deep character line runs from a side marker on the front quarter panel to another in the rear. The sleek
cabin features flush mounted windshield glass, which improves aerodynamics while adding to the car's sophisticated demeanor. Compact side-view cameras further enhance aerodynamics while providing superior visibility. Every detail from the brushed aluminum Acura logo on the grille to the LED illuminated taillights is designed to evoke the feeling of precision craftsmanship and athleticism.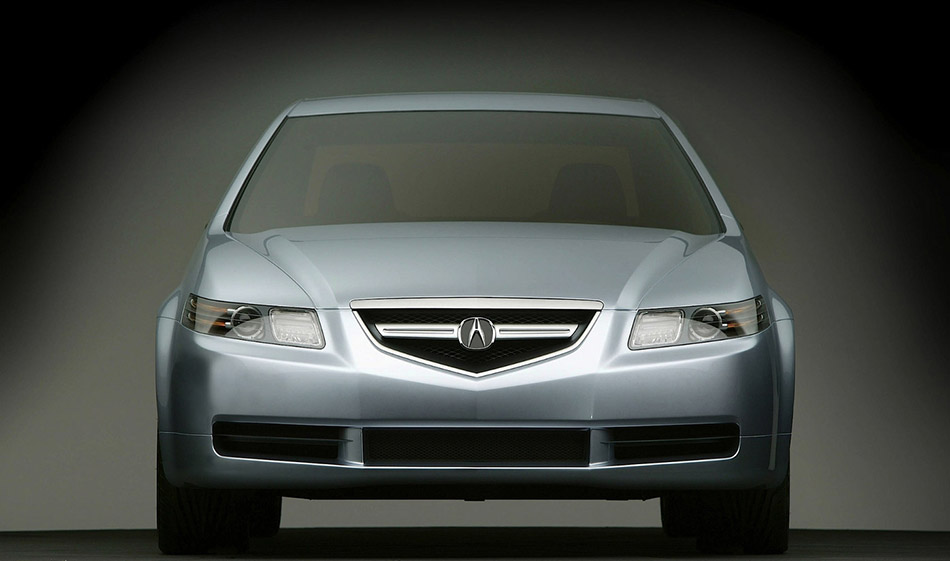 "The overall design conveys a feeling of tension," says Jon Ikeda, chief designer for the Concept TL, "like the muscles on a sprinter's arms and legs when he's ready to launch off the starting line."
A long, sleek hood accented with pronounced character lines, culminates in an aggressive front-end boasting large air intakes and an angular headlight assembly containing Xenon High Intensity Discharge headlights. Brushed aluminum accents, utilized on the signature five-sided Acura grille and throughout the car, add a high tech contrast to the silver metallic exterior. Instead of windshield wipers, the Concept TL is designed to use a series of jet nozzles, located in the cowl area, to shoot high-pressure air onto the windshield to keep it free from rain or snow during inclement weather.
In the rear, the Concept TL utilizes a short trunk lid with a pronounced lip and a V-shaped break below the trunk to express the car's aggressive nature. Dual exhaust pipes help to accent the car's muscular style.
"In California, and especially on the freeways, the part of a car you see the most is the rear end," explains Ikeda. "So we wanted to make sure that this concept looks just as fast and aggressive from the rear as it does in front."
Source: Acura
Gallery:
Acura Concept TL (2004)