Acura will enter the 2007 American Le Mans Series, initially competing in the LMP2 class, company officials announced today. This will mark Acura's first factory motorsports program in the 20-year history of the company. An Acura-powered endurance racing prototype will make its competition debut at the 55th Mobil 1 Twelve Hours of Sebring in March of 2007, racing against manufacturer-supported efforts from Audi, Porsche and Mazda, and a variety of well-equipped privateer teams.
"As Acura marks its 20-year anniversary, I can't think of a better racing series to showcase our technology and performance than the American Le Mans Series," said John Mendel, senior vice president, Auto Operations. "Our entry as a full factory team in the American Le Mans Series will accurately reflect Acura's position as a leader in automotive performance and technology, and provide us with an arena in which to compete against other manufacturers in endurance sports car racing."
The American Le Mans Series draws on the heritage of long-distance "endurance" sports car racing in both Europe and the United States as exemplified by the historic 24 Hours of Le Mans. The 10-race domestic series includes the 12 Hours of Sebring - a U.S. fixture since 1952 - plus events at the country's premier road circuits, including Road America, Mid-Ohio Sports Car Course, Laguna Seca, Lime Rock Park and Road Atlanta.
Sports car competition in the American Le Mans Series features multi-class racing of high-tech sports car prototypes and production-based Grand Touring machinery, with both factory-entered manufacturer teams and relentless privateers battling for victory. State-of-the-art technology and engineering, in everything from electronics to aerodynamics to fuel efficiency, are keys to success in the Series. Manufacturers currently fielding teams include Volkswagen/Audi, Porsche, BMW, Ferrari, Lexus, Aston Martin, Panoz and Chevrolet.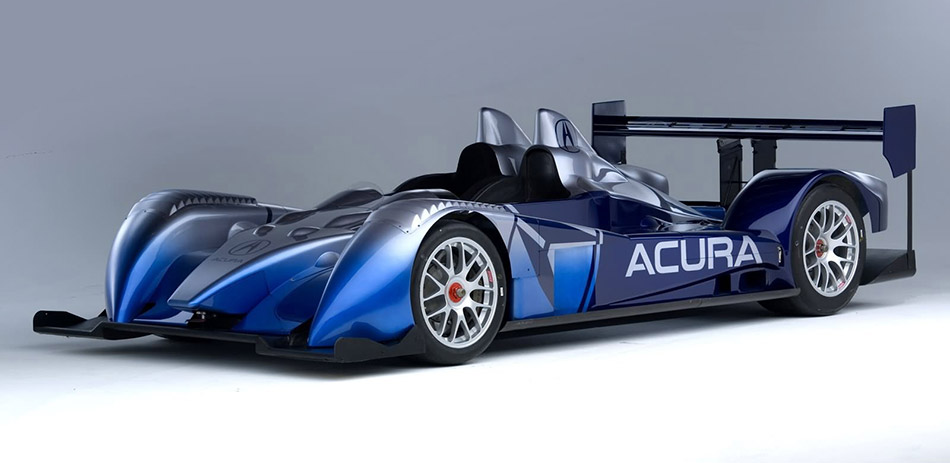 The American Le Mans Series is one of the fastest-growing racing series in the U.S., with a rapidly growing fan base attending the events and watching on television. Five of the 10 races in 2006 will be broadcast by CBS, with the remaining five events and Le Mans telecast on the cable/satellite SPEED network, including a prime-time season finale at Laguna Seca.
"We are delighted to have Acura join the American Le Mans Series," said Scott Atherton, president and CEO of the Series.
The new Acura American Le Mans Series program will feature the first racing engine completely designed and developed in-house by Honda Performance Development of (HPD) Santa Clarita, California, American Honda's wholly-owned racing subsidiary. It will mark the first time HPD has taken on multiple concurrent motorsports programs in both the American Le Mans Series and the Indy Racing League.
Acura will take part in the full American Le Mans Series schedule, while at the same time Honda continues its long-standing participation in the Indy Racing League, supplying the entire IndyCar Series field with Honda Indy V-8 engines.
"We're looking forward with great anticipation to entering the American Le Mans Series," said Robert Clarke, president of Honda Performance Development. "In addition to returning Acura to the international racing stage against other innovative automotive manufacturers, it allows us to continue to grow HPD into a world-class performance company.
In 2007, the Acura race program will feature HPD-designed and developed engines, and chassis from multiple manufacturers, including Lola Cars International, Ltd., of England, and Courage of France. After initial competition in the LMP2 class, plans call for the development of an Acura LMP1 chassis and engine package to compete in the American Le Mans Series, and earn an invitation to the 24 Hours of Le Mans.
Honda Performance Development was founded in 1993 as the wholly owned racing subsidiary of American Honda Motor Co., Inc. It has served as the technical operations center for Honda's IndyCar engine program. HPD last year opened a new, 123,000-square-foot headquarters to increase the company's racing manufacturing, research and development capacities.
Acura previously participated in the International Motor Sports Association in the early 1990s, providing sponsorship and additional support for the Comptech Racing team in the Camel Lights division. Although not a full factory effort, Comptech and lead driver Parker Johnstone won three consecutive class titles from 1991-93 in an Acura-powered Spice chassis, with 22 race wins in 38 starts, including the historic 12 Hours of Sebring in 1993. In addition, Acura has supported the multiple championship-winning efforts of Peter Cunningham and Real Time Racing in SCCA World Challenge/Speed TV competition.
Testing of the Acura-powered American Le Mans Series cars will begin this summer, with drivers and teams to be announced in the near future.
Source: Acura
Gallery:
Acura ALMS Race Car Concept (2006)