Not by chance have vehicle wraps still an upward trend. The possibilities for a truly personal customization - as opposed to a conventional paint - are manifold higher. To the illustrious circle of absolute professionals in this field belongs, without any doubt, the company FOSTLA.DE in Hanover. Managing director Darius Wallat repeatedly surprises with unprecedented concepts.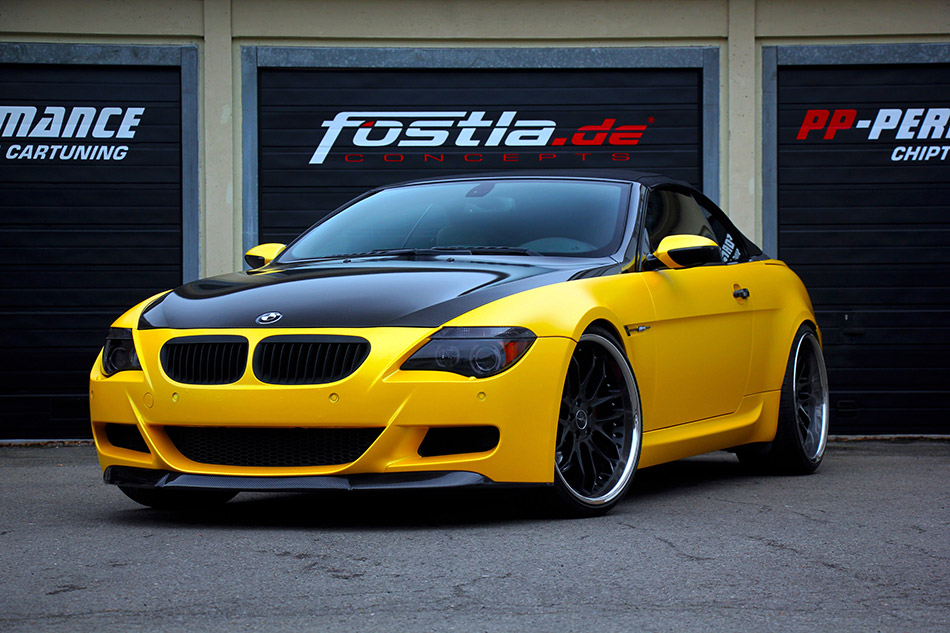 This time it is a BMW M6 convertible to be adapted a "new vesture" to customer's request. So the full-foliation is done in a matte PWF Yellow by Bruxsafol. However, except for the bonnet, front spoiler lip and parts of the exterior mirrors that present themselves in Monza carbon. Apart from the tint of the windows also headlights, taillights and indicator signals are tinted to 5%. If the color palette of the automobile manufacturer does not provide enough "leeway" each vehicle can be given a new outfit much faster and noticeably cheaper with high-quality film. Apart from the protection against scratches and rock chips, the film can of course be completely removed again if necessary.
 
Since the beginning of 2014 FOSTLA.DE is by the way also authorized service station of the Hanover based company PP-Performance. In order to give enough emphasis to this fact, FOSTLA.DE has with the BMW M6 Convertible, as presented here, ignited the stage 1 of the upwardly open tuning scale. Consequently, an optimization of motor control has been carried out at the price of € 2,199.00: the nearly five liters capacity now elicits 537 hp ( 395 kW = ), a torque of 545 Nm, a Vmax of 300 km/h and a sprint from 0 to 100 km/h in 4.30 seconds. A 12-months warranty and MOT certificate cost another € 249. Furthermore, the foiled Convertible is now, thanks to the Hamburg firm Wheel Company, fitted with a set of Race GTR rims Breyton in the dimensions 9x22 ET30 on the front axle and 11.5 x 22 ET30 at the rear axle, each in combination with 25mm-SCC spacers, together with adequate tires. Through the original M6 shock absorbers with EDC in connection with sporty H&R lowering springs the M6 is about 25 mm lower than the series. Finally remains to mention the "Race" version of a sports exhaust system from Eisenmann, here with four oval tailpipes in 120x77mm and engraved Eisenmann logo.
 
Premium foliations and Chip & Cartuning à la PP-Performance, an equally sensible and successful cooperation, which will provide new evidence of creativity again in the future.
Source: FOSTLA.DE
Gallery:
FostlaDe BMW M6 Convertible (2014)