The Mercedes-Benz G-Wagon has been an iconic and unmistakeable truck ever since its first debut back in 1979. Thirty-five years later, and here we are, transforming it into a completely modern Sport-Utility Vehicle for the year of 2014. We start off this transformation by infusing the AMG G63 with a complete Brabus Widestar Kit, which includes Fender Flares and Door Add-Ons.
Brabus Front Lip with Integrated DRL LED System were added, as well as their Side Skirts, Rear Bumper, Roof Spoiler, and Carbon Fiber Hood Vent.
We then proceeded to treat the exterior with a matte military green vinyl wrap to give the truck a more rugged overall look and set it apart from all the other AMG G63 on the street. For the final touch, a set of 22? ADV1 7.0 MV2 in Man Bronze finish were installed, giving this truck a complete transformation from top to bottom.
Wheels - ADV 7.0 MV2, 22×10.5 | Man Bronze Exterior - Brabus Front Lip w/ Integrated DRL LED System - Brabus Side Skirts - Brabus Widestar Kit (Fender FLares & Door Add-Ons) - Brabus Rear Bumper - Brabus Carbon Fiber Hood Vent - Brabus Roof Spoiler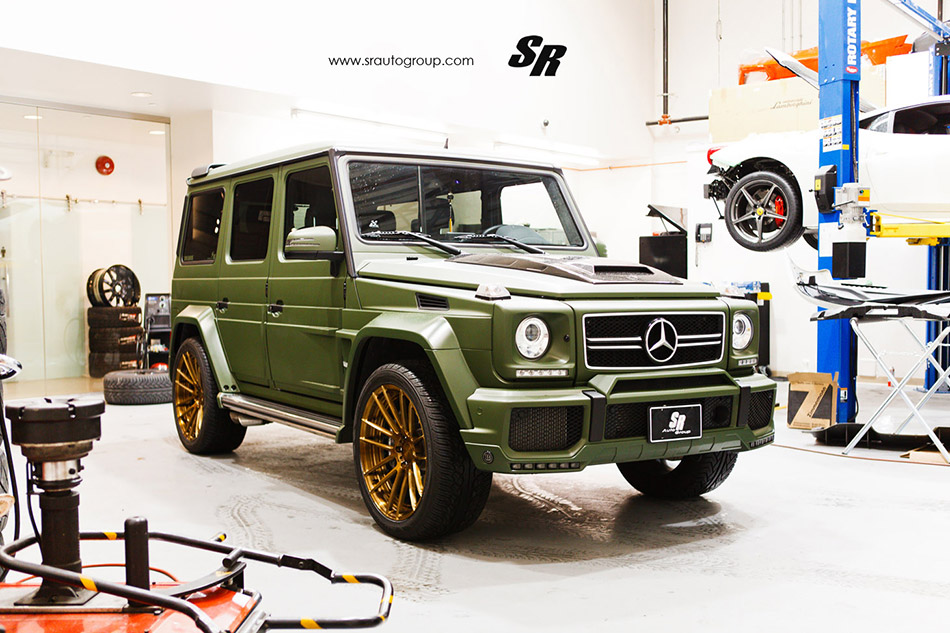 Source: SR Auto Group
Gallery:
Brabus Mercedes-Benz AMG G63 ADV1 MV2 (2014)