The new Silverado builds on Chevrolet's 95 years of truck heritage, while raising the bar for full-size pickups. Among the many updates for 2014 are a new trio of powerful, efficient EcoTec3 engines; a stronger, quieter, more comfortable cab; revised steering, suspension and brakes; ingenious solutions for managing cargo in the bed and true truck capability for towing and hauling.
"Our customers rely on their trucks to meet the day-to-day challenges of earning a living, running a business and taking care of their families," said Mark Reuss, president, GM North America. "Chevrolet is committed to giving truck customers the most-refined, best-engineered pickups in the market."
The 2014 Silverado will become part of Chevrolet's three-truck portfolio, designed to let customers select the right truck for their needs. It joins the Chevrolet Silverado 2500 and 3500 HD pickups, the ultimate tools for towing and hauling, which were new for the 2011 model year. Chevrolet is also developing an all-new Colorado midsize pickup, which will offer proven truck capability in a space- and fuel-efficient package.
Every detail of the 2014 Chevrolet Silverado 1500 was designed and engineered to meet the exacting requirements of full-size truck customers and to strengthen Chevrolet's reputation for building the most dependable, longest-lasting full-size trucks - trucks with the lowest overall cost of ownership.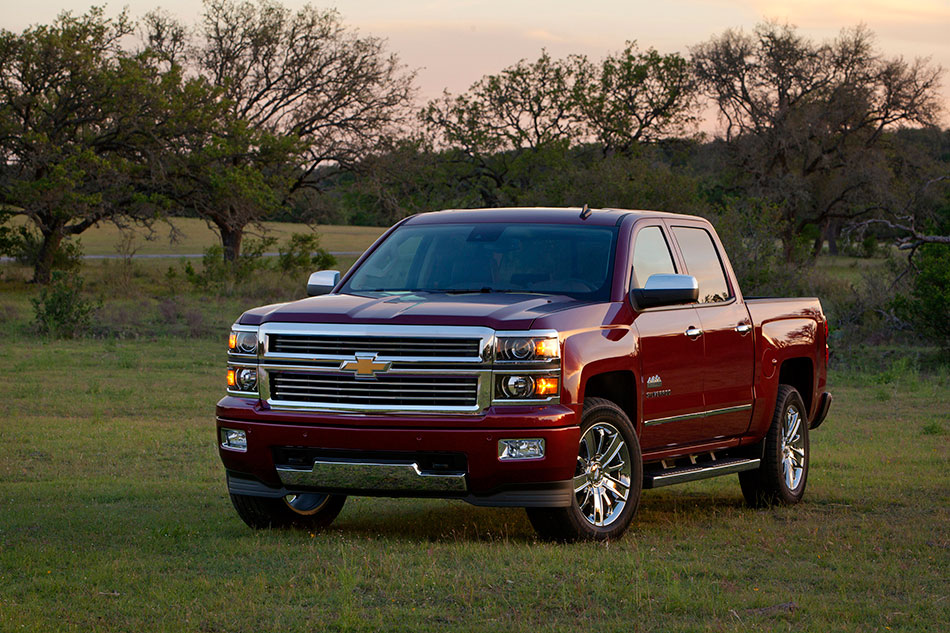 "Don't let the work boots fool you. Truck customers are among the most discerning and demanding in the business," said Jeff Luke, executive chief engineer for full-size and midsize trucks.
"The designers and engineers who created the new Silverado share this passion for trucks. They have built this truck - and tested it to the extremes - to give customers the right tools for the tough jobs, and they have created dozens of solutions to the challenges truck customers encounter every day."
For 2014, Chevrolet Silverado 1500 is designed and engineered to deliver the capability - without compromise - that customers have come to expect from Chevrolet pickups.
Chevrolet Silverado's exterior design blends strong Chevy truck heritage with a refined, modern aesthetic. The new design is more muscular, more functional and more aerodynamic. A twin-port grille, full-width bumper and dual power dome hood create a strong presence, which is carried through in sculpted body sides and fender flares.
The new Silverado design is about much more than just looks, however. The new front end is engineered to improve sealing for more efficient cooling, while the roof and tailgate spoiler were shaped in the wind tunnel to smooth airflow over the truck for reduced drag. New inlaid doors, which fit into recesses in the bodyside, reduce wind noise for a quieter cab.
Under the hood, the 2014 Silverado 1500 features a family of three all-new EcoTec3 engines, a V-6 and two V-8s, engineered specifically for use in full-size trucks. All three engines incorporate direct fuel injection, cylinder deactivation and continuously variable valve timing, a combination of advanced technologies not found in other competitors' trucks. All three switch seamlessly to four-cylinder operation to improve efficiency during light load driving and all three are engineered provide more power, more torque and better efficiency than the previous versions.
The engine family includes a new 4.3L V-6 that will have ample torque to power a crew cab pickup and tow a substantial trailer, as well as a new 5.3L V-8 designed for more power, more torque and better efficiency than the current version, which is currently the V-8 fuel economy leader. A new 6.2L V-8 is engineered to be the most capable engine in any light-duty pickup.
SAE certified horsepower and torque ratings and EPA fuel economy estimates for the new Chevrolet Silverado will be final and available beginning early next year.
The all-new interiors of the 2014 Silverado 1500 reflect the same focus on form and function. The upright instrument panel, six-gauge instrument cluster and multiple storage options are tailored specifically to the needs of truck customers. Controls are functional, logically placed and easy to operate with work gloves on. Rear doors on crew cabs are larger, for easier entry and exit, and rear doors on extended cab models are now hinged at the front for easier access, especially in tight spots.
The new Chevrolet MyLink provides easy-to-use connectivity for the job site or the family vacation, with natural voice recognition and enough ports and power outlets to support multiple devices.
The new truck cab is stronger, with nearly two-thirds of the structure made from high-strength steel for a confident feel and improved safety. Similarly, the main rails and key cross members of the updated frame are high-strength steel with major elements hydroformed for reduced mass and improved strength.
New shear-style body mounts tune out both up-and-down and side-to-side movement for a quieter, more comfortable ride. Extended- and crew-cab models have a third set of hydraulic body mounts to further isolate the cabs. Combined with numerous other acoustic and NVH (noise vibration and harshness) enhancements, the intended result is a solid, refined feel with no loss in traditional truck capability.
The pickup box also benefits from this focus on providing Chevrolet Silverado customers with the right tools for the job. The box is made from roll-formed steel for increased strength and reduced mass, compared with the stamped beds used by major competitors, and it features a range of smart solutions for everyday life.
Silverado's CornerStep bumper, combined with handholds built into the new box rail protectors, makes it easier to access the box. The bed is also available with new upper tie-down hooks, under-rail light-emitting diode lighting, and an EZ Lift and Lower tailgate.
For the first time, Silverado 1500 crew cabs will be available with a longer 6'6" foot box, in addition to the previous 5'8" box, enabling customers to carry more cargo while still being able to park in many garages.
The chassis of the 2014 Chevrolet Silverado includes a number of customer-focused updates. A revised front and rear suspension and wider wheels provide a more comfortable ride and more confident handling. Electric power steering improves steering feel and reduces fuel consumption. New four-wheel-disc brakes with Duralife ™ rotors improve brake feel and extend rotor life.
Silverado will be available with segment-exclusive safety features such as Forward Collision Alert, Lane Departure Warning with an Active Safety Seat, and Front and Rear Park Assist. StabiliTrak with Trailer Sway Control and Hill Start Assist are standard on all Silverados.
"We have made significant upgrades in the key areas of the new Chevrolet Silverado, and improved almost every detail of the truck," said Luke. "We think both Chevrolet loyalists and competitive shoppers are going to find a lot to love about the new Silverado, beginning with the very first time they sit behind the wheel."
Engineered and validated for demanding customers
Truck customers are among the most discerning and demanding in the business. They know trucks inside out - many have owned trucks for decades. They work their trucks hard, under conditions that would shock many car owners. They have tough tasks to do, and they expect their trucks to do them, without complaint. And they expect their trucks to endure - the average age of a full-size pickup is now more than 10.4 years.
The team that designed the new Silverado went to extremes to design a new truck that would exceed the demands of these customers.
For example, GM's new full-size trucks will undergo more than 6 million miles of durability testing in the torture chambers at the Milford Proving Ground, over the deserts and mountains of Nevada and across the frozen flats of Kapuskasing, Ontario. That's equivalent to 240 trips around the earth. In addition, the trucks will accumulate more than 7 million real-world miles during final testing, bringing total test miles to more than 13 million.
The increased power, torque and efficiency of the new EcoTec3 engine family resulted from an unprecedented level of computer analysis, including extensive computational flow dynamics, to optimize the burning of air and fuel in the cylinders. More than 10 million of hours of computational analysis went into the engine program. More than 6 million hours - about 685 years' worth - of analysis went into the advanced combustion system alone.
Even the basics, like the new inlaid doors, were tested to the extreme, with the doors undergoing nearly 150 truck lives' worth of testing.
The 2014 Silverado 1500 crew cab will start production in the second quarter of 2013, with other cab styles following later in the year.
A modern interpretation of iconic Chevrolet design
For the 2014 Chevrolet Silverado, designers sought to strike the ideal balance between Chevrolet's deep heritage in full-size pickups and a more modern, refined aesthetic. They also sought to give the new Silverado a more dramatic presence, with a heightened stance and more structural, muscular sheet metal, while also improving aerodynamics to make the new Silverado quieter and more efficient.
"Creating the new Silverado while maintaining its heritage was a challenge, but I am confident that we struck the right balance," said Kevin O'Donnell, manager for the Chevrolet Silverado exterior design. "The 2104 Silverado will definitely stand out, in terms of both appearance and improved aerodynamic performance."
The classic two-port Chevrolet truck grille, restyled headlamps and one-piece bumper wrap from fender to fender, giving the truck a wider, stronger stance. The grille of the new Silverado is designed to admit the just right amount of air, and the front is carefully sealed to provide efficient cooling with minimal aerodynamic drag.
A modern interpretation of Chevrolet vertically stacked headlamps includes projector beam lamps on LTZ models. A new hood with twin power domes not only enhances visual presence, but it guides air over the windshield wipers for reduced wind noise.
The more aggressive design continues down the body, with sculpted body sides and prominent fender flares. Available wheel well liners provide a more finished look. Wheels range from 17 to 20 inches in diameter and all are a half-inch wider than before, for reduced tire flex and enhanced cornering and steering. Twenty-two-inch wheels will be available as Chevrolet accessories.
Special attention was paid to airflow over the truck, to improve efficiency and reduce wind noise. Most notable are the inlaid doors, which fit into body sides rather than wrapping over the roof. When combined with new triple door seals, the inlaid doors reduce wind noise and turbulence, helping quiet the cab.
Other aerodynamic details include new cab-to-box seals, shields on the chassis to smooth under-vehicle air flow, and deflectors to guide air around the rear tires. Both the roof and the top of the tailgate were precisely shaped to help manage airflow over the back of the pickup.
Also for 2014, rear doors on crew cab models are larger. The B-pillars were moved forward, the rear seat redesigned and the front seatbacks made thinner, adding about two inches to rear legroom and increasing the ease of entry and exit without adding length to the vehicle. On extended cab Silverados, the rear doors now hinge at the front, from the B-pillar, for easier access in parking lot and other tight spots.
Three all-new EcoTec3 engines
The heart of any truck is under its hood and the 2014 Chevy Silverado 1500 offers three new EcoTec3 engines developed specifically for the demands of truck duty cycles. All feature a trio of state-of-the-art technologies - direct injection, cylinder deactivation and continuously variable valve timing - that optimize power, torque and efficiency across a broad range of operating conditions.
The new trio of engines is designed to match the needs of truck customers, and to provide more horsepower, more torque and better fuel economy than previous Silverado engines.
All three engines feature an advanced combustion system for more efficiently turning fuel into work and all three are designed to seamlessly switch to four-cylinder mode to improve efficiency during light-load driving.
"We believe these engines are the most technologically advanced engines ever offered in light-duty pickups, and they are specifically designed for the way customers use trucks in the real world," said Jordan Lee, Small Block chief engineer and program manager.
"EcoTec3 engines offer technology no other truck maker can match, and we offer it in every one of our engines, for every one of our customers," said Lee. "It is not an extra cost feature. You get our best and most advanced technology regardless of trim level."
To provide the dependability and low cost of ownership that truck customers count on, all three engines feature a work-tested, race-proven overhead valve design that is light and compact, and has inherently low friction for improved fuel efficiency. All three feature aluminum blocks and heads for lower weight. (For more details, see the accompanying EcoTec3 Engines release.)
The new engine family includes:
A new standard 4.3L V-6. Its large displacement delivers the torque to power a crew cab and pull a substantial trailer, yet it can seamlessly shift into four-cylinder mode under light loads for improved efficiency.
A new 5.3L V-8. It is engineered to provide more horsepower, more torque and better fuel economy that the current 5.3L V-8, making it an excellent choice for mainstream customers.
A new 6.2L V-8. It is engineered to be the most capable engine in any light-duty pickup. Like the other two engines in the family, it can seamlessly switch to four-cylinder mode under light load conditions for improved efficiency in daily driving.
The 2014 Silverado 1500 is engineered to further improve efficiency by enabling the engines to operate in four-cylinder mode more of the time. For example, transmission and exhaust mounts tune out vibration that can occur when the engines are in four-cylinder mode, and an active exhaust system fine tunes backpressure and the exhaust note for smoother, quieter operation. Models with the 6.2L V-8 feature active noise cancellation to further quiet the cabin during four-cylinder mode.
All three engines feature a six-speed automatic transmission with gear ratios and shift schedules optimized for performance and efficiency. The transmissions feature Auto Grade Braking, which downshifts on downgrades to help reduce brake wear. Due to the added torque of the new V-8 engines, new 9.5- or 9.76-inch rear axles are used.
"Not only did we work to improve the horsepower, torque and EPA fuel economy estimates of all three EcoTec3 engines, but we worked hard to improve real-world efficiency as well, especially when towing and hauling," said Lee. "We look forward to journalists and other third parties having the opportunity to test our trucks head-to-head with the competition in real world conditions."
More comfortable, more functional interior
With crew cabs now accounting for more than two-thirds of light-duty sales industry-wide, pickups are increasingly becoming multi-purpose tools, used to run a business or earn a living during the day and transporting friends and family during the time off. To accommodate those needs Chevrolet Silverado designers sought to craft an interior that was quieter, roomier, more comfortable and more functional, without making it look like the interior of a car or crossover.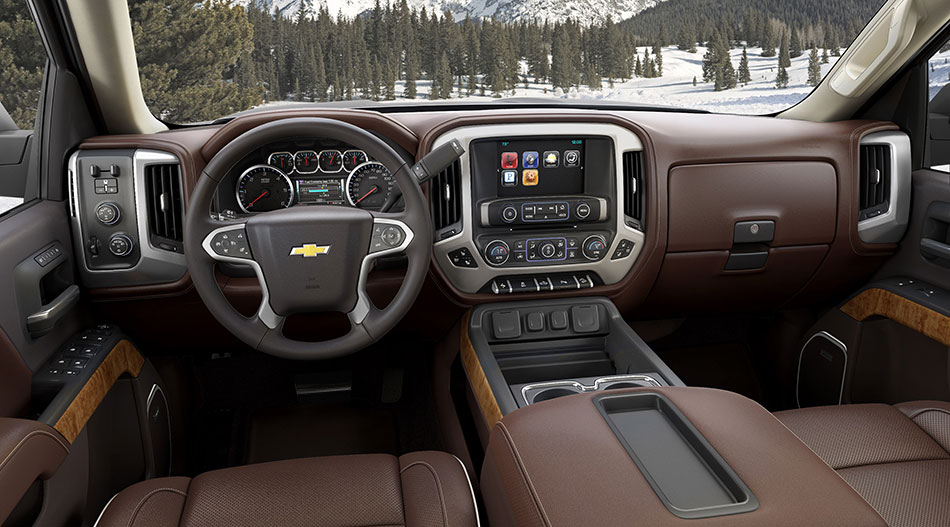 The result: an all new interior that sets a benchmarks for full-size trucks.
"Changes to the exterior of the 2014 Silverado can be described as evolutionary, but the updates to the interior are dramatic," said Helen Emsley, Silverado design director. "The meticulous attention to detail and the steps we took to ensure optimal driver and passenger comfort and convenience, are reflected in the fact that the new interiors rated off the charts in customer clinics."
The upright instrument panel with its six-gauge instrument cluster is tailored specifically to the needs of truck customers, and most models also include a 4.2-inch color Driver Information Center displaying vehicle and infotainment data.
Controls were located with the use of reach curves, and important controls were place closest to the driver and grouped functionally. Knobs, buttons and interfaces are large, easy-to-read and easy to operate, even with gloves on.
For example, Chevrolet Silverado retained the traditional column shifter, with tap-up/tap-down and tow-haul functions integrated into the lever, because it clears space in the console and is easy to operate, even with heavy work gloves. Similarly, the available integrated trailer brake control is mounted high and to the left of the steering wheel, where the driver can more naturally reach for it.
The result is a simple, well designed instrument panel - one in keeping with the ways customers use their full-size trucks.
Silverado's available MyLink infotainment system is designed to be easy-to-use, highly customizable and capable of linking up to 10 devices. It features natural language voice recognition that allows customers to place calls, enter destinations, browse media, play music and control other functions simply by telling the vehicle what to do. There are no key phrases to remember and no need to look at a screen.
MyLink also can be operated via large, clearly labeled knobs, through integrated steering wheel controls, or through the touch screen on models with the eight-inch screen.
The system also can store up to 60 favorites including radio stations (AM/FM/XM), contacts, destinations, music and other media - a convenient feature for small businesses or owners who travel frequently.
All models also have extensive interior storage, tailored to the way customers use their trucks. Multiple USB ports, along with 12-volt and110-volt power outlets, help connect multiple devices.
A new high-wear seat cloth that is more durable and easier to clean is available and the front seats have more durable dual-density foam for improved comfort and longer life.
The goal, in each case, was to create a level of comfort and convenience usually associated with upscale cars, but tailored to the way customers use actually use their trucks.
Strengthened cabs and frames
Truck customers have the highest expectations when it comes to durability and capability - they need to know that one of the most important tools in their toolbox is going to withstand the daily punishment of their work and their active lifestyles. And they expect their trucks to last - the average truck on the road is now more than 10.4 years old.
To ensure that the new Silverado is up to the challenge, key elements of the updated frame, including the main rails and major cross members, are made from high-strength steel and hydroforming is used to improve strength and reduce mass of the front of the frame.
The cab structures are all new, and incorporate high strength steel in the A-pillars, B-pillars, roof rails and rocker panels. Ultra-high-strength steel is used in areas of the rocker panels and underbody in anticipation of new shallow-offset crash tests. In all, about two-thirds of the cab structure is made from high-strength steels, for a quieter ride, a more confident feel and enhanced performance on new, tougher government and industry crash tests.
The mounts that isolate the cab from frame have a major impact on both noise and vibration in the passenger compartment. All Silverado models now have shear-style mounts, which isolate both up-and-down and side-to-side movements, and extended- and crew-cab models have additional hydraulic mounts to provide further isolation. The result is a truck that feels much quieter, more refined and more solid than previous models.
The 2014 Chevrolet Silverado 1500 also features a roll-formed steel pickup box, which is lighter, stronger and more durable than traditional stamped steel boxes used by major competitors.
The use of high-strength steels and other lighter materials such as aluminum hoods, engine blocks and suspension helped offset the mass of new features such as stronger cabs, wider wheels, a larger battery and larger rear axles for V-8 Silverados. The 2014 Silverado continues to be lighter than comparable models from a key competitor.
More confident ride, handling and braking
The suspension, steering and brakes of the 2014 Silverado 1500 have been extensively updated to for a quieter, more refined ride and confident handling and braking.
The coil-over-shock front suspension features aluminum upper and lower control arms on many models that are both lighter and stiffer than previous components, along with front springs are up to 30 percent stiffer than those on current models, for more confident handling.
The rear suspension continues to use two-stage multi-leaf springs, for an optimal balance between a smooth ride and load carrying capability. The spring bushings have been revised for an improved ride, and both front and rear shocks feature a twin-tube design with new valving to improve damping at low speeds, for a smoother, more controlled ride. Z71 models use monotube Rancho shocks for enhanced off-road capability.
The 2014 Silverado 1500 features new all-electric variable-assist power steering, which improves overall vehicle handling and reduces steering effort at low speeds. Because there is no engine-driven pump, electric power steering also reduces fuel consumption and eliminates the maintenance associated with hydraulic power steering.
Four-wheel disc brakes with Duralife ™ rotors are standard. The rotors feature a hardened and strengthened surface that resists rusting, potentially doubling the life of the rotors and improving vehicle appearance. The brake pedal feel has been improved as well.
Chevrolet Silverado also features Auto Grade Braking, which uses the engine and transmission controls to slow the vehicle on a long downgrade, helping maintain vehicle speed and reducing the need for the driver to use the brakes.
Smarter pickup box
For 2014, Silverado even makes the pickup box smarter. A CornerStep bumper and built-in hand grip pockets in the new bed rail protectors make it easier to step up into the bed and access items.
The tailgate features an internal torsion bar that reduces the effort to raise and lower the tailgate, while a rotary damper allows for a controlled and more gradual lowering motion when opening the tailgate. A locking feature, two-tier loading and a box lamp are standard. Available features include upper tie-down hooks that make it easier to secure cargo, and LED lamps under the bed rails that make it easier to see items in the bed.
The pickup box is available in three lengths - 5'8", 6'6"and 8'. Crew cab models add the 6'6" box as a new option in addition to the 5'8" box. Extended cab models come with 6'6" boxes and regular cab models are available with 6'6" or 8' boxes. Customers who tow will appreciate the four- and seven-pin trailer connector located in the rear bumper.
Z71 for off-road capability
For owners whose work or recreation takes them off road, Z71 returns as a unique model, available in LT and LTZ trim. For 2014, Z71 includes monotube Rancho shocks, front tow hooks, a transfer case skid plate and unique 18- or 20-inch all-terrain tires. The Z71 package also includes Hill Descent Control. Engaged by the driver using a button on the instrument panel, it uses the anti-lock braking system to enable a smooth and controlled descent in rough terrain.
Z71 also includes unique 18-inch wheels (optional on LT, standard on LTZ) and unique interior trim, including brushed metal sill plates, a technical finish on interior trim pieces and Z71 graphics on the instrument cluster.
Standard on Z71, and available on other Silverados, is a GM-exclusive automatic locking rear differential, which reacts in milliseconds in low-traction situations to improve safety and confidence on wet, snowy or muddy surfaces.
Advanced safety features
As mentioned above, the 2014 Silverado 1500 has an all-new cab, with approximately two-thirds of the structure built from high strength steels. It helps protect occupants in the event of a crash and enhances performance on new, tougher government and industry crash tests.
Chevrolet Silverado continues to offer a comprehensive suite of standard safety technologies, including StabiliTrak electronic stability control with Trailer Sway Control and Hill Start Assist, head curtain side airbags with rollover protection and OnStar.
New for 2014, Chevrolet Silverado will offer several segment-leading features. Lane Departure Warning alerts the driver if the vehicle starts to drift into another lane, via an audible warning or the available Safety Alert Seat. Also available is Forward Collision Alert, which monitors the space in front of the vehicle via a camera, and warns the drive if he or she is getting too close to the vehicle ahead.
Other available safety features include front and rear park assist, a rear vision camera mounted in the tailgate and spotter mirrors that make it easier for drivers to see objects in the blinds spots.
Source: Chevrolet
Gallery:
Chevrolet Silverado (2014)