High-strength steel makes the Chevrolet Silverado lighter, stronger and more efficient than the conventional carbon steel used in most vehicles. Those attributes are highlighted in the simulated raw steel appearance of the new Silverado Toughnology concept.
The concept is also a showcase for Silverado's connectivity technologies – including all-new OnStar 4G LTE with built-in Wi-Fi hotspot – as well as accessories and performance parts available through Chevrolet dealers.
"The technology of advanced high-strength steel makes the Chevrolet Silverado stronger, lighter, more capable and more efficient – and that's exactly what the Toughnology concept represents," said Jeff Luke, executive chief engineer. "During the Silverado's development, we evaluated all materials and chose those that would provide the best strength to support capability while still delivering a strong value to customers.
"High-strength steel had clear advantages and is a contributor to the overall package that made Silverado the 2014 North American Truck of the Year."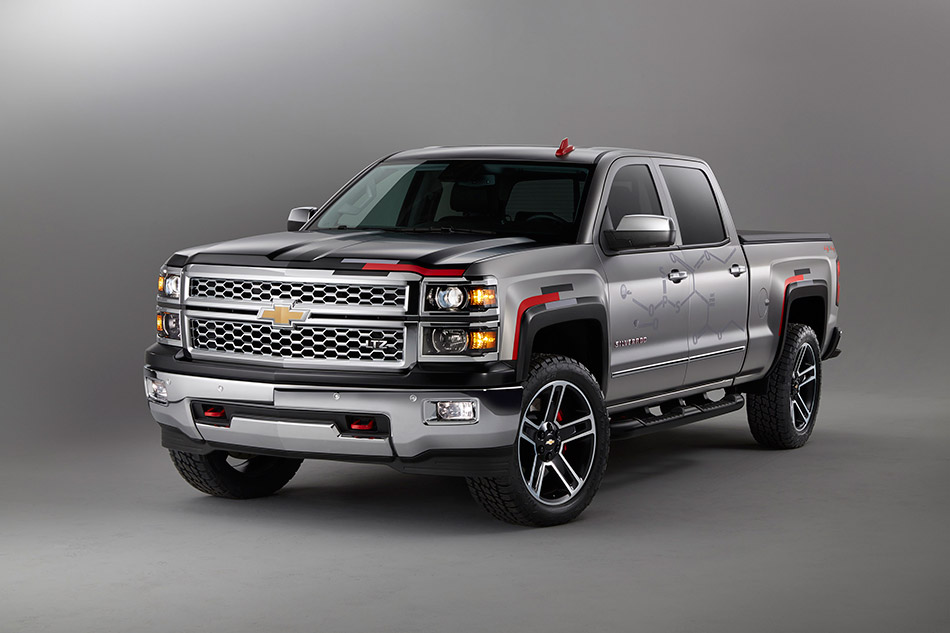 High-strength steel, which is pressed while still in molten form, can be up to 30 percent lighter than carbon steel with the same strength. It offers significant mass savings at a lower cost than aluminum, which helps keep down the overall vehicle cost. Lower weight translates to greater efficiency and capability for truck owners.
The 2015 Silverado 1500 with the EcotTec3 5.3L V-8 engine is EPA-estimated at 23 mpg on the highway and offers a maximum trailering capacity of 11,200 pounds, per newly adopted SAE J2807 Recommended Practices. With the available 6.2L V-8 engine and all-new eight-speed automatic transmission, the Silverado's trailering capacity increases to 12,000 pounds.
The Silverado Toughnology concept wears most of its high-strength steel under the skin, just like every production model. Approximately 67 percent of each Silverado cab is constructed of the durable material, including stronger ultra-high-strength steel. It is used in the A-pillars, B-pillars, rockers and roof rails, as well strategic sections on the interior structure. Ultra-high-strength steel is used in areas of the rocker panels and underbody to help improve performance in crashes.
The 2015 Silverado 1500 crew cab model earned a 5-Star Safety Rating – the highest rating – in government crash testing.
Lightweight strength extends to the Silverado's pickup box, where the floor is made of roll-formed steel. It's more durable than the conventional stamped steel used by other manufacturers and it's lighter than the material used for stamped parts, further reducing vehicle weight.
The Silverado also strategically uses aluminum, including the hood, which saves 17 pounds over a conventional stamped steel hood.
"We put the best materials to use where they'll do the most good," said Luke. "Every panel, inside and out, is designed to support the Silverado's capability and carry on its position as America's most dependable, longest-lasting truck."
Source: Chevrolet