The Dodge brand recognizes that the heroic men and women who protect us must be equipped with the best performing pursuit-rated vehicle loaded with tactical equipment and technology. And for 2015, the Dodge Charger Pursuit – America's high-performance police vehicle – has been significantly redesigned, infused with even more world-class safety and security, technology and pursuit-rated hardware, all while offering 370 best-in-class horsepower, factory-installed Mopar upfit packages and the segment's most advanced all-wheel-drive (AWD) system for maximum tactical performance, all-weather traction and fuel-efficiency.
"Dodge has a strong police car heritage, and we are proud to offer a vehicle armed with modern muscle and cutting-edge technology to help law enforcement agencies perform their duties," said Tim Kuniskis, President and CEO — Dodge Brand, SRT Brand and Fleet Operations, Chrysler Group LLC. "The new Pursuit police car is based on our new 2015 Dodge Charger. It delivers up to 370 best-in-class horsepower, is available in both rear- and all-wheel drive, has a new driver-focused cockpit and adds new safety and security features, as well as new state-of-the art technologies, all designed to deliver the ultimate performance expected from Dodge."
Restyled with a confident "superhero" stance
Spiritually inspired by the iconic second-generation Charger from the late 1960s, Charger Pursuit's easily recognizable Coke-bottle design and scalloped body sides , sinister front crosshairs and aggressive stance and signature LED "racetrack" tail lamps all get a major makeover for 2015 with cleaner lines to create a sleek, chiseled, nimble and lighter weight appearance. The exterior redesign includes changes to the hood, fenders, front and rear fascias, headlamps, tail lamps and front doors.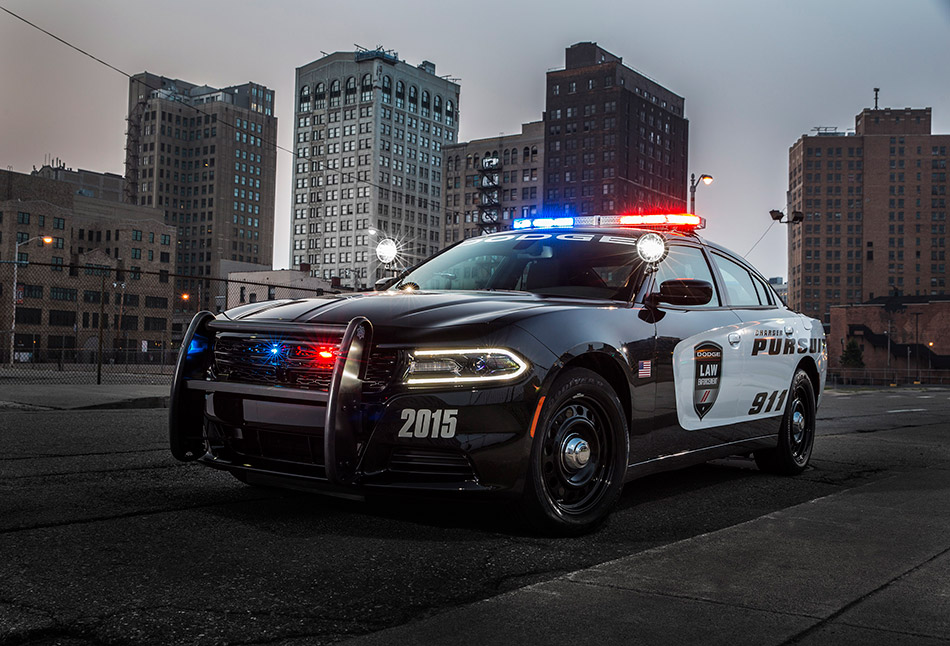 Starting up front, the 2015 Charger Pursuit's new front styling features an all-new crosshair grille, LED turn signals and daytime running lights (DRLs), and new projector-beam headlamps. The Charger's all-new forward-leaning front fascia gives it a superhero's confident stance. Slim, elongated DRLs and a full-width grille enhance the width of the sedan, while Dodge logos are echoed in the outside corner of each headlamp for added detail.
In profile, the 2015 Charger carries forward its muscular Coke-bottle styling, with streamlined side scallops, while headlamps and tail lamps are now wrapped around each corner to create a trimmer, more lightweight look.
At the rear, the C-pillar has been moved rearward to create an even more pronounced fastback appearance. Dodge Charger Pursuit's signature "racetrack" LED tail lamp has been updated with the same continuous glowing light ribbon technology that first debuted on the new Dodge Durango. The center high-mounted stop lamp is relocated from the top of the deck lid to the roofline inside the back glass, allowing for the centering of the backup camera.
Mobile command center with all-new state-of-the-art technologies
As the new Charger Pursuit was designed and engineered alongside the new 2015 Dodge Charger, the driver-focused interior has been significantly upgraded with the high-tech treatment. A new 7-inch full-color multi-view instrument gauge cluster offers more than 100 intuitive ways to customize how information is presented. At the center, a new instrument panel center stack with next-generation Uconnect 5.0 system with 5-inch touchscreen and Bluetooth is standard equipment. New for 2015, every Charger Pursuit includes hands-free Uconnect Phone standard.
Framing the Charger's new instrument cluster is a newly redesigned three-spoke thick rim sport steering wheel. The buttons to control driver information functions are now larger and illuminated to make them easier to operate. Buttons for Uconnect and mobile phone access now reside along the bottom edge of the horizontal spokes, while audio controls are found on the back of the steering wheel spokes.
Developed with the guidance of the brand's Police Advisory Board, the new 2015 Dodge Charger Pursuit features a mobile-command interior with a new vehicle systems interface module for easy equipment integration, police-duty front seats with unique bolstering to accommodate officers' belt-mounted gear and column-mounted shifter with Auto Stick to free up space for center-console mounted controls.
Feedback from the field improves the new 2015 Dodge Charger Pursuit
With input from law enforcement officials and Dodge brand's 22 member Police Advisory Board, the 2015 Dodge Charger Pursuit continues to add improvements to meet the high expectations and performance needs of the heroes who protect us. Continued improvements for 2015 include:
New Dodge steering wheel with remappable auxiliary buttons programmed to operate aftermarket police equipment
Fleet Park Assist Group  (includes rear backup camera and Park Sense for enhanced rear-view visibility)
Larger 14.5-in. front and 13.8-in. rear pursuit-rated brake package now standard for increased performance
Improved fuel economy with expertly tuned steering performance from the new all electric power steering (EPS) system on RWD vehicles
Additional front suspension bushing durability improvement for RWD
Uniquely designed fascia brake cooling ducts
Wig Wag prepared LEDs in front headlamp assembly for seamless look
Improved Vehicle System Integration Model with additional input/output:

New radio mute input
Pulse Width Modulation vehicle speed output
"Reverse" position output
"Drive" position output
America's high-performance police vehicle delivers 370 best-in-class horsepower, proven architecture
Designed and engineered to be America's high-performance police vehicle, the 2015 Dodge Charger Pursuit V-6 and V-8 models provide law-enforcement with two uncompromised, high-performance engines that deliver world-class levels of power, refinement, technology and fuel efficiency.
Delivering best-in-class power, the Dodge Charger Pursuit V-8 with its 5.7-liter HEMI® V-8 engine unleashes 370 horsepower, 390 lb.-ft. of torque, 0-to-60 mph in less than 6 seconds and up to 26 miles per gallon (mpg) highway with innovative four-cylinder mode Fuel Saver Technology. The legendary Charger Pursuit powertrain set the fastest-ever lap time at the 2012 Model Year Michigan State Police (MSP) Vehicle Evaluation (1:33.70) at the Grattan Raceway in Belding, MI.
In addition, Dodge Charger Pursuit V-6 with its aluminum 3.6-liter Pentastar V-6 engine delivers 292 horsepower and 260 lb.-ft. of torque and offers E-85 flex-fuel capability and up to 26 mpg highway.
With superior ride and handling, the Dodge Charger Pursuit features Chrysler Group's second-generation large car RWD architecture with performance-tuned suspension, load-leveling NIVOMAT shocks, heavy-duty anti-lock vented-disc brakes (ABS), front- and rear-stabilizer bars, 18-inch performance tires on steel wheels and two-mode electronic stability control (ESC).
New advanced safety and security features
In addition to its standing as a 2013 Insurance Institute for Highway Safety (IIHS) "Top Safety Pick," the Dodge Charger Pursuit surrounds the heroic men and women who protect with uncompromising safety and security technology, including standard advanced multistage driver and front-passenger air bags, seat-mounted side-thorax air bags, supplemental side-curtain air bags for front and rear outboard passengers and a driver's knee bag.
 
Mopar factory upfit equipment provides customers with quality-tested equipment and hassle-free ordering and servicing
For the 2015 Dodge Charger Pursuit, Dodge and Mopar have teamed up to offer law enforcement officers with the ability to customize their vehicle to their exact specifications right from the manufacturer. To enhance Dodge Charger Pursuit's world-class levels of technology, safety, handling and efficient power, Mopar worked with leading-industry upfit suppliers to develop the best combination of tactical equipment and performance.
Mopar conducted extensive testing to ensure that its police upfit equipment meets and exceeds the heavy-duty durability cycle and tests requirements of the Dodge Charger Pursuit.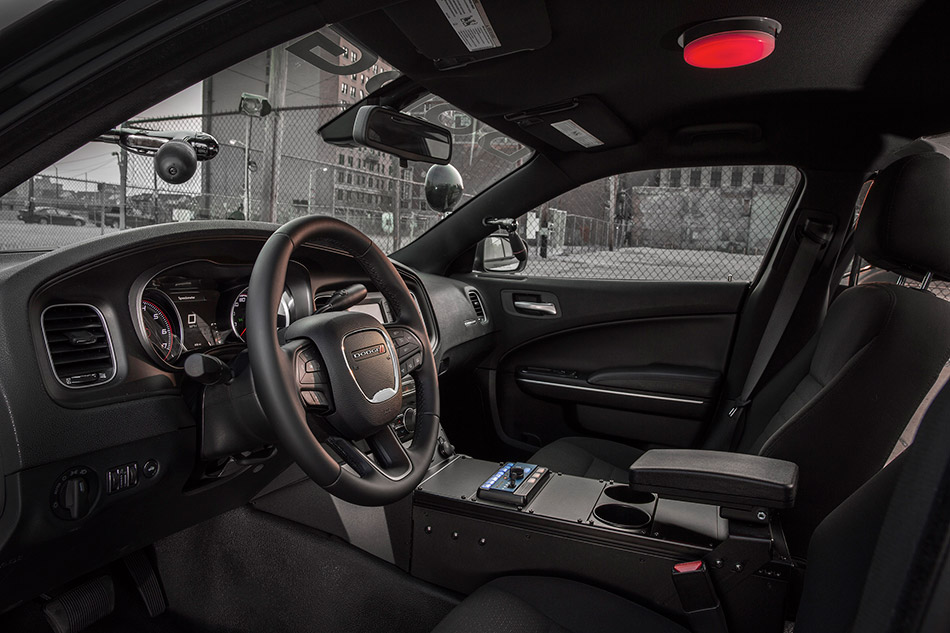 The base police prep package for the 2015 Dodge Charger Pursuit includes the following:
Emergency equipment electrical system wire harness: Capable of providing the appropriate power, ground and fusing for a variety LED, lighting, siren, computer, modem, or camera systems. The wire harness integrates with both the Vehicle Systems Interference Module (VSIM) 24-way connector and the 12-pin connector that Chrysler Group provides at the console
Power distribution center (PDC): Contains the fusing and relays for circuits contained in the wire harness. The PDC is supplied from the battery with two 100-amp main fuses. These fuses are separated in order to accommodate departments that wish to control some circuits with a timing device. For installers who want to use timer systems to prevent power drains on the battery, the PDC will accept the device's output and channel it to the usual elements controlled by timers, including camera, computer, modem and printer systems
Slide-out trunk tray: Provides a stable, easily accessible platform on which the installer can position and install electrical equipment. The trunk tray provides a 37.5-inch by 19-inch mounting surface for electrical and communications gear. Locking slides provide movement, allowing a technician easier access to equipment mounted to the tray. An industry-first integral ground buss bar helps eliminate poor grounding, the most common police equipment issue. The tray is adjustable and allows for a variety of equipment heights and needs
Trunk air-circulation fan: Stabilizes trunk temperature in a relatively short period of time, helping all trunk-mounted electronic equipment to function properly by circulating heated or cooled air from the driver's compartment into the trunk area
Siren speaker: Provides a 100-watt siren driver that is certified to meet SAE Class A and California Title XIII requirements when matched with an appropriate siren amplifier. Given that the system is mounted behind the grille, the look of the vehicle remains clean, while the siren location does not impact engine cooling
The wiring prep package for the 2015 Dodge Charger Pursuit includes the following:
Emergency equipment electrical system wire harness: Capable of providing the appropriate power, ground and fusing for a variety LED, lighting, siren, computer, modem or camera systems. The wire harness integrates with both the Vehicle Systems Interference Module (VSIM) 24-way connector and the 12-pin connector that Chrysler Group provides at the console
Power distribution center (PDC): Contains the fusing and relays for circuits contained in the wire harness. The PDC is supplied from the battery with two 100-amp main fuses. These fuses are separated in order to accommodate departments that wish to control some circuits with a timing device. For installers who want to use timer systems to prevent power drains on the battery, the PDC will accept the device's output and channel it to the usual elements controlled by timers, including camera, computer, modem and printer systems
In addition to these packages, the following Mopar parts may be ordered separately:
Police floor console
Spare-tire relocation bracket
Horizontal and vertical vinyl graphics
Ballistic door panels for driver and passenger doors (Protection: NIJ Level III+)
Steel seat back inserts for driver and passenger seats
Source: Dodge
Gallery:
Dodge Charger Pursuit (2015)