The new Panda K-Way® débuts in Geneva, created out of the collaboration between Fiat and the top brand of casual and fashionable rainproof garments. Together for the first time, these two famous brands have much in common with their classical, contemporary, technological, functional, colourful and intelligent products.
Available starting from the end of April, the new Panda version will arrive in the Fiat showrooms in Italy in May and progressively in all European markets. Created based on the Easy version, this vehicle mainly targets young people and is particularly appealing to female clients thanks to the international appeal of the K-Way® brand. Its innovative lines as well as colour selection are irresistible to customers who are more attentive to urban style.
In particular, the features of the exteriors and interiors play on the colour matching between the symbol colours of K-Way (yellow, orange and blue) and the elegant titanium colour of some of the details such as the front logo bar, the longitudinal bars and the mirror covers. These covers, as well as the rear doors, display K-Way® stickers, whereas the hubcaps incorporate the K-Way® logo.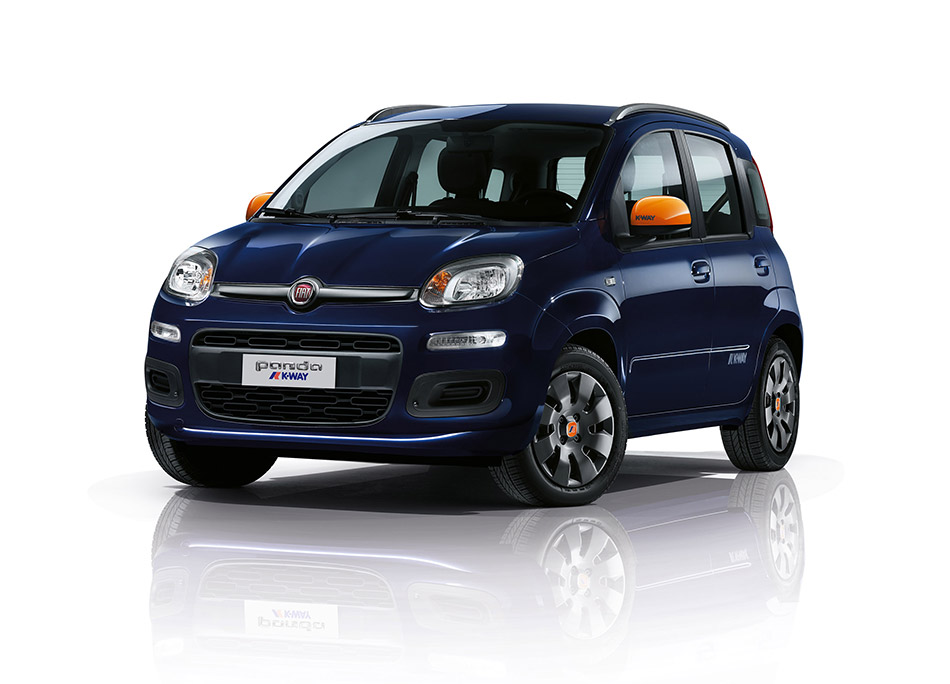 The mirrors and hubcaps are available in four colours (yellow, orange, blue and titanium) and the body is available in six colours, blue, white, black, red, yellow and orange. The Panda K-Way® offers 20 possible colour combinations between the colour of the body and of the external elements (covers and hubcaps).
The Panda K-Way® interiors are distinguished by the blue/grey tonal eco-leather seats with the K-Way® logo visible on the front seat. The same symbol also appears on the seatbelts and on the blue multilayer PVC mats. The tradition of the brand can also be seen with the blue dashboard and the silver ultrashine instrument panel. Last but not least, the front seats have two pockets on the seat back equipped with "VISIBAG®", the high-visibility vest - pocket safety device created ad hoc for Fiat by its partner K-Way®.
At its launch, the Panda K-Way® will be available with 1.2 69 HP and 0.9 TwinAir (65 or 85 HP) petrol engines as well as the bi-fuel 0.9 TwinAir methane 80 HP and 1.2 LPG 69 HP engines. The 1.3 Multijet turbodiesel engine will be added later to the range.
There are three standard versions, including: Blue&me with steering wheel controls, CD/Mp3 radio with 6 speakers, ABS+BAS+EBD, front and rear headrests, 4 airbags (driver, front passenger and window bags), GSI (Gear Shift Indicator), Start&Stop system (TwinAir and Multijet engines only).
Finally, the collaboration between Fiat and K-Way® will continue with a specific licensing line for accessories and merchandising that the public at Geneva can be the first to see, with the exhibition of some prototypes of these exclusive products.
Gallery:
Fiat Panda K-Way (2015)