Together, Henrik Fisker and Bernhard Koehler are building on one of the world's greatest handcrafted experiences in car design - coachbuilding. They are crafting a line of automobiles that will redefine automotive performance, elegance and exclusive luxury.
Earlier this year, Fisker and Koehler recruited a small group of international investors to bring the FISKER COACHBUILD experience to life. A workshop was rented…a handful of craftsmen hired... and production of the FISKER TRAMONTO and LATIGO CS turned from dream to reality.
The FISKER COACHBUILD 2006 TRAMONTO is a sculpted statement of exotic, two-seat, open-air motoring. Beneath the skin, the engineering excellence of what its base architecture once was - a Mercedes-Benz SL55 AMG - remains. The myriad array of Mercedes-Benz's finest technological innovations, from the power-retractable hardtop to Active Body Control (ABC), remain untouched - as do safety systems, including crumple zones and airbags. At the same time, the TRAMONTO has become something much more, and the differences go beyond what meets the eye.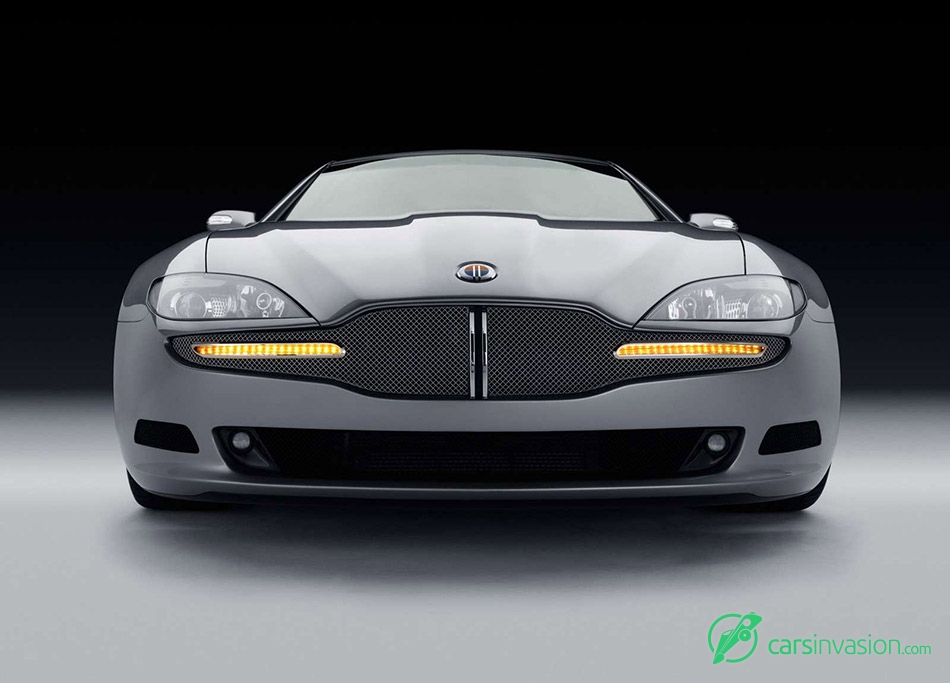 TRAMONTO EXTERIOR DESIGN
The stance is wide and low. Ground hugging. The lines flow smoothly from start to finish - unbroken in the signature Fisker style. The overall look conveys movement, speed and power, whether the power retractable hardtop is secured for foul-weather driving or stowed for open-air motoring.
Compared to its original platform, the TRAMONTO is reproportioned with a shorter back end, a longer-looking hood line with a pronounced power dome, and no visual bumpers. It is poised, balanced, sculptured…and exotic. From any angle, the message is uncompromisingly beautiful. Unmistakably FISKER.
Take a casual glance at the new car's muscular lines. Gaps between body panels are tight and uniform. Aluminum and carbon fiber - materials that befit an exotic sports car - make up the body panels. Steel is used judiciously, to enhance structural rigidity.
All FISKER COACHBUILD models will have an all-new exterior design and re-designed interior expressing a distinctive Fisker Design DNA. Each Fisker car will also have a recognizable face. The grille design was inspired by highly sophisticated aircraft designs, such as the F/A-22 Raptor. The FISKER TRAMONTO's stunning front silhouette is similar to this sleek jet aircraft, with the large center opening tying into the fuselage and the two wings expanding from the mouth. Distinctive, indeed.
Exterior details to take note of include:
Anodized aluminum wire mesh grille with the incorporation of the two bars from the FISKER COACHBUILD logo (also available with black powder coating)
Black powder coated aluminum mesh on the lower front spoiler
Fog lights inset with carbon fiber bezels in the lower front spoiler
LED indicator integrated into the wire mesh grille design
Power dome design incorporating a race-inspired, 1,500-degree heat shield on the interior polished carbon fiber hood surface
Anodized aluminum wire mesh side vents with chrome finish surrounds
3-Dimensional milled aluminum and hand painted badges
Dynamic design sculpture of the wheel lip coming out of the body
Lightweight, purpose designed 5-spoke, 3-piece 20" wheels
Retractable hard top
Existing door handles integrated into body design to retain the retractable hard top mechanism
Carbon fiber rear diffuser
Purpose designed integrated tail lamps and polished chrome exhausts
As the design of each detail evidences, the focus of the FISKER COACHBUILD is unwavering. One look at the grille and you will see the finest quality materials - from the front indicator LED incorporated into the aluminum wire mesh grille to the wire mesh side vents, both complete with aluminum surround and chrome finish. These expressions of true craftsmanship are seen on every part of the TRAMONTO's exterior, back to its stunning tail lamp and exhaust design.
TRAMONTO INTERIOR DESIGN
Interior design is as crucial as the exterior - after all, it is here that driver and machine become one. To bring the FISKER COACHBUILD design to life, we have teamed with Distinctive Industries, the American-based leather interior experts. All seat and fascia surfaces are expertly hand trimmed and hand stitched, in a selection of super-premium, soft yet durable Italian leathers. Milled aluminum highlights the center console, and aluminum details accent the switch gear - joining with leather to form the strong FISKER logo bars on the gear shift knob. The multifunction steering wheel is a FISKER original, with built-in sound system controls. Thoughtful, functional touches include improved cell phone storage and an analog clock. Other signature treatments include:
Milled aluminum-finished caps on seat positioning switches
Gear shift with aluminum and leather textures incorporating the Fisker logo
Hand-stitched leather four-spoke steering wheel
Fisker-enhanced shift paddle design
Enhanced graphics on instrument panels
Improved cell phone storage space
Aluminum door sill plaques engraved with FISKER COACHBUILD, which sits on the polished carbon fiber sill panel
Analog clock which sits in an aluminum bezel
Contoured sports seats covered in soft quality leather both front and seat back
Single piece milled aluminum center console with unique numbering sequence
Fisker based the interior design on a basic cockpit theme. It combines sporting character with high levels of hand craftsmanship, unique characteristics and luxurious comfort. Open the TRAMONTO's door, and one of the first expressions of true design you'll notice is the sill plaque with an aluminum FISKER COACHBUILD lettered plaque sitting upon a fine piece of carbon fiber.
Installed as a complete assembly, the center console makes a new signature statement. The unit construction demonstrates rare aesthetics in the aluminum caged design. It also features a symmetrical look into which the controls and switches are integrated. The instrument cluster retains the three main gauges with Fisker accents.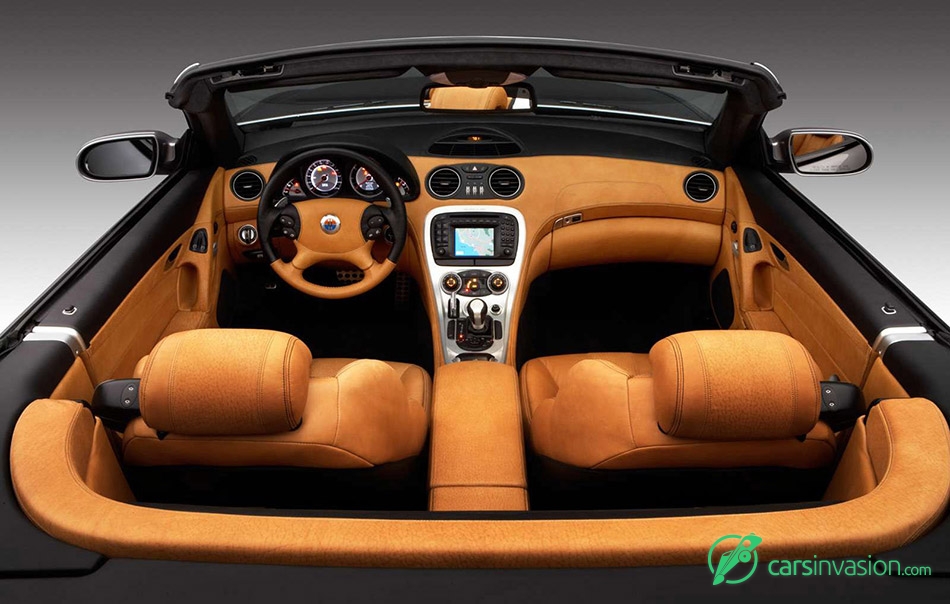 "There is a unique sense of intimacy with the interior design through the use of natural materials," expresses Henrik Fisker, CEO of FISKER COACHBUILD. "Close attention to detail ensures a high quality fit, finish and feel."
The cabin experience is rounded out with such technical niceties as the standard COMAND system with DVD navigation, and the digital Bose® Cabin SurroundTM sound system. This audio tour de force features multichannel architecture, utilizing eight speakers and 5.1-channel Bose CenterpointTM signal processing to generate a 360º field of sound. And Bose AudioPilotTM digitally compensates for unwanted ambient noise, to maintain clarity with no perceptible change in volume.
You can also choose from the long list of SL 55 AMG options, such as the Hands-Free Communication System, Keyless Go, Distronic adaptive cruise control, Parktronic sensors front and rear, a Panorama roof for an expansive view of the sky even when the top is up, and SIRIUS Satellite Radio. Any and all options are available when you select your original vehicle - and all will be there for you when the transformation to FISKER TRAMONTO is complete.
At the touch of a button, the class-leading power retractable hardtop transforms the TRAMONTO from coupe to roadster in just 16 seconds. And even with the hardtop retracted, the trunk is still spacious enough for two golf bags.
"Aside from the state-of-the-art engineering that is synonymous with Mercedes-Benz, we know that people like convenience…and with the base architecture you get that, plus the exclusivity with owning one of 150 designs," explains Cristina Cheever, Vice President, Marketing and Communications for FISKER COACHBUILD.
TRAMONTO PERFORMANCE
At FISKER COACHBUILD, design excellence is met with equal parts performance mastery. FISKER automobiles will offer nimble and athletic performance. Competition-proven materials and technology grace the base engine with a coveted combination of performance and reliability. Handcrafted by a dedicated AMG technician, the 5.5-liter 24-valve V8 features forged aluminum piston, precision-balanced crankshaft and ultra-efficient liquid-to-air intercooler delivering 493 bhp and a 0-60 in 4.5 seconds.
PERFORMANCE PLUS PACKAGE
For those who crave even more, the Performance Plus package is also available. FISKER COACHBUILD has teamed with KLEEMAN, the world's leader in Kompressor (supercharger) technology for Mercedes-Benz, to create the FISKER/KLEEMANN 610-hp supercharged 5.5- liter V8 with a 0-60 mph in just 3.6 seconds. The performance starts with custom-made ECU program, redesigned pulley wheel and Super Sport Camshafts, to maximize engine output. Enlarged stainless steel tubular exhaust headers, down pipes and 70 mm dual exhaust system with four steel cats allow for freer breathing…a system which is further enhanced with KLEEMAN 120-cell metal catalysts for maximum performance gain.
All of these modifications result in rewards that range from the concrete to the visceral. The supercharged engine produces over 650 lb-ft of torque and 610 hp, delivering a 0-60 time of 3.6 seconds and smooth power throughout the entire operating range. And while it cannot be quantified, the music of the FISKER/KLEEMANN engine produces some strong feelings of its own.
Power delivery is controlled through a 5-speed AMG SpeedShift transmission, with FISKERmodified aluminum paddle-shift controls for manual-style shifting. The adaptive, automatic transmission monitors driving style and adjusts shift patterns accordingly.
"This is one of the most technically advanced powerplants ever undertaken by Mercedes-Benz with AMG-enhanced dynamics," notes Bernhard Koehler, COO FISKER COACHBUILD. "We wanted to offer a little something more to those that may just have to have it."
TRAMONTO DYNAMICS
To thoroughly enjoy the power and performance of the TRAMONTO, a class-leading suspension and braking system are absolutely essential. The independent suspension is 4-link in the front / 5-arm multilink in the rear, optimized with an AMG-enhanced version of Active Body Control (ABC) that continually adjusts each wheel's suspension in response to road conditions and driving style. Electronic Stability Control (ESP) imparts even greater levels of handling confidence. Rack-and-pinion steering features vehicle-speed sensitive power assist with integrated hydraulic damper.
Stopping power is provided by standard AMG-enhanced 4-circuit electrohydraulic brakes, or by the KLEEMANN High-Performance Brake system as part of the FISKER Performance Plus Package. The KLEEMANN system represents a major advance in brake technology, setting new standards for response, fade resistance, stability and long-term endurance. Massive disc pads provide nearly 85% greater area compared to other high-performance pads, and an innovative design allows for very high and consistent friction coefficients during deceleration, regardless of weather.
The KLEEMAN High Performance Brake system features fully floating, directional, ventilated front discs front and rear. 15" (380mm), 8-piston calipers front; 13" (330mm), 4-piston calipers rear. The system is fully compatible with Mercedes-Benz Sensotronic Brake Control, Anti-lock Braking System and Brake Assist.
The FISKER TRAMONTO boasts high-style, lightweight alloy five-spoke, three piece 20" wheels with high-performance tires. The wheel lip design is sculptured with sensibility, as an organic extension of the body.
Drawing upon decades of the founding partners' expertise, FISKER COACHBUILD has sculpted aggressive aerodynamics directly into the form of the TRAMONTO, without the need for bulky fins or spoilers. Modeling and testing by 3D Configuration experts at REALADI and their collaborative networking confirm resultant airflow.
Never before have there been automobiles like the FISKER TRAMONTO or FISKER LATIGO CS, and there will only ever be 150 of each. And while owning a FISKER will be a singular privilege, so too will be the experience of acquiring one.
Source: Fisker
Gallery:
Fisker Tramonto (2006)