With the introduction of the seventh Golf (in 2012), Volkswagen was able to finally reverse the upward weight spiral, despite significant progress made in the areas of safety, comfort, convenience and agility. Compared to the previous generation Golf, up to 100 kg were saved. The new Golf TSI BlueMotion also benefits from this today.
Aerodynamics
The BlueMotion models by Volkswagen have always been characterised by exceptionally good aerodynamics. This is precisely what the new Golf TSI BlueMotion offers as well. Thanks to a wealth of aerodynamic modifications, it achieves an outstanding Cd value of just 0.28. The car's excellent aerodynamics make a decisive contribution towards its low fuel consumption. The aerodynamics were perfected, among other things, by lowering the chassis (by 15 mm), designing an upper engine cooling inlet that is almost entirely closed off to the outside (with integrated BlueMotion badge) and using radiator louvres that open based on cooling needs in conjunction with an optimised cooling airflow. In addition, the Golf TSI BlueMotion is equipped with a rear spoiler.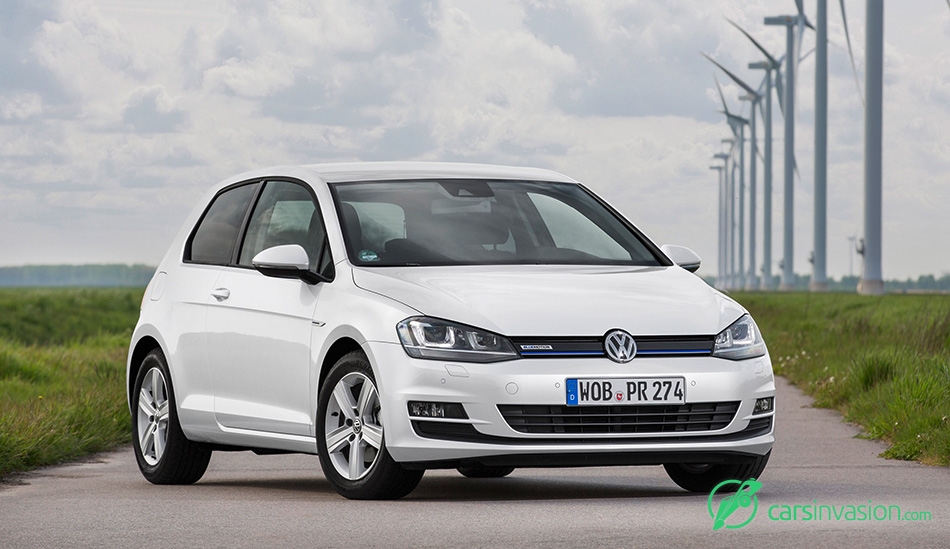 Drivetrain efficiency - Downsizing and dynamism
Three primary objectives were set for the development of the 1.0 TSI (85 kW / 115 PS) compared to the already very good 1.2 TSI (81 kW / 110 PS) with four cylinders: it should attain lower weight and reduced CO2 emissions while improving driving dynamics. This was a challenge, but all three objectives were achieved in the new three-cylinder engine. Its weight was reduced by 10 kg (to 89 kg now), and its CO2 emissions were reduced by 10 per cent. The gain in dynamics and good responsiveness are best tested on the road. Figures that most reflect driving dynamics are the boost in torque from 175 Nm to 200 Nm and the better flexibility figure of 11.0 seconds (1.2 TSI: 13.0 seconds, manual gearbox, 80-120 km/h in 5th gear). Another important goal was to attain the lowest possible level of engine noise. Based on the interplay of various internal engine modifications - that is, without additional insulating materials, the team of engineers implemented acoustics that are on the level of good four-cylinder engines here.
Highly advanced basic layout
The Volkswagen EA211 engine series served as the innovative foundation for designing the new 1.0 TSI. This development code refers to a family of state-of-the-art petrol engines and incorporates both three-cylinder and four-cylinder engines. The EA211 engines made their debut in the small Volkswagen up! and progressively conquered car segments up to that of the Passat. Engine versions with 1.0, 1.2 or 1.4 litres of displacement - with or without turbocharging - are used, depending on the model series. The high-tech engine now being used in the new Golf TSI BlueMotion is the latest three-cylinder engine with turbocharging, and today it represents the highest evolutionary stage of downsizing. Volkswagen offers the engine in the Golf TSI BlueMotion in combination with a 6-speed manual gearbox as standard. As an option, the most fuel-efficient petrol-powered Golf ever can also be ordered with a 7-speed dual-clutch gearbox (DSG). The combined fuel consumption and CO2 figures are identical regardless of the gearbox: 4.3 l/100 km (premium petrol, 95 octane) which equates to 99 g/km CO2. With these values, the Golf TSI BlueMotion is one of the few cars in its class to fulfil the European efficiency class A.
Driving fun by agility
The engine's maximum torque of 200 Nm is available from a low 2,000 rpm; this figure remains constant up to 3,000 rpm. 200 Nm is considered a top value for a three-cylinder engine, and the engine already provides a hefty 175 Nm of torque to the front axle at just 1,500 rpm. This is one reason why this engine's performance is so dynamic. What's more: the turbocharged petrol engine with its 10.5:1 compression ratio enables both cruising in high gear - thanks to the maximum torque being available at low revs - and quick upshifting from lower gears at higher rev levels. The turbocharged engine develops its maximum power of 85 kW/115 PS between 5,000 and 5,500 rpm. Although the three-cylinder sets standards for efficiency, it also enables dynamic driving performance. The Golf TSI BlueMotion reaches 100 km/h in 9.7 seconds and goes on to a top speed of 204 km/h.
Innovative engine design - Highlights of the 1.0 TSI
Thanks to an ultra-rigid crankcase made of lightweight die-cast aluminium (weight: 15 kg), and its compact construction with three cylinders instead of four, the 1.0 TSI - at 89 kg is around 10 kg lighter than a comparable four-cylinder engine. The meticulously implemented lightweight design approach employed by Volkswagen ranges down to the smallest of details. Some examples:
Crankshaft group has low mass and low friction
The crankshaft group - crankshaft, pistons and connecting rods - is distinguished by low moving masses and low friction. The aluminium pistons and forged connecting rods were weight-optimised such that the 1.0 TSI can do without a balancer shaft. The total weight of the crankshaft was also reduced by six per cent by reducing the weight of the crankpins. Four counterweights reduce internal forces in the crankshaft, which in turn reduces loads on the crankshaft main bearings. Very small-sized yet extremely robust crankshaft main bearings and connecting rod bearings make a significant contribution towards reducing friction in the new engine.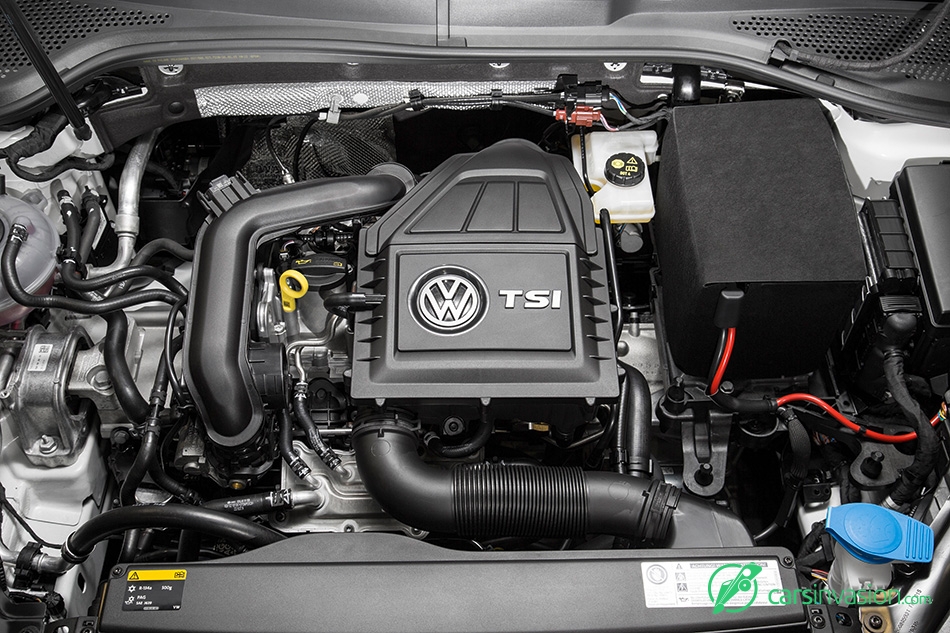 Exhaust manifold integrated in cylinder head
Another very high priority item during the development phase was thermal management. The exhaust manifold of the 1.0 TSI has been fully integrated into the cylinder head - that features four valves per cylinder - and fitted with a separate cooling jacket to make the best possible use of exhaust gas energy during the warm-up phase - and to cool the exhaust gases even more effectively at high loads. On top of that, Volkswagen engineers designed a dual-loop cooling system. By using an additional thermostat, the coolant temperature in the cylinder crankcase is regulated to a higher level than in the cylinder head. This offers benefits in terms of internal engine friction, which in turn have a positive effect on fuel economy.
Perfect cooling and heating
The base engine is cooled by a high-temperature loop with a mechanically driven coolant pump, while a low-temperature loop, powered by an electric pump, circulates coolant to the intercooler and turbocharger housing as needed. The passenger compartment is heated by the cylinder head circulation loop, so that it warms up quickly like the engine.
Small turbocharger, big effects
Thanks to the ingenious design of the exhaust manifold, Volkswagen was able to utilise a compact and lightweight single-scroll compressor with an electric wastegate actuator. This wastegate actuator performs the crucial opening and closing of the bypass valve very quickly. Background: in the low rev range, the bypass valve (also known as a wastegate valve) must be closed in order to drive the turbocharger with the full exhaust gas stream of up to 1,050 degrees C to ensure a consistent build-up of torque. Its maximum charge pressure is 1.6 bar. To reduce losses in the charge changing process in part-load operation, the exhaust backpressure can be reduced by fully opening the wastegate. The engine's responsiveness is improved, because the wastegate actuator is able to regulate the pressure in the wastegate valve very quickly.
Toothed belt for valve train
Due to its design, internal friction in the small three-cylinder engine of the Golf TSI BlueMotion is already rather low. Moreover, this engine also benefits from the overall innovative design layout of the EA211 engine series and related measures implemented to reduce internal friction. This not only relates to the crankshaft group, as mentioned above, but also to the valve control and auxiliary drives. The 1.0 TSI is equipped with inlet and exhaust camshaft adjustment; the adjustment range is 50 degrees of crankshaft angle on the inlet side and 40 degrees on the exhaust side. By taking this approach, the designers of the three-cylinder engine achieve a powerful torque build-up at low engine revs and high power at high revs. The two overhead camshafts are driven by the crankshaft via a toothed timing belt. Compared to a chain drive, it exhibits around 30 per cent less friction. Thanks to its high-end material specification, this toothed timing belt's service life reliably spans the entire life of the vehicle. As a result, it is no longer necessary to perform the previously obligatory replacement of the toothed belt as a maintenance item. Overall, the ingeniously harmonised forces of the toothed belt drive lead to low friction, improved fuel economy and greater durability.
Efficient combustion process
The maximum injection pressure of the 1.0 TSI is relatively high for a petrol engine at 250 bar. Highly advanced 5-hole solenoid injectors, which are supplied with fuel from a stainless steel fuel rail, make extremely precise injections into each cylinder with up to three individual injections per cycle. A more efficient combustion process with faster energy conversion is achieved based on the interplay of the injection components with a further developed charge cycle (optimised thermodynamics), in which the air-fuel mixture flows into the combustion chamber extremely rapidly via a tumble channel. Here too, this results in noticeably improved responsiveness and extremely low emission figures.
Compact and efficient
Last but not least, the sum of many minor improvements have made the 1.0 TSI one of the most compact and efficient petrol engines in existence. Here are two examples: To ensure that the engine takes up as little mounting space as possible, ancillary components such as the water pump, air conditioning compressor and alternator are attached directly to the engine and oil sump without additional brackets, and they are driven by a toothed belt running over a permanent tension roller. In addition, the engine has a map-controlled oil pump that only draws as much power as required at the specific operating point. In summary, Volkswagen is convinced that the new 1.0 TSI represents a milestone in the field of small petrol engines with its compact construction, excellent power and torque figures for this displacement class, and its exceptionally low CO2 emissions.
Golf TSI BlueMotion Trendline
The new Golf TSI BlueMotion - like its counterparts with TDI and TGI drives - will be offered in Trendline and Comfortline trim levels. In addition, most optional features are also available for the BlueMotion models. Standard exterior features of the Golf TSI BlueMotion Trendline include 15-inch "Lyon" alloy wheels, a larger rear spoiler (in body colour) and a radiator grille that is almost entirely closed off to the outside. The grille consists of smooth black trim with integrated BlueMotion badge and a chrome strip beneath it, which extends into the headlights. Other special features tailored for the BlueMotion version include black air inlets in the bumper, optimised cooling airflow, sport suspension (lowered by 15 mm) and super low rolling resistance tyres. If the Golf TSI BlueMotion is ordered with the optional xenon headlights, the radiator grille is upgraded with a blue stripe between the headlights.
Further standard features of the Golf TSI BlueMotion Trendline include a 5-inch TFT touchscreen display, multifunction display with ECO tips (fuel consumption related information and tips), electronic parking brake with auto-hold function, tyre pressure indicator, XDS+ electronic differential lock, Automatic Post-Collision Braking System, height-adjustable boot floor and asymmetrically split folding rear seat backrests. Also standard (excerpt): daytime running lights, air conditioning, electric door mirrors, outdoor temperature indicator, electric windows, rear window wiper with intermittent setting, electro-mechanical power steering, safety-optimised head restraints, chrome surrounds for the interior air vents, "Pepper" design seat upholstery, "Dark Silver matt satin" decorative trim, centre console with storage compartment, rake and reach adjustable steering column, height adjustable driver's seat, dust and pollen filter, central locking with remote control, seat belt height adjustment and belt tensioners for front seatbelts, and green heat-insulating window glass.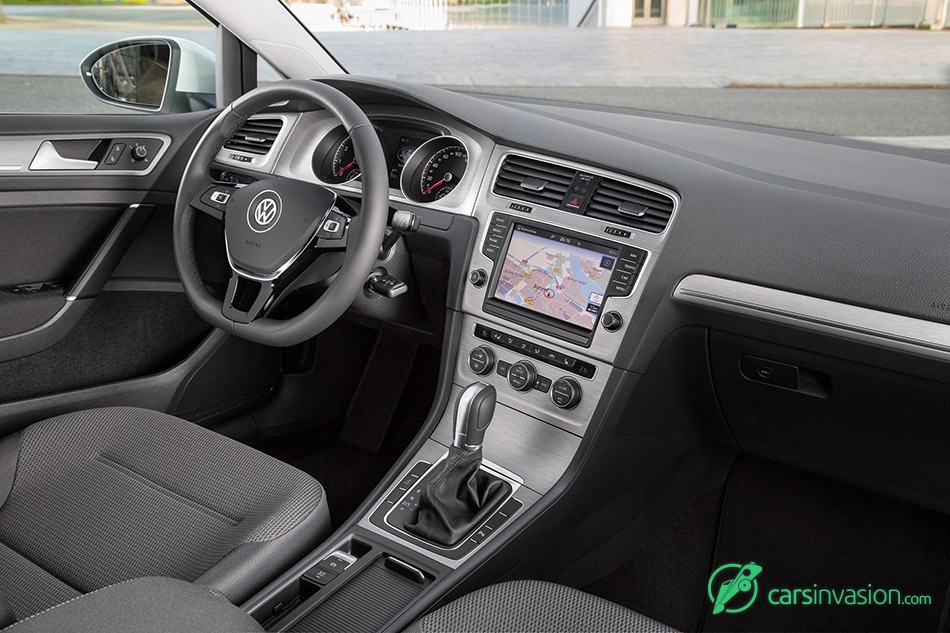 Golf TSI BlueMotion Comfortline
The Comfortline equipment level also has a ParkPilot system, front and rear, a more exclusive instrument cluster, "Plus" multifunction display, "Composition Touch" radio system with SD card interface and the Driver Alert System.
Additional standard features in the Golf TSI BlueMotion Comfortline (excerpt, features in addition to those of Trendline): comfort seats in front with "Zoom" design upholstery and lumbar support, "Brushed Dark Silver" decorative trim, load-through cargo opening and centre armrest in rear seat backrest, chrome look rotary light switch and mirror adjustment switches, drawer under the front passenger seat, storage pockets on the backs of the front seats, storage compartment with lid in headliner, 12-V socket in luggage compartment, illuminated vanity mirror, carpet floor mats, leather-trimmed steering wheel and gear knob and 16-inch "Dover" alloy wheels.
Electronic boost
Numerous assistance systems are fitted as standard to the Golf TSI BlueMotion. Optional features include the Blind Spot Monitor with Rear Traffic Alert, Light Assist and Dynamic Light Assist main beam control assistants, driving profile selector, Lane Assist lane departure warning and Park Assist park steering assistant.
Smartphone, tablet and smartwatch
The entire line-up of the latest infotainment systems is also available for the Golf TSI BlueMotion, including the online services offered via Volkswagen Car-Net. Other new options are Volkswagen Media Control and App Connect. Volkswagen Media Control enables the integration of tablets and smartwatches into the infotainment system via Wi-Fi, in order to access such features as navigation, the radio, media player or results of a Google search. Volkswagen Media Control uses a special app that creates a rear seat entertainment system of a new era. App Connect is also a forward-thinking innovation, with Volkswagen being one of the first carmakers to integrate the majority of smartphone operating systems through this feature. The underlying software interfaces of App Connect are Mirror Link™, Android Auto™ (Google) and CarPlay™ (Apple). Aboard the Golf TSI BlueMotion, these interfaces unlock the potential for using many different smartphone or smartwatch apps over the infotainment system.
Source: Volkswagen
Gallery:
Volkswagen Golf TSI BlueMotion (2015)