In 1999, after a five-year hiatus, Ford SVT unveiled the Second Generation Ford Lightning. Powered by a modular 5.4 L V8, the new engine was capable of producing 360 Horsepower and 440 ft·lbf of torque. This was particularly due to the inclusion of an Eaton Supercharger that was factory installed. Behind the engine sat the 4R100 automatic transmission which connected to a rear end housing 3.55:1 rear gears. The Lightning featured specialized 18" wheels mounted with Goodyear Eagle F1 295/45ZR-18 tires. The Lightning's suspension system, which lowers the truck half an inch in front and two inches in the rear was also modified from the standard F-150. The suspension was largely unchanged for the 2001 Model. It retained the front short-and long-arm system with coil springs and a 31 mm solid stabilizer bar along with the rear solid axle with five-leaf springs and a 23 mm solid stabilizer bar.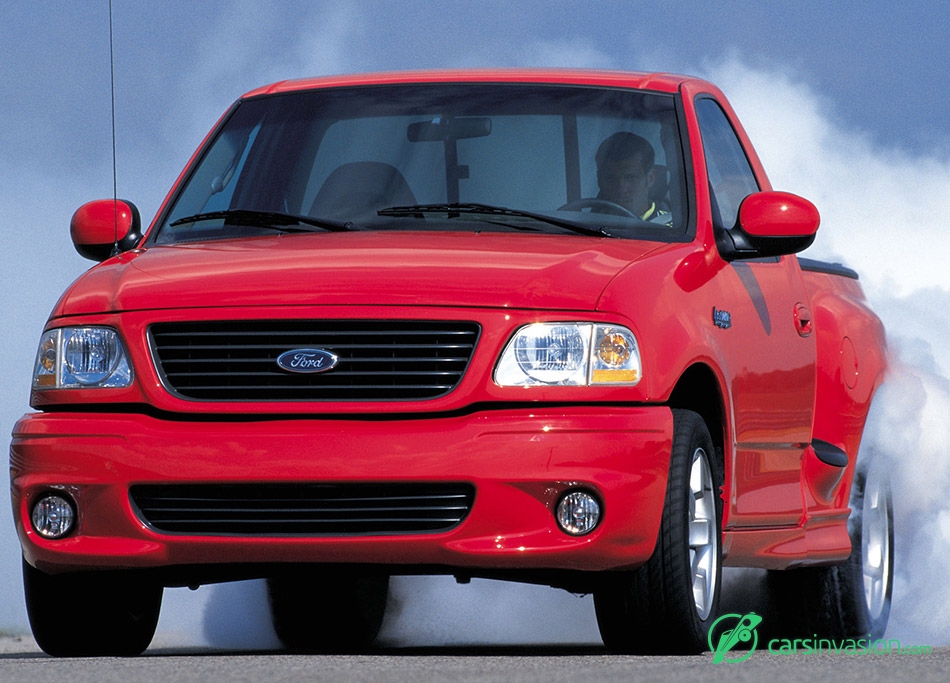 In the 2001 Model Year, the engine design was slightly altered to produce 380 horsepower @ 4,750 rpm and 450 ft·lbf of torque @ 3,250 rpm. Another engine revision came in the 2003 Model Year when a weakness in the heads, the lack of sufficient threads for spark plugs, was addressed and fixed. At the other end of the drivetrain, the final drive ratio was shortened to 3.73:1 in 2001. Also, in 2001 the drive shaft was increased in size to a 4.5-inch aluminum unit, from the previous 3.5-inch steel unit. The specially developed 295/45ZR-18 Goodyear Eagle F1-GS unidirectional tires were upgraded utilizing a new generation F1 GS rubber compound; improving the tires' gripping capability. With these engine and drivetrain revisions, Car and Driver magazine drove a lightning from zero to 60 mph in 5.2 seconds. For 2003, the Lightning's cargo capacity was raised from 800 lb. to 1,200 lb.
The second generation Lightning was initially offered in just Bright Red, Black, and White paint colors. The 2000 Model Year brought the addition of the Silver color to the lineup. In 2002, True Blue, a very dark blue, was offered, but replaced with a lighter Sonic Blue in 2003. The 2003 Model Year also saw the introduction of the Dark Shadow Grey color.
These trucks were manufactured at Ford's Ontario Truck Facility in Oakville, Ontario until its closure.
Source: Wikipedia
Gallery:
Ford F-150 SVT Lightning (2001)