The elegant all-new Ford Galaxy, which is being launched at the Geneva Motor Show 2006, takes the established and highly successful Galaxy concept further into the "Travel First Class" arena and is a worthy new flagship for the Ford of Europe product portfolio.
The new Galaxy is handsome, dynamic and purposeful, featuring elements of Ford's new 'kinetic design' form language.
A Bigger Galaxy: New Galaxy is slightly bigger than the model it replaces, with a wider track (+59mm front, + 81mm rear compared to the previous model). Overall length has increased by 179mm (4,820mm vs. 4,641mm), while vehicle width has increased by 60mm (1,854mm vs. 1,794mm). The overall height was reduced slightly by 14mm (1,676mm vs. 1,690mm).
The inside story: The new Ford Galaxy uses its increased exterior dimensions ingeniously to provide impressive interior space for up to seven adults and their luggage. With its deep glass area and high seating position, the Galaxy offers a "command bridge" feel for occupants. Its standard three-row seating configuration combined with the new Ford FoldFlatSystem (FFS) offers new levels of flexibility for the Ford Galaxy, while luggage volume is significantly increased by around one third (435 litres vs. 335 litres) - even when all 7 seats are taken. With the 2nd and 3rd row seats folded flat this luggage volume increases to a massive 2325 litres.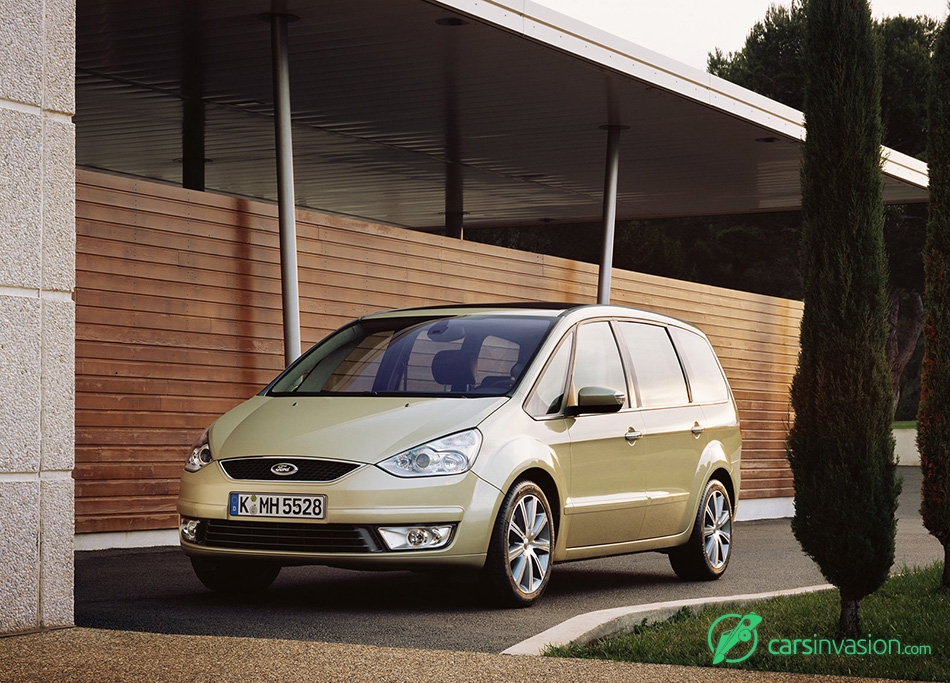 Ford FoldFlatSystem (FFS) for modularity and flexibility: The new Ford Galaxy is a full seven-seater and is equipped with the innovative new Ford FoldFlatSystem (FFS) for the five individual rear seats. FFS enables the 2nd and 3rd row seating areas to be easily transformed into a completely flat load space without having to remove and store the seats. The spacious second and third row seats offer premium comfort in an individually designed seat, plus an increase in seat adjustment of 50mm for the second row and 60mm for the third row versus the first-generation model.
Panorama Roof and Overhead Console: The optional Panorama Roof is a single piece of glass externally, but inside the vehicle is effectively separated into four sections - two over the front seats, and two over the rear seats, with the overhead centre console running along the centreline of the roof panel from front to rear. The new full-length overhead console includes a child watch mirror and up to five stowage boxes.
Room for Luggage plus 31 Stowage Solutions: The Galaxy's luggage capacity expands from 308 litres up to 2325 litres with all rear seats folded away. Even with all rear seats occupied, new Galaxy still offers up to 435 litres of luggage space. Its flat load floor stretches 2m in length by 1.15m in width. Galaxy offers up to 31 different stowage compartments, with a total capacity of up to 110 litres. Overhead consoles can be specified in short, medium or full length versions depending on model series. In full length form, the console stretches along the ceiling from the windscreen to second row.
Human Machine Interface (HMI): A new instrument cluster plus a leather-wrapped steering wheel including toggle switches for the Human Machine Interface (HMI) take Galaxy ergonomics to a new level. Two sets of sophisticated steering wheel-mounted toggle switches in combination with an easy to read instrument cluster centre display form the basis for Ford's latest-generation HMI. This system - which is standard on all Ford Galaxy and S-MAX models - is astonishingly simple and intuitive to operate, utilising a newly developed chime system. This categorises each warning sound according to their purpose giving the driver greater control over the audio warnings that he receives.
Climate Control: Air conditioning is standard equipment on all new Galaxy models, and for maximum interior climate control, dual Electronic Automatic Temperature Control (EATC) is available. The EATC system features separate temperature controls for the driver, the front passenger and the second row passengers.
Audio and Communications: New Galaxy can be specified with a wide variety of high-quality audio and communications systems, and steering-wheel mounted toggle switches for the HMI system provide full driver control. Depending on market and on series, stereo radio/cassette or stereo radio/CD players can be selected, including a 6-CD autochanger. In addition, Galaxy can be specified with a DVD Multi-media system, which includes twin LCD screens built in to the back of the front seat headrests.
No-compromise on safety: A major part of the new Galaxy story revolves around the vehicle's active and passive safety systems. Ford's Intelligent Protection System has been enhanced for Galaxy, and now features a driver's knee airbag in addition to the usual complement of front and side airbags and air curtains.
A new Interactive Vehicle Dynamics Control (IVDC) active suspension system is also available, and is a major contributor to the Galaxy safety package as well as enhancing the vehicle's driving dynamics. It includes Continuously Controlled Damping (CCD) to improve suspension performance and comfort in all road conditions and interact with the vehicle's ESP system for better dynamic vehicle behaviour. Other new safety and comfort features for the new Ford Galaxy are
Hill-Launch-Assist (HLA), which allows the driver to release the brake pedal and to step on the accelerator pedal without the vehicle rolling backwards
Ford's new Tyre Pressure Monitoring System (TPMS)
Adaptive Cruise Control (ACC) with Forward Alert (FA) and Collision Mitigation by Braking - driver aids based on radar distance control
Powertrains: New Galaxy features a comprehensive range of powertrains. The engine line up is:1.8 litre Duratorq TDCi 100 PS (74 kW), 1.8 litre Duratorq TDCi 125 PS (92 kW), 2.0 litre Duratorq TDCi 130 PS (96 kW) with DPF, 2.0 litre Duratorq TDCi 140 PS (103 kW) with or without DPF, and 2.0 litre Duratec TDCi 145 PS (107 kW).
Source: Ford
Gallery:
Ford Galaxy (2006)