Kia Motors America (KMA) has unveiled the all-new Kia Kue crossover concept vehicle at the North American International Auto Show (NAIAS) in Detroit, USA. The V8-powered, all-wheel drive, high performance Kue is designed to deliver an exhilarating drive, in and out of town, on- and off-road.
"In recent years Kia has instilled growing confidence and integrity in our customers´ minds with vehicles that provide quality, value and safety," said Len Hunt, executive vice president and COO of KMA. "Now the Kia Kue embodies the next phase of our brand evolution, which will inspire pride and passion in our customers through its great design."
The 4.7-metre long Kia Kue employs a different approach to the crossover utility vehicle segment by taking elements of what makes a great CUV to a new level, namely performance. Kue is designed first and foremost as a driver´s vehicle. While possessing many SUV characteristics and capabilities, the Kia Kue focuses more on giving the driver an exhilarating driving experience - on the open country road and on the way to the home improvement centre - rather than on how much it can carry.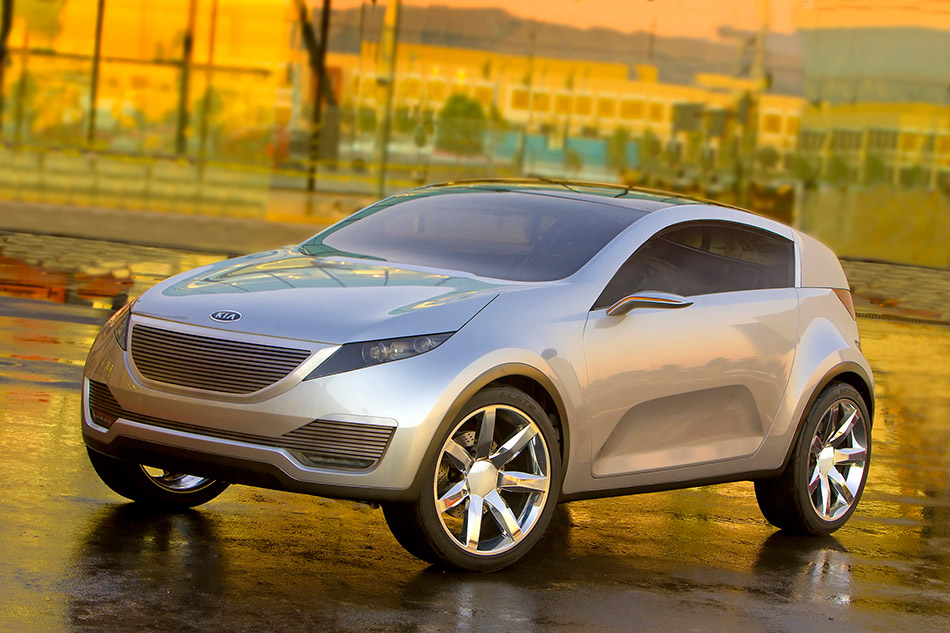 The Kia Kue has a monocoque platform that sits on giant 22-inch diameter wheels with a 2,900 mm wheelbase, packaged into an overall length of 4,724 mm. Though purely a concept, the Kia Kue does, however, hint at future styling directions for Kia Motors.
"Good design shouldn´t look like you are trying too hard," said Tom Kearns, KMA chief designer. "The future Kia direction will incorporate the ´less is more´ philosophy but still include a heavy dose of boldness to be distinct."
With its four wheels pushed out to the corners and exterior skin tautly stretched over its underpinnings, the Kue looks powerful and poised, even when parked. Draped muscular wheel arch flares play a nice contrast to crisp bevelled sections found elsewhere on the body. Swept back headlights connect to the front grille to create a clean, but aggressive appearance. The side window shape flows effortlessly into the rear backlight where twin centreline hinged glass doors open to give access to the rear storage zone. A single side door that incorporates a negative-scooped shape opens scissor-style for easy ingress and egress.
On the inside, Kue continues the clean, athletic theme with bold understated simplicity. With a four-seater interior arrangement and individual custom-built bucket seats, Kue is a vehicle both driver and passengers can enjoy. A technology-driven interface designed to adjust to driver and passenger preference is the focus of the interior functionality. Touch pad and motion-sensing controls are used to adjust many things, including the audio and climate systems. The entire touch-pad set up is programmable so that one surface may activate the stereo for one driver and temperature for another. Rear passengers have their own, separate interface.
The generation-next functionality of the interior is complemented by the use of sophisticated seat and surface materials and a modern colour palette. Carefully selected materials and textures are vital elements of the interior design of Kue, and they create an upscale feel that is both modern and inviting. A mid-dark interior theme with highlights was chosen in place of the typical light interior common to many concept cars. Overall, the Kue interior presents a new perspective with an emphasis on comfortable, user-friendly interaction.
Just as inviting is Kue´s appeal to be driven in a sporty fashion. Fitted with a 400-horsepower, DOHC, supercharged 4.6-liter V8 gasoline engine that punches out 400 lbft (542 Nm) of torque, Kue is a true high performance vehicle. Helping the driver harness all that power is a full-time all wheel drive system yielding predictable driving characteristics both on- and off-road.
Developed by the KMA design team as an expression of Kia´s global design language, the Kia Kue is a true reflection of the Kia brand and the passion it embraces. The Kia press conference also served as the official public debut in North America for Peter Schreyer, new global design chief of Kia Motors Corporation (KMC).
Source: KIA
Gallery:
Kia Kue Concept (2007)