The all-new Ford C-MAX family was developed as part of the company's ambitious global C-segment strategy, and brings new levels of style and desirability to the compact Multi-Activity Vehicle (MAV) market.
Ford's C-segment MAV customers now have the choice of an all-new five-seat Ford C-MAX or a distinctive, all-new seven-seat Ford Grand C-MAX, which features twin sliding doors and an innovative seat design to provide outstanding space and flexibility.
The all-new Ford C-MAX range also introduces a number of advanced new technologies to the compact MAV class, focused on enhanced comfort, safety and sustainability, including Active Park Assist, an advanced new system which automatically steers the vehicle into parallel parking spaces.
New Ford C-MAX also heralds the arrival of the powerful yet highly fuel-efficient and low-CO2 Ford EcoBoost petrol engine family in Ford's C-class cars.
New Ford C-MAX introduces the 1.6-litre Ford EcoBoost unit which, like others in the global Ford EcoBoost family, combines high-pressure direct injection, low-inertia turbocharging and twin independent variable cam timing to achieve fuel economy results up to 20 per cent better than conventional larger displacement petrol engines with a similar power output.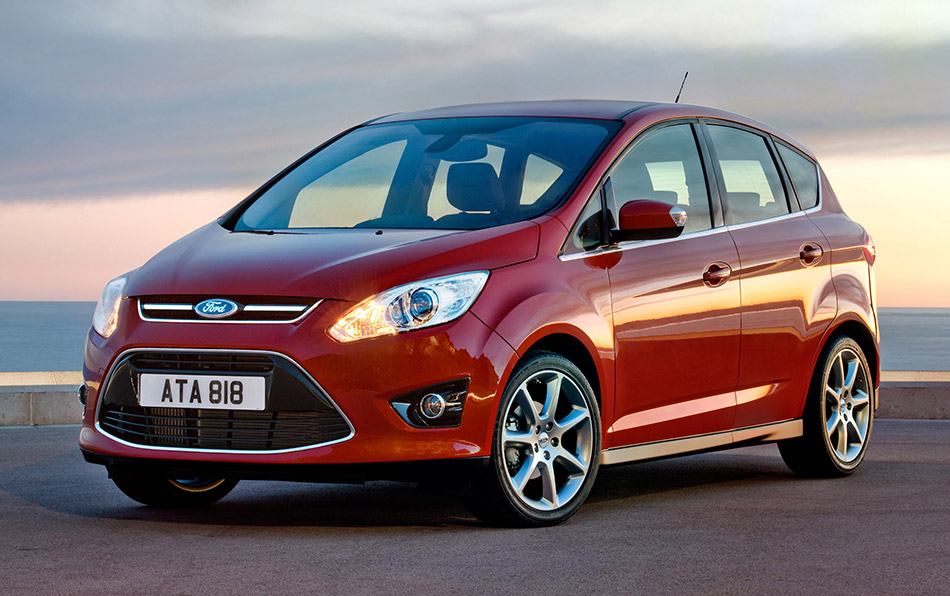 Like the next-generation Ford Focus, the new Ford C-MAX models are based on Ford's new, global C-segment vehicle platform. The Ford C-MAX range will initially be sold in Europe, with sales starting at the end of 2010, while the seven-seat Ford Grand C-MAX will also be offered to customers in North America from late 2011.
The five-seat Ford C-MAX will also provide the basis for two of Ford's five electrified vehicles promised for sale in Europe by 2013. Both full hybrid and plug-in hybrid versions of the Ford C-MAX are under development for introduction in 2013.
Choice of Sporty 5-seater or Stylish 7-seater
The all-new Ford C-MAX range offers European C-segment MAV customers a choice of two alternative and distinctive models according to their needs - the sporty five-seat Ford C-MAX or the spacious new seven-seat Ford Grand C-MAX.
"The C-MAX and the Grand C-MAX have been carefully developed around the needs of two very different sets of target customers," explained Gunnar Herrmann, Ford's Global C-car Vehicle Line Director. "The Grand C-MAX is the ideal choice for young families, while the sportier C-MAX appeals to a much broader age range."
To deliver the extra space, the Grand C-MAX has a 140mm longer wheelbase, and is also 58mm higher than the C-MAX. Within its 4.52m overall length, it packs plenty of room for seven passengers, or for five occupants with a generous amount of luggage.
The five-seat Ford C-MAX has very similar exterior dimensions to the outgoing model, retaining traditional C-MAX virtues of room and practicality within its attractive new silhouette. The new model will reinforce its appeal to customers of all ages who value C-MAX for its comfortable accommodation, high seating position, flexibility and compact footprint.
Both C-MAX and Grand C-MAX have bold exterior and interior designs created using the latest evolution of Ford's kinetic design form language, and building on themes established in recent product introductions like the hugely successful Ford Fiesta, Ford Kuga and Ford Mondeo ranges.
Maximum Versatility and Convenience
The seating concept and door layout for the new seven-seat Ford Grand C-MAX was finalised after detailed research with typical family users to identify the most popular configurations.
The vehicle features twin sliding rear doors, and an ingenious new seat folding concept for the second-row seats. This has a mechanism which allows the centre seat to fold quickly and easily under the right-hand seat, creating a handy 'walk-through' space between the two outboard seats so that passengers can easily access the third row.
The new five-seat Ford C-MAX uses the proven seating concept from the previous model, with three individual 40/20/40 folding seats in the second row. Ford's ingenious Comfort System is an option, allowing the centre seat to be folded away while the outer seats slide diagonally backwards and inwards to create a more luxurious 2+2 layout.
The cockpit - which is common to both C-MAX models - provides a raised 'command bridge' driving position with high mounted gearshift and centre console. The driver controls and displays incorporate the next generation of Ford's Human Machine Interface (HMI) system, based on the much acclaimed layouts introduced in recent vehicles like the Fiesta and Mondeo.
Performance with Economy
The new Ford C-MAX range features the latest powertrain technologies to deliver an impressive combination of responsive performance with reduced fuel consumption and CO2 emissions.
Leading the petrol engine line-up is the first application of the all-new 4-cylinder 1.6-litre Ford EcoBoost engine, available in 150 PS and 180 PS versions.
This engine is one of a completely new generation of downsized, high-efficiency, low-CO2 petrol engines from Ford. Developed for global application by the company's powertrain engineers in Europe, the lightweight, all-aluminium 1.6-litre Ford EcoBoost engine combines high-pressure direct injection, low-inertia turbocharging and twin independent variable cam timing to deliver significant reductions in fuel consumption and CO2 emissions.
Installed in the Ford C-MAX, the 180 PS engine delivers outstanding driveability - illustrated by acceleration times of 0-100 km/h in 8.5 seconds, and 50-100 km/h in 8.8 seconds (in fourth gear) - combined with CO2 emissions of just 154 g/km.
The diesel engine range features upgraded versions of the highly acclaimed 1.6- and 2.0-litre Ford Duratorq TDCi diesel engines, which have been comprehensively updated to improve performance and fuel-efficiency, and reduce emissions.
These engines deliver highly competitive fuel consumption and CO2 emissions: the 1.6-litre TDCi achieves 119 g/km CO2 in C-MAX, and 129 g/km CO2 in the Grand C-MAX.
The high-efficiency, low-CO2 petrol and diesel engines are complemented by advanced transmissions, including a new Ford Durashift 6-speed manual gearbox, used for the first time in the new Ford C-MAX, and the advanced Ford PowerShift 6-speed dual-clutch automatic transmission, which has proved an increasingly popular choice in the outgoing model.
The Ford C-MAX range also incorporates other features from the Ford ECOnetic Technologies programme to help minimise fuel consumption and CO2 emissions, such as the new Ford Eco Mode, a Gear Shift Indicator Light and Smart Regenerative Charging.
Class-Leading Dynamics and Refinement
"The previous C-MAX established a reputation for providing a fine balance of rewarding driving dynamics and impressive comfort," said Gunnar Herrmann. "This all-new model is set to take that performance to a new level, giving drivers a class-leading combination of responsive, sporty handling, and overall refinement which approaches the standard found in larger luxury vehicles."
Key chassis technologies on the Ford C-MAX include a completely new Electric Power-Assisted Steering (EPAS) system, optimised new designs for the 'Control Blade' multilink rear suspension and the semi-isolated front subframe, and the standard fitment of an advanced new Torque Vectoring Control (TVC) system to further improve cornering stability and agility.
Smart Technology for Safety and Practicality
As the first vehicles to be launched from Ford's new global C-car platform, the European C-MAX and Grand C-MAX models benefit from the introduction of an impressive array of advanced technologies generally only found in larger, more premium vehicles.
Source: Ford
Gallery:
Ford C-MAX (2011)