When Jaguar's ground-breaking all-aluminium XJ luxury saloon range was launched in 2003, its remarkable lightweight body helped the car to set new standards in handling, precision and refinement. The aluminium monocoque design is 60% stiffer and 40% lighter than the model it replaced and these major improvements translate into real customer benefits.
Its advanced construction means that even a long-wheelbase XJ model is lighter than many of its key competitors' standard wheelbase platforms. Thanks to that reduced weight the car can accelerate faster, stop more quickly and turn more purposefully. And it achieves all this without compromise in other areas, for the new XJ range also benefits from superb fuel economy and range, improved rigidity and safety, as well as exceptional ride and comfort.
Since its 2003 introduction the range has been further improved with a long wheelbase version, major new engines such as the 2.7-litre twin-turbo V6 diesel, and advanced technologies such as acoustic laminated glass, active engine mounts and Computer Active Technology Suspension (CATS).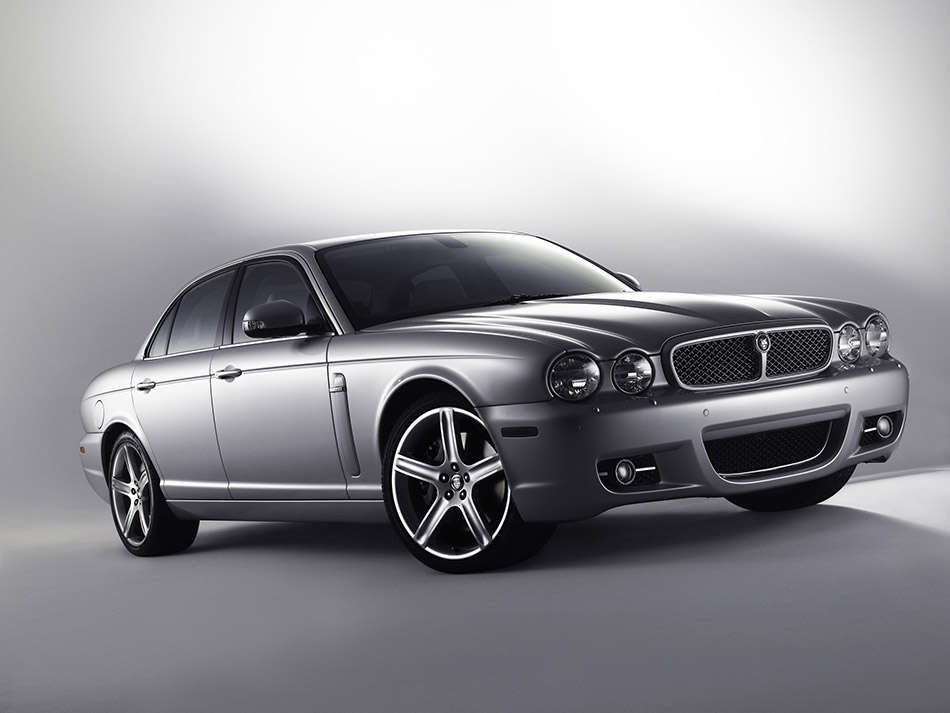 CATS is used to ensure outstanding body control, refinement and handling. The system constantly monitors the XJ's lightweight suspension and air springs to offer complete comfort when cruising and total control and responsiveness when called for by automatically lowering and levelling the suspension. The result is awesome high-speed stability and improved aerodynamic efficiency whenever the XJ is called upon to perform.
A group of technologically advanced petrol and diesel engines power the 2008 XJ range. The highly acclaimed 204bhp (DIN) 2.7-litre twin-turbo diesel V6 offers outstanding performance and economy, the 240bhp (DIN) 3.0-litre V6 petrol an ideal blend of power and refinement, while the mighty 300bhp (DIN) 4.2-litre V8 and its 400bhp (DIN) supercharged equivalent provide the seamless drive and torque you would expect from any top-of-the-range Jaguar capable of reaching 60mph in as short a time as five seconds flat.
A six-speed automatic transmission provides smooth and sensationally quick gearchanges, and even helps with further weight loss thanks to its compact design. Its ability to handle the high torque outputs of the XJ engine range also allows the gearbox to use higher gears more effectively, helping to lower fuel consumption further.
Class-leading technological advances such as Integrated Acoustic Dampening (IAD) guarantee exceptional levels of refinement and a blissfully quiet cabin environment. IAD uses special acoustic absorbing materials and airtight seals between the bonnet and engine compartment to dramatically reduce engine noise. Acoustic laminated glass then further minimises noise intrusion, while diesel-powered XJs even enjoy electronically controlled active engine mounts which attenuate 90% of engine idle vibration.
Thanks to ground-breaking technologies such as these, the 2008 XJ range defies the conventional wisdom that says a saloon can be dynamic or luxurious, but never both. It is, in contrast, a highly refined, sporting luxury car for people who love to drive.
Looks to match the performance
The main evolution for the 2008 Model Year XJ is its new exterior design. Changes to the front, sides and rear of every model give the XJ a sportier, more muscular stance and clearly signal the advanced technology that lies at its core.
A new front bumper with revised mesh grilles is unmistakably assertive, leaving no doubts as to the performance credentials of the new XJ. Jaguar Car's Director of Design, Ian Callum, explains the inspiration behind the new look:
"Every Jaguar must have a distinctive face, something that you cannot mistake if you catch a glimpse of it in your rear-view mirror as it powers up behind you. The new 2008 XJ range meets that challenge thanks to a new grille and bold new bumper style."
Set into the front bumper are new upper and lower mesh radiator grilles with chromed detailing that accentuate the car's major air intakes. Behind the front wheels two power vents (in aluminium finish on the supercharged XJR) match those introduced on the beautiful new XK sports car. Over the vents new door mirrors carry integrated indicator lights.
A fully reworked rear end displays a newly reshaped bumper, subtle aero spoiler, revised tailpipe finishers and new badging.
The 2008 Model Year XJ also enjoys significant improvements to its interior thanks to new heated front seats (with optional air-cooling) which have been extensively redesigned to offer even more comfort and support.
Vehicle cabin air is drawn into the cushion and seat back heat exchanger units. The air is then heated or cooled and pumped to the top surface via channels formed within the seat. The perforated seat covers allow the conditioned air to pass through to the passenger.
Heated front seats will still be fitted as standard with the cooling element being available as an option.
All XJ seats will have a new relaxed leather trim and rear-seat passengers will appreciate greater leg and foot room following revisions to the backs and lower cushions of the front seats.
Technology in harmony
Jaguar's intuitive technology has been designed to empower, not overpower the driver. Features such as satellite navigation, BluetoothTM and audio entertainment systems are supported and controlled by a 7-inch Touch-screen or JaguarVoice control.
The 2008 Model Year XJ benefits from further user-friendly technology such as the latest BluetoothTM connectivity system that allows users to connect up to five approved mobile phones to the car's own in-car telephone system. The car will then recognise and store the phonebooks, last number dialled lists and call stacks for every device it is paired with.
The entire XJ range carries further intuitive technologies that enhance the driving experience. Many of the car's main features can be controlled through JaguarVoice, a simple but highly effective voice command function.
Other driver aids include Adaptive Cruise Control which uses microwave radar technology to detect slower cars ahead and adjusts the cruise control speed to maintain a constant distance from the vehicle in front.
Advanced, state-of the-art safety features, such as Adaptive Restraint Technology System use ultrasonic technology to calculate appropriate airbag deployment and force, based on passenger weight and position. Side-curtain airbags, front seat thorax airbags and energy-absorbent front seat backrests ensure a safe driving experience for all occupants.
Source: Jaguar
Gallery:
Jaguar XJ (2008)