Ford showcased the company's vision to take its ST performance family around the world with the surprise reveal of an exciting new Ford Fiesta ST Concept alongside the production debut of the all-new Focus ST.
Ford's global performance vehicle strategy is accelerating, promising a new era for driving enthusiasts around the world with the expansion of its ST - Sport Technologies - range. The international reach of these performance models is made possible by a new generation of global small car platforms from Ford.
The possibility of a Ford Fiesta ST joining the Focus ST would bring Ford performance to drivers in two major global segments.
"We're leveraging our global product platforms to create great new performance vehicles like the Focus ST," said Derrick Kuzak, group vice president, Global Product Development. "By taking advantage of platform efficiencies and focusing our performance engineering resources globally, we can bring performance vehicles to more customers in more markets, plus we're better positioned for Ford products to compete successfully in global motorsport."
The production-ready Focus ST was revealed at the 2011 Frankfurt Motor Show as Ford's first performance vehicle to be sold into more than 40 markets around the world, including the U.S., Canada, Mexico, South Africa, Australia, New Zealand and 15 European countries. Its launch kicks off a new era for enthusiasts while the exciting reveal of the Ford Fiesta ST Concept also highlights Ford's promise for even more to come on the performance front.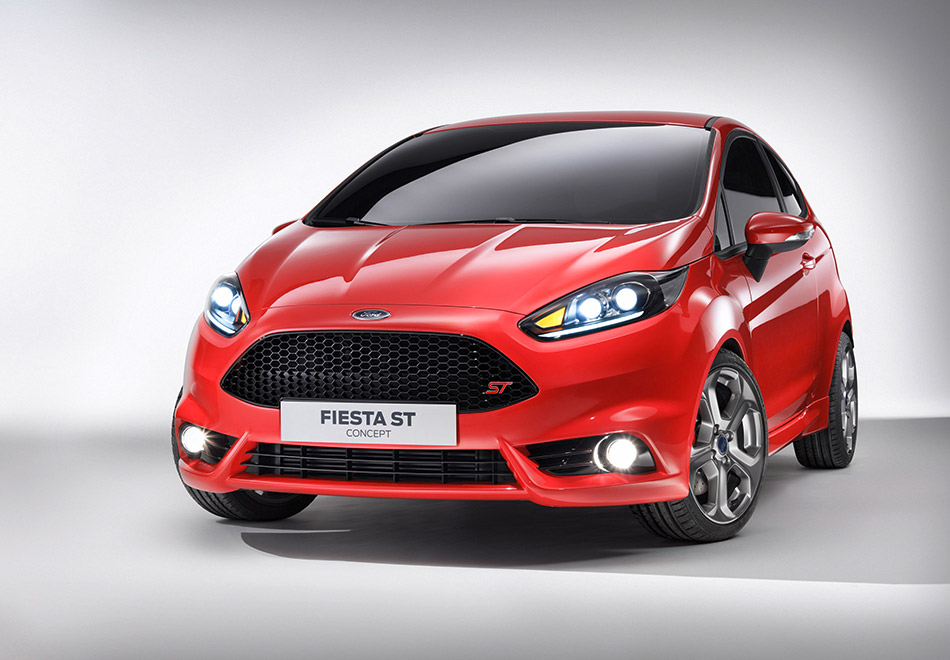 "Our strategy is powered by the One Ford global product plan and extends the reach of exciting Ford performance vehicles to a broader range of customers around the world than ever before," Kuzak said. "It is also instrumental in shaping Ford's strategic approach to and support for international motorsport activity involving our global small cars - the Focus and Fiesta." Leading the strategy is Jost Capito, Ford director of global Performance Vehicles and Motorsport Development.
"This is an exciting time for us as we introduce the first of our globally developed performance vehicles," said Capito. "It's exciting to create a new generation of performance models that are truly world-class, and we've brought together Ford performance expertise from around the world to do it."
Ford performance DNA
Ford's ST models are the company's most accessible performance vehicles, combining exhilarating and balanced performance with a level of refinement that makes them exciting to drive yet ideal for everyday use.
They are the central point of Ford's broader performance strategy that establishes the DNA for the company's performance models globally and opens up possibilities for more higher-tier performance vehicles.
This DNA was created by the Ford Performance Vehicles group - embracing Europe's Ford Team RS and North America's Special Vehicle Team (SVT) - who delved deeply into their performance expertise and insight to define the appropriate DNA characteristics for all of Ford's future global performance vehicles.
As with the DNA in a human body, this strategy dictates the necessary characteristics needed to create a vehicle that is unmistakably a Ford performance vehicle in how it looks, sounds and feels to drive.
Although Ford's strategy envisions the potential for even higher-performance models in the future, ST products clearly play a key role at its core.
Every Ford to carry the ST badge will be a performance car that emphasizes great fun-to-drive qualities customers will crave. Yet every aspect of performance in a Ford ST is highly balanced, so the driver revels in experiencing perfect harmony every time he or she gets behind the wheel. Ford ST models will also offer a level of refinement that allows the driver to enjoy the car as much on the way to work every day as on a twisty road.
Ford ST models will also share key physical similarities in areas such as colors and exterior styling, as well as interior styling and driver-oriented features.
The DNA also defines performance levels, not only in the handling characteristics but in the engine outputs too. For ST models, this DNA profile means a noticeable power increase over the existing model's engine lineup. Standards for other key ST performance attributes - such as braking and lateral acceleration - feature similar Ford Performance Vehicles group genetic engineering.
Vehicle attributes like the feel of the steering, the sound of the engine and comfort of the suspension are also dictated by the DNA, meaning customers will recognize an ST the moment they sit in one, no matter where in the world they are. This will give all future ST models a shared genetic origin that will influence customer expectations.
"This carefully defined DNA is crucial in delivering performance vehicles that will appeal to customers around the world," said Capito. "If it's a Ford ST model, you will know what it stands for."
Global market
Ford dealers in more than 40 countries spanning six continents will soon be able to offer their customers the outstanding blend of on-road performance and refinement that the Focus ST five-door embodies.
Outside Europe, only Australia, Mexico, New Zealand and South Africa were given a taste of the previous-generation Focus ST. With the launch of the scintillating new Focus ST, based on the global Ford Focus, more drivers from more countries than ever will find out just why the ST badge is held in such high regard.
For North America, the new Focus ST five-door will be the market's first compact performance Ford since the first-generation SVT Focus.
"You will be able to buy the same Focus ST in New York, Sydney or London," said Matthias Tonn, chief program engineer, Focus ST. "We are delivering this car to markets around the world where fast cars are desired. And no matter where you get into the driver's seat, you will have the same performance, same style and same fantastic ST experience."
Built at Ford's Michigan Assembly Plant for North American markets and Germany's Saarlouis Assembly Plant for Europe, Australia, New Zealand and South Africa and other world markets, the new Focus ST sets the strategy in place for the design, development, manufacture and distribution of future performance Ford models.
Good news for Ford dealers, even better news for their performance-hungry customers who have been clamoring for these vehicles.
Challenges
The demands of different environments and of different legislation found in countries around the world present a unique challenge for Ford engineers. Through the teamwork inspired by the One Ford strategy, those engineers have joined together to create no-compromise vehicles that suit whatever region in which they are sold.
Ford's global product strategy has also been central to transforming the company's performance vehicle plans - making models that were once exclusive to a single region more accessible around the world. The performance strategy is based on extending the enthusiast appeal of Ford's global model portfolio.
There are challenges involved in unleashing exciting, high-powered vehicles into multiple markets. The first and most obvious one is the question: Can performance enthusiasts from around the world be satisfied with just one car?
"Our global Performance Vehicles group soon realized that performance enthusiasts around the world are not so different," said Capito. "Exhilarating performance, fine handling, exciting looks and that feel of driving something special are universal desires of enthusiasts, whether they're driving California highways or damp British B-roads."
With robust safety considerations already taken into account in development of the Focus core models for all regions of the world, Ford's global Performance Vehicles group had very few tweaks to make to get the new Focus ST up to standard.
This allowed them to concentrate on areas like calibrating engines for different fuel grades found internationally or ensuring sound levels are within regional legislation. It also ensures the global approach to the rigorous durability and performance testing that Ford's performance vehicles go through can be meticulously carried out.
The result is finely honed performance cars like the new Focus ST that can be used to their full potential in all conditions around the world.
The next performance
The 2011 Frankfurt Motor Show provides an important preview of what could be the next performance vehicle in the Ford Performance Vehicles product pipeline - the Ford Fiesta ST Concept.
Muscular and sporty, the Ford Fiesta ST Concept is inspired by the Ford Fiesta WRC. It features a dynamic sports chassis and a high-performance powertrain with a 1.6-liter Ford EcoBoost® engine, yet is capable of delivering impressive fuel economy.
Target performance levels for the Ford Fiesta ST Concept are 177 horsepower and 177 lb.-ft. of torque, enough to propel it from 0-60 mph in less than seven seconds. A top speed exceeding 136 mph is targeted.
The advanced design of the turbocharged, four-cylinder Ford EcoBoost engine - connected to a six-speed manual transmission - means the Ford Fiesta ST Concept is forecast to deliver CO2 emissions of less than 140 g/km.
A global Ford Fiesta ST would also extend the proud, 35-year history of delivering high-performance Fiestas in Europe, including the Fiesta XR2 and XR2i, RS Turbo and the more recent first-generation Ford Fiesta ST.
"With the Focus ST and the Fiesta ST, enthusiasts will immediately understand what a Ford ST model promises and what each model shares in terms of balanced performance feel, style and driver features," Capito said. "We've developed both vehicles from the same DNA. They are born performers that know how to make drivers smile."
Source: Ford
Gallery:
Ford Fiesta ST Concept (2011)