Hyundai aims to break down the barriers of owning a luxury car with the introduction of its all-new flagship, the 2011 Hyundai Equus. Equus will compete with the best luxury sedans in the world on all levels including amenities, performance, advanced technologies, design and ownership experience when it arrives at select Hyundai dealerships in the late summer of 2010.
"Equus takes Hyundai's formula for intelligent luxury to a new level," said John Krafcik, president and CEO, Hyundai Motor America. "We've applied the lessons in engineering excellence we've learned with Genesis to the Hyundai Equus, while adding a new level of customer experience that will further differentiate our take on luxury from the traditional premium brands."
Hyundai Equus broadens Hyundai's lineup of premium vehicles and like Genesis, is built on Hyundai's world-class rear-wheel-drive architecture. It is powered by the award-winning 4.6-liter Tau® V8. The Tau inside the Hyundai Equus will produce an estimated 385 horsepower using premium fuel and 378 horsepower using regular fuel. With technology rivaling more expensive luxury sedans, Hyundai Equus showcases features such as a lane departure warning system, electronic air suspension, smart cruise control and a Lexicon® audio system.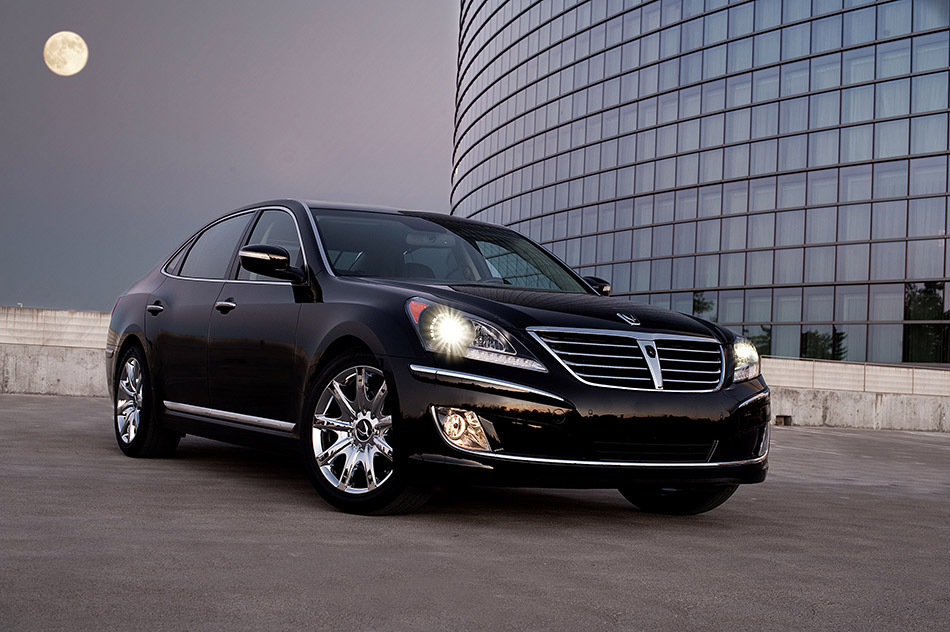 PREMIUM REAR-WHEEL-DRIVE ARCHITECTURE
When Genesis was introduced, Hyundai promised that its rear-wheel-drive architecture would spawn more products in other segments. Hyundai Equus is the third of those products, this time riding on a lengthened Genesis architecture. Hyundai Equus is 7.2 inches longer (203.1 inches vs. 195.9 inches) than Genesis. Hyundai Equus boasts an excellent 52/48 front-to-rear weight distribution for exceptional handling and more refined steering characteristics.
Hyundai Equus reduces interior noise levels and improves ride and handling with a stiff, light weight body structure. The use of high-tensile steel in critical areas in the unibody provides Hyundai Equus with significantly higher dynamic torsional rigidity and a lower body structure weight despite having a spacious interior cabin.
WORLD-CLASS TAU V8
Headlining the Hyundai Equus' performance capabilities is Hyundai's Tau 4.6-liter V8 engine, a two-time Ward's 10 Best Engine winner, mated to a ZF 6-speed automatic transmission with SHIFTRONIC® manual control. The Tau V8 delivers an estimated 385 horsepower and 333 lb-ft of torque (378 horsepower and 324 lb-ft using regular fuel) to fit the demands of luxury consumers. This powertrain combination will launch Hyundai Equus to 60 miles per hour in less than 6.4 seconds. On premium fuel, the Tau V8 produces more horsepower than the powerplants found in the Lexus LS 460, Mercedes-Benz S550, and Audi A8 and nearly the same power as these competitors on regular fuel.
LUXURY SEDAN STYLE WITH ADVANCED TECHNOLOGIES
The design of the Hyundai Equus is handsome and pleasing to the eye. The rear-end treatment is progressive with bold taillights, strong shoulders and an overall look of precision. This look is accomplished through fully-integrated asymmetrical exhaust tips and rear LED turn signal indicators. The side silhouette is refined, with character lines that accent the rear fenders. Up front is a subtle horizontal radiator grille and well-proportioned headlamps with jeweled detailing. LED turn signals are inside the HID headlamps along with an adaptive front lighting system with white LED position lamps. The lower air intakes are bold and add to the positive reaction of the overall design. To assist in parking, and navigating blind corners and alleys in urban driving, there is an optional forward-view cornering camera integrated into the grille.
CUTTING EDGE HUMAN TECHNOLOGY
The busy executive as well as the couple heading out on the town will feel right at home in the 2011 Equus due to abundant luxury touches and passenger comfort features. This ambience begins with superior quality of materials and design layout. The leather upholstery, Alcantara® headliner, natural wood trim and leather-wrapped French-stitched instrument panel showcase the richness of the Hyundai Equus interior.
The seats are designed with adjustable driver thigh support, plenty of width, great range of adjustment, and heated and cooled functionality. Thermoelectric devices located in the seat backs and bottom cushions provide control for heating, cooling and humidity. There is ample leg and head room for drivers over six-feet tall and an optional massaging driver seat. In fact, Hyundai Equus has more leg, head and shoulder room in the front and rear seats than the Lexus LS460.
The driver's cockpit boasts an abundance of features and premium services. The Driver Information System (DIS) provides navigation, XM Satellite Radio, HD Radio technology, hands-free Bluetooth telephone system and much more.
ELECTRONICALLY-CONTROLLED AIR SUSPENSION
Driving dynamics are a critical element in every luxury sedan, and the Hyundai Equus offers first-rate ride and handling characteristics without traditional compromises. Hyundai Equus' electronically controlled air suspension meets the challenge of the wide variety of road surfaces drivers face everyday. For drivers who enjoy a firm ride and more stability when cornering there is a sport setting with additional body control. For customers who wish their ride to be a little on the softer side there is a normal setting for more ride compliance.
In urban areas, the Hyundai Equus is easy to maneuver and park, thanks to excellent steering and its electronic parking assist feature. While the Hyundai Equus is large, it doesn't feel over-sized or clumsy, that's due to its 37.7 foot turning circle and variable-effort steering system.
On winding country and mountain roads, Hyundai Equus benefits from the precise wheel control delivered by its five-link front and rear suspension geometry. This geometry is maximized through Continuous Damping Control (CDC) which continually monitors road and driving dynamics and adjusts damping force accordingly. The standard 19-inch chrome alloy wheel and tire package with staggered width (P245/45R19 front P275/40R19 rear) tires offers excellent gripping power and precise control.
NEW TECHNOLOGIES DELIVER UNCOMPROMISED SAFETY PERFORMANCE
Maintaining Hyundai's emphasis on delivering leading safety technology, Hyundai Equus boasts world-class active and passive safety features to help prevent accidents, and maximize the well-being of its occupants in the event of a collision. The Hyundai Equus continues the Hyundai tradition of offering key safety technologies, with features such as Electronic Stability Control (ESC), nine airbags, electronic active head restraints, lane departure warning system and smart cruise control. Hyundai Equus even has a Vehicle Stability Management system (VSM) that optimally manages ESC, the electronic parking brake, smart cruise control and the seatbelt tensioning system for optimal safety.
Hyundai Equus' total of nine airbags include advanced dual front airbags, front and rear seat-mounted side-impact airbags, roof-mounted side curtain airbags for both front and rear outboard seat occupants and a driver's knee airbag.
Hyundai's lane departure warning system offers a warning light and chime after a one- second lane departure, and adds a haptic warning via the seatbelt after a three second lane departure.
Smart cruise control automatically manages the Hyundai Equus' speed through the braking and throttle systems to maintain a specified following distance selected by the driver.
The electronic parking brake with automatic vehicle hold enables the parking brake to hold the vehicle automatically when the vehicle stops, and deactivates as soon as the gas pedal is pressed.
Hyundai Equus has an optional camera located on the front grille and a standard camera on the rear decklid. These cameras help detect how close objects are when parking. Distance is indicated on the in-dash LCD monitor.
Hyundai Equus is brought to a halt by large four-wheel anti-lock disc brakes with Brake Assist and Electronic Brake Distribution (EBD). The 13.6-inch front rotors have four-piston fixed calipers and the rear brakes feature 12.4-inch rotors with single floating piston calipers.
LEXICON® AUDIO SYSTEMS TEAM WITH XM, HD RADIO™, AND APPLE TO OFFER UNRIVALED AUDIO PERFORMANCE AND CHOICE
Hyundai Genesis and Equus offer a Lexicon-branded state-of-the-art audio system featuring LOGIC 7® technology. The Lexicon surround sound audio system includes a 13-channel digital amplifier and 17 speakers producing 608 watts of sound in 7.1 discrete surround sound audio. Hyundai Equus also offers the clarity of digital HD Radio technology, XM Satellite Radio and iPod®/USB integration.
PRICING
The Hyundai Equus will launch with a starting price in the mid $50,000 range.
Source: Hyundai
Gallery:
Hyundai Equus (2011)