Ford revealed the production version of the all-new Ford EcoSport and announced plans to build the compact, fuel-efficient urban SUV in China, in addition to India, Thailand and South America.
Ford EcoSport's global debut at the 2012 Auto China in Beijing means customers in China will soon be able to choose an aspirational sports utility vehicle alternative to a small car. The Ford EcoSport offers a confident stance, a high driving position and robust character on top of the agility, manoeuvrability and fuel efficiency that comes with a compact footprint. It's the perfect combination for the city - ready for work and ready for play.
Within a contemporary design aerodynamically honed for fuel economy, the EcoSport is full of smart technologies, features and craftsmanship that offer customers more than they would expect in this segment.
With a number of powertrain solutions, including Ford's newest, most advanced engine the 1.0-litre EcoBoost™, Ford EcoSport is designed to be a benchmark in fuel efficiency. It also offers the Ford SYNC driver connect system with voice control and many other innovative features in a spacious and comfortable interior with new levels of craftsmanship as well as outstanding quietness and refinement.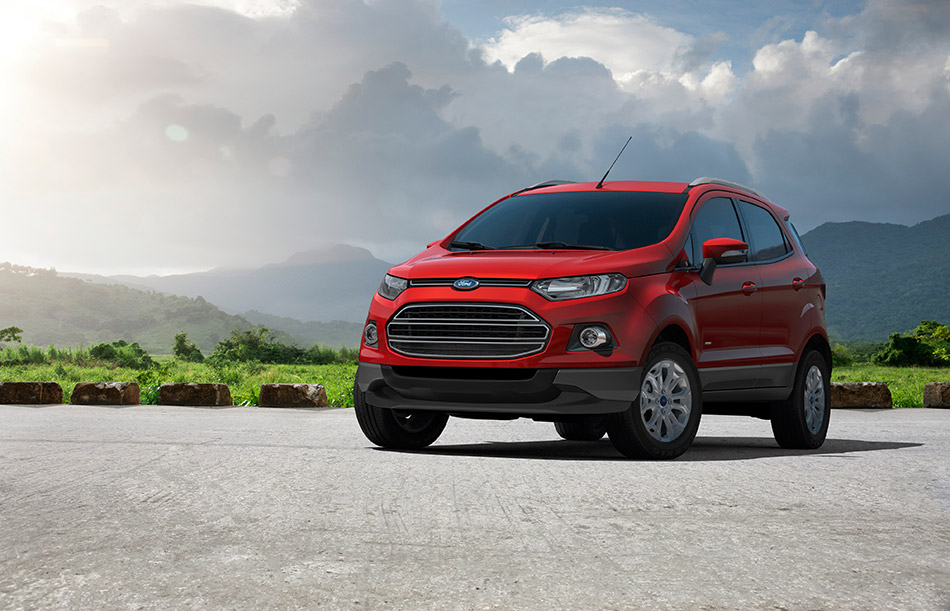 "The Ford EcoSport reflects our commitment to serve our Ford customers in China and around the world with the cars, utilities and trucks they want and value," said Joe Hinrichs, president, Ford Asia Pacific and Africa. "EcoSport delivers outstanding quality, great fuel efficiency with the 1.0-litre EcoBoost engine, superior safety and really smart design with SYNC."
The production reveal of Ford EcoSport follows rapidly after the vehicle's global preview in January 2012 at the Delhi Auto Expo as well as in Brazil, where Ford EcoSport was developed by a global Ford development team. In addition to production in Chongqing, the EcoSport will be manufactured in Camaçari, Brazil, Rayong, Thailand, and Chennai, India, and will be offered in nearly 100 markets globally.
EcoSport joins Ford's family of small global vehicles, which will reach an annual production capacity of 2 million units by 2015.
"The all-new EcoSport is designed and engineered specifically for customers in global growth markets using Ford's global SUV engineering expertise and reflecting our commitments for quality, leading fuel economy, safety and smart technology," said Raj Nair, group vice president, Global Product Development. "We're delivering innovative products like this to drive our global growth."
Ford EcoSport Titanium
Ford is showcasing its top-of-the-line model, the EcoSport Titanium, on stage in Beijing, painted in distinctive Mars Red. A similar model is being revealed in Salvador, Brazil, as EcoSport's global launch momentum builds.
Ford EcoSport Titanium has 16-inch aluminium alloy wheels and a chrome grille.
Inside, EcoSport offers a stylish, modern and well-equipped interior delivering new standards of craftsmanship and quality. The cabin - spacious for five people and their gear - has been engineered to deliver outstanding levels of comfort and quiet operation for customers.
In addition to Ford SYNC with voice control, among EcoSport's available innovative technologies are Smart Keyless Entry, Ford Power Start, and a cooled bin in the glovebox.
EcoSport offers advanced safety items, such as dual front airbags and side curtain airbags, as well as Anti-Lock Brake System (ABS) and Electronic Stability Program.
To take the stress out of driving, the Ford EcoSport comes with an array of driver-assist features including Hill Launch Assist and rear parking sensors.
Its agile, manoeuvrable chassis features electric power-assisted steering (EPAS) for outstanding steering response and improved fuel efficiency.
Beautiful, agile, modern
The new EcoSport is an affordable compact SUV that is ready for work and ready for play.
It targets benchmark performance in fuel economy, driveability and performance to redefine expectations in the compact SUV segment.
The new Ford SUV's main characteristics were defined by consumers in all of the regions in which it will be sold. The design and flexible use are part of the new vehicle's differentiated plan, which besides the agility and practicality for urban use, offers power and robustness for more adverse terrain.
The elevated stance and purposeful posture give the new EcoSport the appearance of a higher class vehicle. Its agile and contemporary lines convey confidence, refinement and an adventurous spirit, within a modern and smart package. All this contributes to Ford EcoSport's aspirational appeal.
"The new EcoSport is full of personality," said J Mays, group vice president, Design, and chief creative officer, Ford Motor Company. "Customers around the world immediately recognise its capability and SUV robustness that is achieved with aggressiveness. It is friendly and it's a vehicle that really makes you smile."
Powering growth in China
Reinforcing Ford's commitment to offer a full portfolio of vehicles in China, the all-new Ford EcoSport will be the second of 15 new vehicles that Ford plans to introduce in the country by 2015. This is part of a bigger plan to bring more than 50 new vehicles and powertrains to the Asia Pacific and Africa region by mid-decade, underscoring the unprecedented expansion in the region.
"With its superior fuel efficiency and a comprehensive suite of smart technologies, the Ford EcoSport is well-placed to power Ford into a new segment not only in China but also in other growth markets in Asia," said Hinrichs.
Ford's aggressive expansion plan in China is being supported by several new investments to increase production capacity.
It was announced earlier this month that Ford and its joint venture Changan Ford Mazda Automobile (CFMA) will invest approximately USD 600 million to expand capacity in Chongqing by 350,000 passenger vehicles, raising total capacity in China to 950,000 units by 2014. The new investment will increase Ford's total investment in China to approximately USD 4.1 billion.
CFMA already operates two assembly plants and an engine plant in Chongqing. Additional facilities - a USD 500 million engine plant and a USD 350 million transmission plant - are currently under construction.
Contemporary and Quiet: Ford EcoSport Delivers High Levels of Craftsmanship In and Out
The modern and connected new Ford EcoSport was unveiled at 2012 Auto China in Beijing, its contemporary shape revealing an equally modern and sophisticated interior design for Ford's all-new small SUV.
The all-new EcoSport provides spaciousness for five, a high driving position with outstanding visibility, a refined cabin environment engineered for quiet operation, carefully selected and matched materials, and a modern design ethos.
It all adds up to an inviting and comfortable interior that matches the design appeal of the exterior and makes the Ford EcoSport a compelling alternative to the typical small car.
The EcoSport's interior has been designed and executed to provide the highest levels of quality and craftsmanship, reflecting an urban sophistication that is just as social as it is capable. And it is home to an impressive array of technologies and features. The EcoSport reflects its world-class design and engineering, which translates into well-finished and perfectly aligned surfaces, attractive and soft to the touch fabrics, as well as a quiet and modern interior.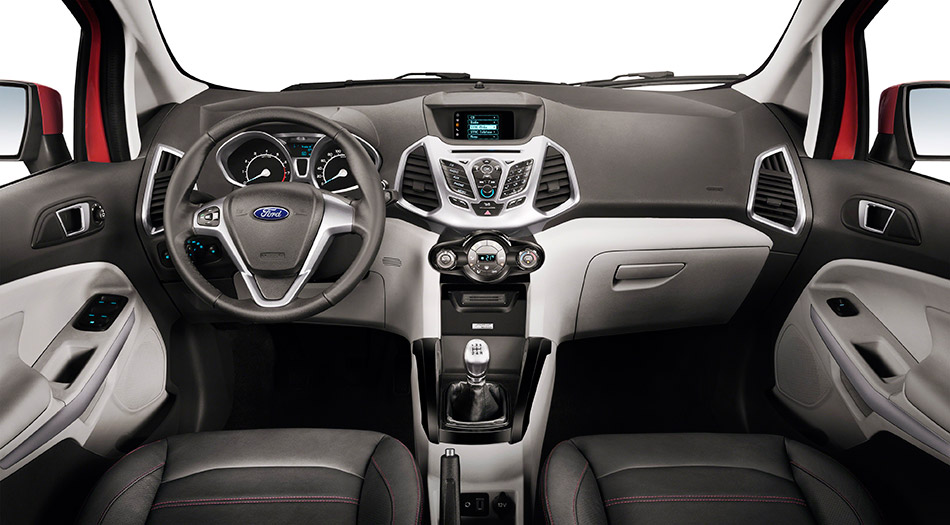 Customer expectations were at the heart of the Ford EcoSport design story. The choice of materials and the execution of design elements reflect the importance of low maintenance costs and excellent durability in the development process. EcoSport has undergone extensive durability tests in all types of weather, terrain and usage in all of the regions where it will be sold, helping to refine every element of the vehicle.
The finish of the EcoSport's body is the first visual aspect to reflect the new levels of quality and manufacturing. It is evidenced by the consistent fit of the components and the vehicle's aerodynamic profile, which greatly contributes to the interior's sound quality.
The interior offers a very modern design, together with a series of technological features that a new generation of consumers desire in a connected car, and at the same time, look for in a differentiated, comfortable and inviting driving experience.
"The all-new EcoSport's interior follows the contemporary and creative lines on the exterior. The captivating panel, the ergonomically friendly seats with soft-touch materials, and Ice Blue illumination help create an agreeable and inviting environment," said Ehab Kaoud, chief designer, Ford South America, who led the EcoSport's design. "It offers a level of interior quietness unmatched in its category."
Ford South America's Product Development Center in Camaçari, Brazil, is the only one of its kind in the region. Its 1,200 engineers and designers use state-of-the-art technology, including advanced CAD and CAE tools, to develop vehicles. Camaçari is one of Ford's eight centers of excellence in the world and operates in real time with the other centres across the globe.
Modern and robust lines
The fluid, dynamic and refined lines of the all-new Ford EcoSport are clearly defined by Ford's new global design language, based on five main elements: silhouette innovation, perceived efficiency, refined surface language, technical graphics and new face.
The muscular beltine, formed by the windows and door creases, draws an ascending curve that rises as it runs to the rear of the car and reflects the uniquely dynamic character of the compact, urban SUV.
The large trapezoidal grille is another characteristic of the Ford design DNA which gives the signature Ford face, like the other new global designs.
With a coefficient drag of 0.365, the EcoSport's aerodynamically sculpted lines help contribute to its impressive fuel economy. Inclined A pillars and a short hood help create a contemporary and sporty appearance. EcoSport's sleek profile creates a feeling of perceived efficiency.
The oblique headlamps - slim and elongated - are technical graphics in the new Ford design language that reinforce its modern style.
"The lines of the headlamps stretch towards the rear, allowing the air to flow around them," said Kaoud. "The dynamic line that stretches from the hood to the A-pillar and to the roof is another important highlight in the EcoSport's modern appearance."
The blacked-out B pillars and side windows form one continuous shape, conveying a clean, robust profile.
At the back, a large rear window that wraps around to the sides along with oblique tail-lamps. The swing gate handle is built into the tail-lamp and is another highlight of the Ford EcoSport's innovative design.
The spare tyre, with an exclusively designed wheel, is mounted on the swing-out door. This design feature - a classic SUV cue - defines the delightful personality of the EcoSport family: a sporty, contemporary and casual vehicle for consumers who seek modernity without having to give up robustness and efficiency in their vehicle.
Friendly, inviting and smart interior
The all-new new EcoSport offers an inviting, comfortable and friendly interior for the senses. It stands out for its modern and agreeable lines, the use of materials with differentiated textures and by its high-quality finish. The soft-touch fabrics offer a choice of modern colors and patterns, specially selected to meet the taste of the customers, with leather option in some markets.
The high position of the driver's seat offers good visibility and offer easy and comfortable access to the panel's controls. The small SUV's comfort is also evident in the ergonomically friendly seating with anatomical cut-outs and side bolsters, which support the body comfortably.
The centre console's design also has its own personality. The center-mounted LCD screen and SYNC controls create a contemporary line to the package. The air vents follow asymmetrical cutaways in the panel for visual appeal and functionality.
Various convenient storage options are positioned for ergonomically friendly and easy access, increasing the onboard practicality and comfort. More than 21 litres and 20 locations of occupant-oriented intelligent storage are available.
The rear seat can be adjusted and reclined, which adds to the comfort. It also offers a quick fold-down system, facilitating its use, as well as safety hooks to secure child restraint seats.
Sophisticated and quiet environment
The interior's finishing materials were chosen after extensive research with consumers, with a focus on quality, sophistication and originality.
The top-of-the-line Ford EcoSport Titanium, for example, offers a modern and sophisticated environment with a black panel and finish contrasted by silver detailing.
In addition to the quality of the materials, various factors contribute to make the new EcoSport's interior a quiet and pleasant place, thanks to advanced engineering design which maintains a high torsional strength in the body.
The Ford EcoSport's acoustic quality is impressive and is the result of extensive work to reduce noise, vibration and harshness in vehicles across the world. It can be perceived in the low amount of vibration when the vehicle is stopped or running, as well as during dynamic evaluations, with low wind and engine noise when the vehicle is driving at high speeds.
The perfect fit in the design and build of diverse interior components also helped contribute to reduce noise in the interior as well as the body's aerodynamic design, which was honed in the wind tunnel.
This quality helps increase the enjoyment of being inside the all-new Ford EcoSport, whether it is to talk, listen to music or to simply enjoy the quietness and take advantage of everything that the vehicle offers.
Creative, Connected and Compact: EcoSport is Ford's New Small SUV with Smart, Innovative Technologies
Compact and agile, the all-new Ford EcoSport is also full of innovative technologies and features.
Bringing together features not normally found in this segment, EcoSport offers a driving experience with a superior standard of on-board connectivity, safety and convenience.
One of the highlights is the award-winning SYNC driver connect system with voice control. More than 4 million vehicles are currently on the road with SYNC technology. Ford forecasts 9 million additional vehicles will be equipped with SYNC by 2015 globally as it deploys the Ford-exclusive system in products such as the new EcoSport.
SYNC sets the trend for a hands-free, voice-activated future. It helps drivers keep their hands on the wheel and eyes on the road as they choose their favorite music and make calls using voice commands.
Ford EcoSport's digital audio system features a CD/MP3 player, USB and auxiliary slots, iPod connectivity, Bluetooth connection, and a 3.5-inch LCD screen. SYNC will be available in both Mandarin and English in China.
The EcoSport also comes with a range of key features such as electric power assisted steering, power windows, remote control locks, dual power side mirrors, Passive Anti-Theft System, Smart Keyless Entry, and Ford Power Start, and rear parking sensors.
Climate control and comfort
The all-new EcoSport offers an advanced climate control system, providing efficiency and comfort, including air-conditioning with pollen filter as standard and optional electronic air-conditioning.
The all-new small SUV features improved versions of creative solutions, such as the cooled bin inside the glovebox which can chill six 350ml cans when the air conditioning is activated, as well as a storage drawer underneath the passenger seat.
Green and efficient
Energy efficiency is one of the highlights of the all-new Ford EcoSport. The goal set by Ford in the EcoSport's development was to become the segment leader in fuel-efficiency with the all-new 1.0-litre, three-cylinder EcoBoost™ engine as well as the new 1.5L Ti-VCT petrol engine.
The EcoSport's fuel economy is further enhanced by the availability of the innovative six-speed PowerShift dual-clutch automatic transmission which combines the efficiency and driving dynamics of a manual gearbox with the convenience of a conventional automatic transmission.
Efficiency is also present in every aspect of the vehicle's design. The SUV's body was specially developed, including the use of high-strength steel and new designs to optimize weight and fuel efficiency.
Advanced Safety
The all-new EcoSport was designed to meet the strictest safety standards in the markets in which it will be sold. Its body was developed with design tools and advanced software to reduce weight, combining programmed energy impact absorption zones with an extremely rigid protection cage to protect occupants.
The chassis' stability and robustly built body with high torsional rigidness for occupant protection, 20% better than the previous model sold in South America, are part of the features which give the Ford EcoSport the confidence of a true SUV.
The vehicle offers a comprehensive package of safety features including standard dual front airbags (for driver and passenger) and optional side curtain airbags to protect rear-seat passengers in rollover-type accidents. The pelvis bolster provides pelvic protection while the energy-absorbing side door trim provides thoracic and abdominal protection during side impact accidents.
The Ford EcoSport is also equipped with advanced active safety technologies such as Anti-Lock Brake System, Electronic Stability Program, and Hill Launch Assist.
Source: Ford
Gallery:
Ford Ecosport (2013)