Extra power via supercharger is the geigercars.de motto for the tune-up of the 3.5 litre five-cylinder Vortec engine of the H3. The engine technicians of Europe's leading customizer for US cars are developing a supercharger engine for the small HUMMER.
The compressor helps the engine to achieve a power increase from standard 223 hp / 164 kW to about 325 hp / 239 kW. Maximum torque is increased to about 435 Nm. The engine conversion reduces the acceleration time from 0 - 100 km/h to about 8.4 seconds, maximum speed is about 210 km/h.
The geigercars.de supercharger kit for the HUMMER H3 will be available from fall 2005 when the development is finished. A cat-back sport exhaust system will be available soon. The exhaust system doesn't only deliver a more exciting engine sound but also a more spectacular look due to its two large chromed exhaust tips.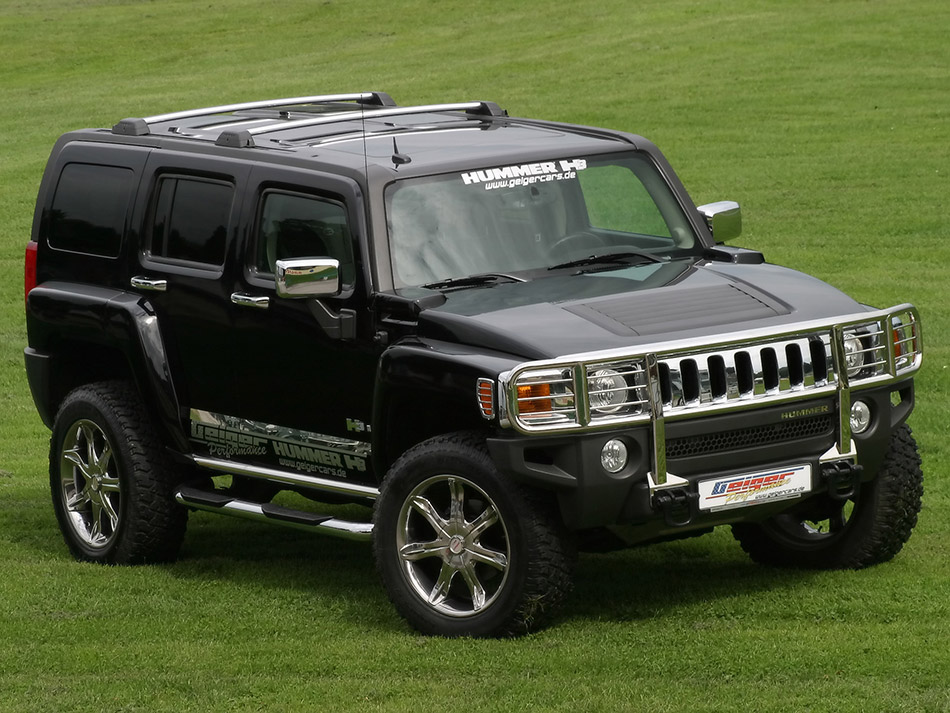 Of course geigercars.de also offers a wide range of exclusive accessories for the US off road car. To be able to fully exploit the road performances of the supercharged engine it is necessary to furnish the car with bigger wheels. geigercars.de offers different versions up to the wheel/tire combination shown on the photos. The one-piece 9.5Jx20 light alloy rims and 265/60 R 20 tires are offered for a retail price of 3,816 Euros.
To give the front of the newcomer a more striking appearance GeigerCars.de offers a high-polished stainless-steel front guard. The bar, which is offered for a retail price of 1,560 Euros, isn't only made for decoration but also defends the bodywork from expensive repairs caused by slight jostles.
Equally practical and attractive are the GeigerCars.de sill tubes which make entering and exiting the car easier. They get charged with 890 Euros.
Custom-made chrome parts such as high-polished towing hooks made from stainless steel are part of the exclusive GeigerCars.de program for the H3 just like protection grilles for the side direction indicators and many more accessories up to the chrome tank cap.
GeigerCars.de will also supply professional suspension and brake tuning for the HUMMER H3. A sport suspension lowers the off road vehicle by about 100 millimeters. The additional sport anti-sway bars reduce the side tilt at fast cornering on the road.
A high performance brake system on the front axle with perforated and vented 355 millimeter discs and 6-pot fixed calipers isn't only recommended for tuned-up cars due to its improved stability.
GeigerCars.de also offers a wide range for upgrading the interior: The ex-works leather trim can be completed or alternatively replaced by more exclusive interior appointments in every possible color and design. In addition, GeigerCars.de also offers state-of-the-art GPS navigation technology for the Hummer H3.
GeigerCars.de alternatively provides complete cars or customizes Hummer H3 cars.
Source: GeigerCars
Gallery:
GeigerCars Hummer H3 Tuning (2005)