With the powerful Dodge RAM 1500 3.0l V6 EcoDiesel and the hardly less impressive Jeep Grand Cherokee 3.0 CRD, the US-Car specialists of GeigerCars.de from Munich have two equally powerful and efficient US-boys in their range. Now GeigerCars.de once again increases their power with an in-house performance increase!
Performance increase by up to 40 PS / 62 Nm for the 3.0-litre V6 turbo diesel
Software optimisation for 1,599 Euro
TÜV parts expert report on request
The modern 3.0-litres-V6-common-rail turbo diesel unit is very powerful ex works already, at 241 PS and 569 Nm in the Dodge RAM 1500, or  250 PS and 570 Nm in the Jeep Grand Cherokee 3.0 CRD. This wasn't quite enough yet for the power-spoiled US-Car exports from GeigerCars.de: They give the 24-valve engine in both vehicles a power plus of up to 40 PS and 62 Nm via software optimisation.
In the Jeep Grand Cherokee diesel 3.0, the maximum speed is increased from 202 to 223 km/h by software optimisation, while the Vmax of the powerful Dodge RAM 1500 3.0l V6 EcoDiesel is increased to 190 km/h.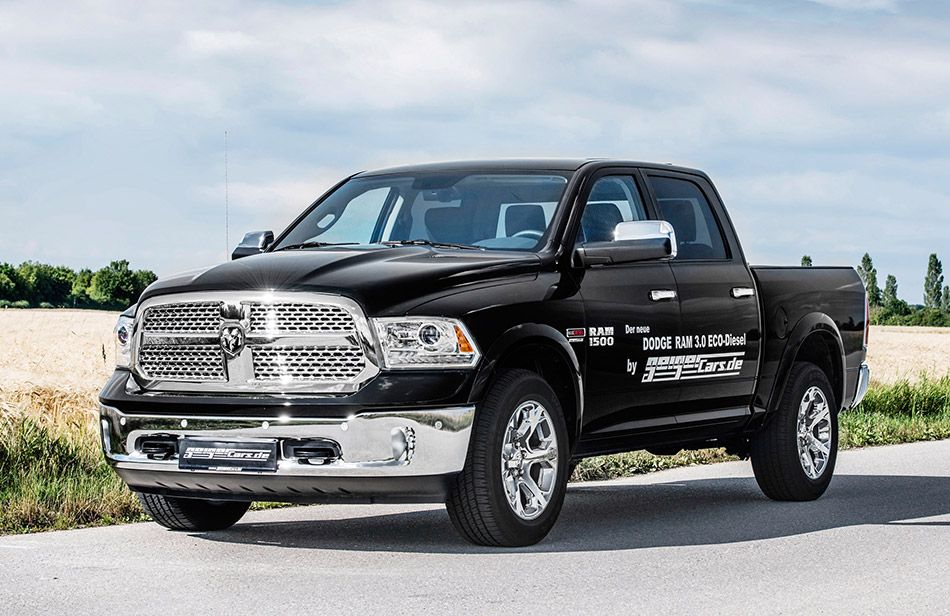 The price for diesel tuning by GeigerCars.de is 1,599 Euro. On request, they may be entered in the vehicle documents and/or a performance measurement can be performed.  
Additionally, GeigerCars.de of course offers similar performance increases for other models from the portfolios of Chrysler and Jeep as well.
Technical data
Dodge RAM 1500 3.0 l V6 EcoDiesel
Motor: V6-turbo diesel
Displacement: 2,988 ccm
Output: 177 kW (241 PS)
Torque: 569 Nm
Gear: 8-gear automatic transmission
Consumption combined: 10.2 l (diesel)
Co2 combined 267 g/km
Pollutant class: G
Basic price: 49,900 € and up
Source: GeigerCars
Gallery:
GeigerCars Dodge RAM 1500 V6 EcoDiesel (2014)