Premium tuner GEMBALLA is once again setting the standard for cars based on the Porsche Panamera. After the GTP 700 had already reached 338,8 kph on the high-speed track in Nardo in southern Italy, the even more powerful variant GTP 720 (720 hp / 530 kW) has already accomplished two new records. While this unusually powerful car's tyre permit means 340 kph is its electronically controlled limit, in terms of acceleration and lap times there was still some extra performance to be gained.
During independent tests on a closed-off airport, the GTP 720 achieved a new acceleration record for roadworthy cars of its weight category (approx. 2.3t). And there also is the new Sachsenring lap-time record for Panamera-based cars. The car's configuration for this test, initiated by a renowned sports car magazine, was a standard customer's version, everybody can order from GEMBALLA.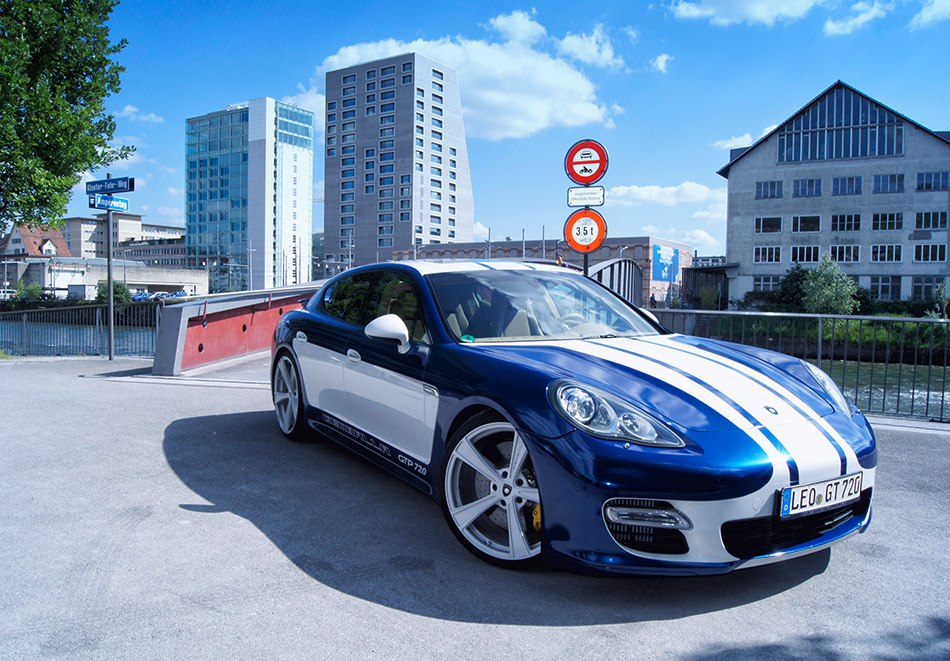 300 kph in 26.4 seconds
When accelerating from zero to 100 kph, the tester even undercut the GEMBALLA specs (3.3 seconds). The official result: 3.2 seconds, one second faster than the production car's. The result is even more impressive when reaching 200 kph, not to mention 300, when the GTP 720 undercuts the production version's acceleration by more than a half.
GEMBALLA GTP 720 – improvement on the production car
0-100 kph: 3.2 seconds – 1 second faster
0-200 kph: 9.7 seconds – 3 seconds faster
0-300 kph: 26.4 seconds – 33.6 seconds faster
Lap time Sachsenring: 1:37.08 minutes
"This exceptional performance is not only due to the car's horse power but also to its torque, raised by 255 Nm and available over a wide range of revs," says CEO Andreas Schwarz, who is proud of the fact that his performance data are always dependable, ... for a reason.
Source: Gemballa
Gallery:
Gemballa Porsche Panamera GTP720 (2015)