The Ferrari F430 already is a brilliant, eye-catching vehicle. The "look" as well as engineering technology presents many similarities to motor sports racing. In the latter instance, most vehicles here feature a catchy paint finish in "warrior look". HAMANN MOTORSPORT now offers the mid-engine Ferrari a special outstanding design that equally provides a racing car look standing out from the crowd. It's called "Black Miracle" and will be responsible for great deal of turned heads.
An individual entrance thanks to Black Miracle design
HAMANN's "Black Miracle" designed black car body via a foil suggests the appearance of a primary base coat versus a ready-finished lacquered vehicle. It leaves an impression as if the entire car body is covered in velvet. Here as well, comes an idea directly from motor sports racing scene where motor covers are often finished in black matt to aide drivers with glare reduction. The "Black Miracle" design by HAMANN acts similar to a black hole absorbing all light. For the "light at the end of the tunnel" HAMANN provides additional parts following customer preferences in brilliant red, orange or yellow finish. The contrast between black matt and each "luminizing" addition is unquestionably mesmerizing especially for countless admirers at Ferrari meetings. Such an individualized F430 entrance has never been seen before!
The highlight of the "Black Miracle" designs: when the black matt colour doesn't seem pleasing anymore, the foil can be easily removed.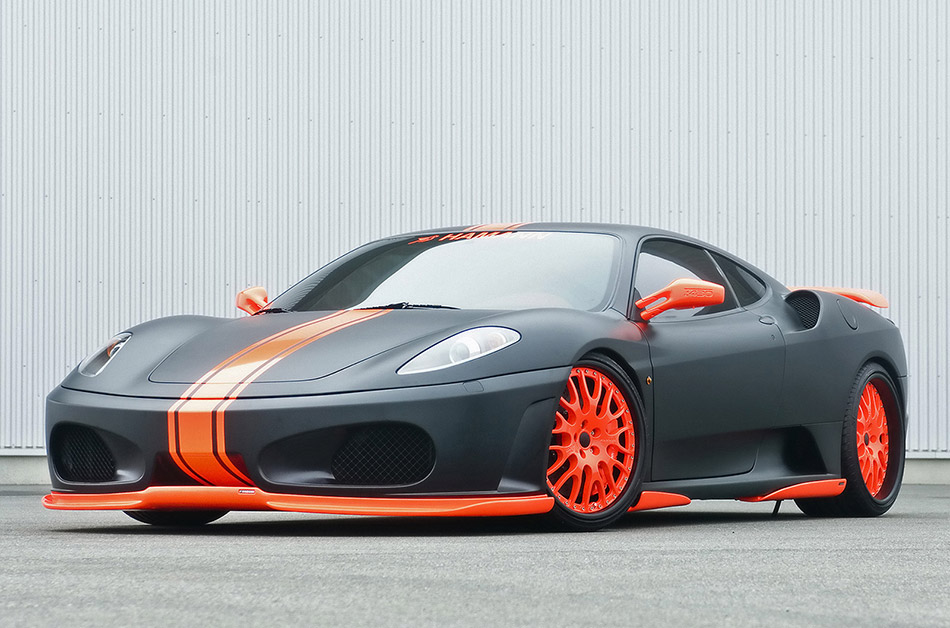 The noted HAMANN aerodynamic kit for the Ferrari F430 in dazzling colours grasps many elements directly out of motor sports. Front impressions of the F430 "Black Miracle" through HAMANN's front spoiler provide a distinct racing sports face and minimize front axle buoyancy. The wide rocker panel wings give a lowering impression. Further reminiscence of sports racing awakens at the rear end through the HAMANN diffuser and a powerful rear wing which provides more downthrust on the rear axle. HAMANN air dams for the downforce generating Venturi Tunnel boosts the effect.
Additionally included in the "Black Miracle" design are finished aerodynamic parts in red, orange or yellow as well as coloured side mirrors and brake callipers, tinted rear lights, a coloured engine cover framing, dark tinted windows (including front window), bi-coloured leather furnishings (any choice of colour combinations), HAMANN logos within the head rests as well as the wheels finished in the colour of the aerodynamic components and with completely covered black matt rim flange.
The finest detail through wing doors
The absolute show stopper effect with the eye-catching "Black Miracle" colour in combination to the car body is achieved with the addition of HAMANN constructed wing doors. This process is completed without compromise as HAMANN offers a completely full car body integration through guaranteed technology minus that look of actually being built-in. In other words, this vehicle looks as if it just rolled directly off the assembly line.
Performance jump
Through new motronic programming including a new rear silencer plus a sporty high-performance header and sport steel catalyst, the F430 in HAMANN "Black Miracle" style has a performance increase of 36kW /50 HP which is naturally a plus for vehicle performance.
Even more driving pleasure is promised with a specially designed set of suspension springs. Through the HAMANN springs, not only does the F430 lurk lower to the ground, it also moves noticeably with more agility.
The F430 "Black Miracle" comes equipped from HAMANN with a 3-pieced, forged light weight wheel "Edition Race" in 20-inch. Available for the front axle in size 8,5 x 20 (tires 235/30-20) and for the rear axle in size 12,75 x 20 (tires 325/25-20).
One example of the ultra lightweight wheels with dimensions of 12,75 x 20 have an astounding weight of only 15,45 kg! As previously indicated, within the "Black Miracle" package HAMANN finishes a wheel spider in the colour of the aerodynamic components and rim flange matching to the car body in black matt.
Source: Hamann
Gallery:
Hamann Ferrari F430 Black Miracle (2007)