Continuing on the theme of uncompromised performance draped with unconventional yet beautiful design enters the Ceramic 6 Concept.  While similar to the Vector 3 in that its design pattern is identical on either side, this also is where the likeness ends.  And where the Club Sport concept vehicles emphasized their racing heritage, the Ceramic 6 focuses on racing patterns.
The Ceramic 6's exterior finish is an eponymous Ceramic White littered with Taupe Silver accent stripes.  Such as the linear frequency patterns found on the likes of couture dresses and flowing fabrics, Ceramic 6's garb radiates a presence of serenity and pureness.  Using a base metallic followed by a satin quality clear paint, the vehicle's matte white finish was achieved.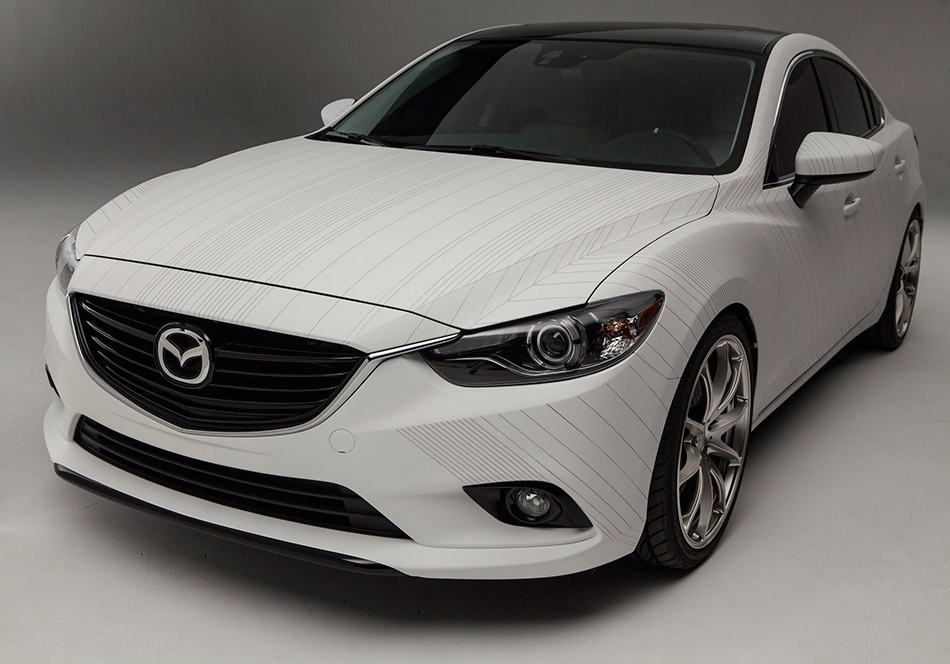 Matching its accent lines Ceramic 6 rides on Rays Volk Racing Original G25 10-spoke, 20-inch wheels finished in Taupe Silver. Performance accessories include an H&R spring kit, a Racing Beat custom dual-exhaust and custom Brembo two-piece, six-piston 380x32 drilled rotors.
The interior resembles something out of a Milan fashion studio with premium soft leathers, intricate stitching and overlapping weave patterns.  Easily an outfit that can be presented on the runway, the Ceramic 6 further distances itself from the Club Sport 6.  Where the Club Sport represented motorsports and historical drives, the Ceramic 6 is reminiscent of Rodeo Drive.  Yet as dissimilar in design as the two mid-size sedans are, no one can deny that they remain genetic twins – built to perform and handle roads with prowess, regardless the exterior's cloak.
Featuring supple full-grain leather all around, the White presents a canvas clean in appearance that boldly complements the dark interior features such as the premium Black leather of the steering wheel, arm rests, emergency brake and center console.  Accented metallic details provide a warm transition between the tones.  Wrapped in Black leather, the steering wheel displays Light White Momo-style stitching and finished with a matching leather strip at the high-noon position.
Comprising the front and rear seat inserts are interwoven light and dark White leather while hand-sewn Burgundy stitching further highlights the dynamic contrasting design.  Light White leather inserts featuring the same hand-sewn Burgundy stitching pattern adorn the doors and is featured along the instrument panel decor in the same fashion.
Gallery:
Mazda Ceramic 6 Concept (2013)