The Honda CR-V is the first Honda-designed and -engineered sport/utility vehicle and brings a new level of ride comfort, handling and efficiency, as well as Honda quality, to this market segment.
Priced competitively with mini-SUVs, but sized comparably with compact SUVs, the CR-V combines 4-wheel-drive capability and utility with passenger-car driveability, comfort and convenience.
Exterior design/body structure
The CR-V body incorporates design features intended to make it equally suited for both highway and off-road travel. Its tall stance (over 8 in. of ground clearance), combined with an expansive glass area, provide excellent outward visibility in all directions for the driver and passengers. The front bumper, side sills, wheel arch protectors and rear bumper are made of a durable plastic that resists chipping, while large, powerful multi-reflector headlights provide even illumination and give the CR-V a distinctive appearance.
In addition, high-mount rear combination lights, built into the upper rear D-pillars, enhance the CR-V's visibility from the rear and are less likely to be obscured by dirt and grime.
The carpeted cargo area has a two-way tailgate. The upper glass portion can be opened separately for quick loading and unloading of small packages, and the lower half is a full-width door, hinged on one side and held open by a gas-filled strut. The spare tire is mounted low on the tailgate door for good rearward visibility.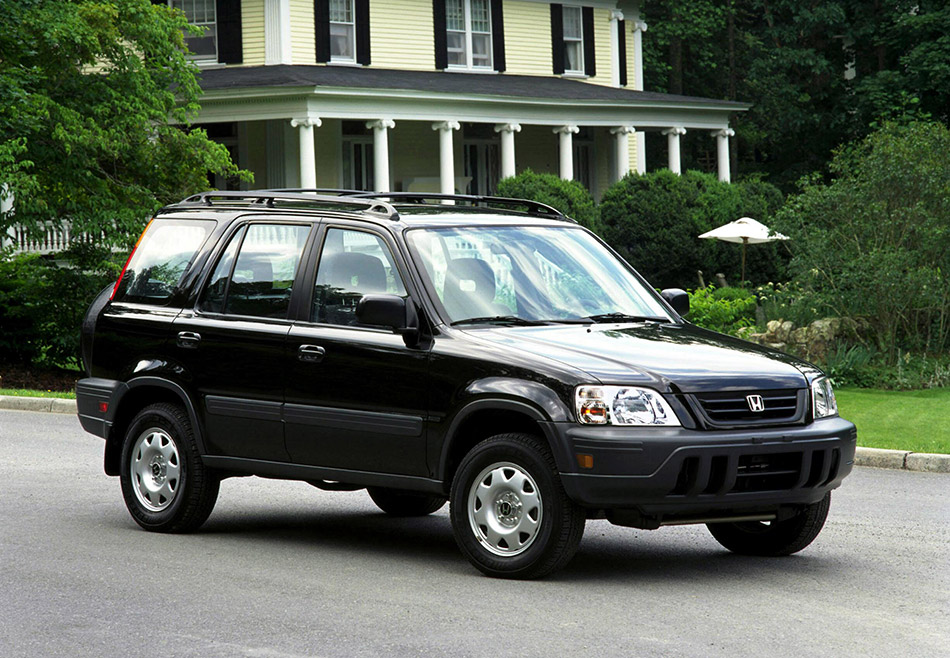 Compact 2.0 liter engine
The CR-V is powered by a 2.0 liter, 16-valve dual overhead camshaft engine developing 146 horsepower and 133 lb.-ft. of torque. The new engine boasts lightweight and compact dimensions for its displacement and has been specifically tuned to have a flat, extended torque curve suitable for both highway and off-road use.
The CR-V's engine features a new cylinder block-casting process, in which all four cast-iron cylinder bores are one compact (siamesed) unit with the aluminum -alloy block cast around it.
Real time 4-wheel drive
An innovative, Honda-designed 4-wheel-drive system is used on the CR-V, called Real Time 4WD. Real Time 4WD automatically distributes drive torque to the front and rear wheels in response to changing traction conditions.
Electronically controlled 4-speed automatic transmission
A smooth-shifting, electronically controlled, 4-speed automatic transmission with lockup torque converter is standard on the CR-V. The transmission's Grade Logic Control automatically downshifts and holds a lower gear when the CR-V is climbing a steep grade. This eliminates the gear hunting that can occur as the driver changes throttle position in response to changing engine load. The transmission also will downshift and hold a lower gear when descending a steep grade, so that engine braking may be utilized.
Chassis
The CR-V is the only SUV to use 4-wheel double wishbone suspension. Four-wheel double wishbone suspension gives the CR-V the same advantages of stability, ride isolation, handling and space efficiency found in Honda passenger cars.
Safety systems
The CR-V has a highly rigid body with extensive reinforcements in key areas in order to meet current safety requirements. Dual airbags are standard and the CR-V meets U.S. government side-impact standards; it also is designed to protect its passengers in 30-mph full-frontal and rear impacts. Offset-frontal impact protection also has been built into the body.
Comfort and convenience features
Standard comfort and convenience features on the CR-V include a high-capacity air-conditioning/climate-control system with built-in air filter, AM/FM stereo system, power windows, door locks and mirrors, rear wiper/washer and cruise control.
A convenient, folding tray table is located between the front seats and features built-in beverage holders.
An anti-lock braking system (ABS) is also available as an option package for the CR-V.
Roomy, functional interior
The CR-V cabin can seat five adults and boasts 41.5 in. of front legroom and 36.7 in. of rear legroom. Additional passenger-compartment features include a flat floor and passenger walk-through. Cargo space is ample, with 29.6 cu. ft. of space behind the rear seats. The rear seatback has a 50/50 split and a total of 67.2 cu. ft. is available with the seatback folded down.
Additional utility has been built into the cargo area in the form of a removable picnic table that also functions as the cargo area floor. The lower cargo area beneath the removable floor has a removable, waterproof plastic bucket, which serves as a convenient storage area for wet items, such as swimsuits or ski clothing. A 12-volt accessory outlet is also built into the cargo-area side wall for powering accessories, such as an air-mattress inflator or refrigerated cooler. Several convenient hooks are also built into the rear cargo area for an elastic cargo net and for hanging small items.
Source: Honda
Gallery:
Honda CR-V (2001)