Making its European public debut at the Paris show, the FR-V is Honda's new entry into the compact MPV market which succeeds in matching an outstandingly flexible interior with stylish good looks.
Honda has chosen to be different in its approach, and the FR-V has six seats arranged in two rows of three, with centre seats that slide. It means passengers can sit in comfort and effortlessly communicate with one another, while sufficient space remains for their luggage. And when more luggage space is needed, not only do the three rear seats fold individually, they fold flat into the floor in a simple one handed operation.
Combined with a choice of three engines including Honda's acclaimed 2.2 litre turbodiesel, a wide track chassis engineered to minimise body roll, excellent ride comfort and class-leading manoeuvrability with a small turning circle, Honda's newest range provides practicality without compromising driving enjoyment.
Three seating in front
Based on the CR-V platform, but with a longer wheelbase, the FR-V has the interior space of a D-segment saloon. Three adults can sit in front comfortably in a V-shaped front seat arrangement, while allowing the driver sufficient space to operate all controls without hindrance.
Body width is almost class average, but front seat dimensions have been carefully tailored to ensure high levels of comfort while still permitting three seats to be accommodated. So while their overall widths are almost the average generally, seating width is nevertheless comparable in each of the 3 seats provided, achieved through a more compact frame structure containing additional support material.
A best-in-class tandem distance of 1005 mm (ie the distance between the front and rear passenger hip points) ensures excellent leg room, further helped by a flat floor without tunnel intrusion.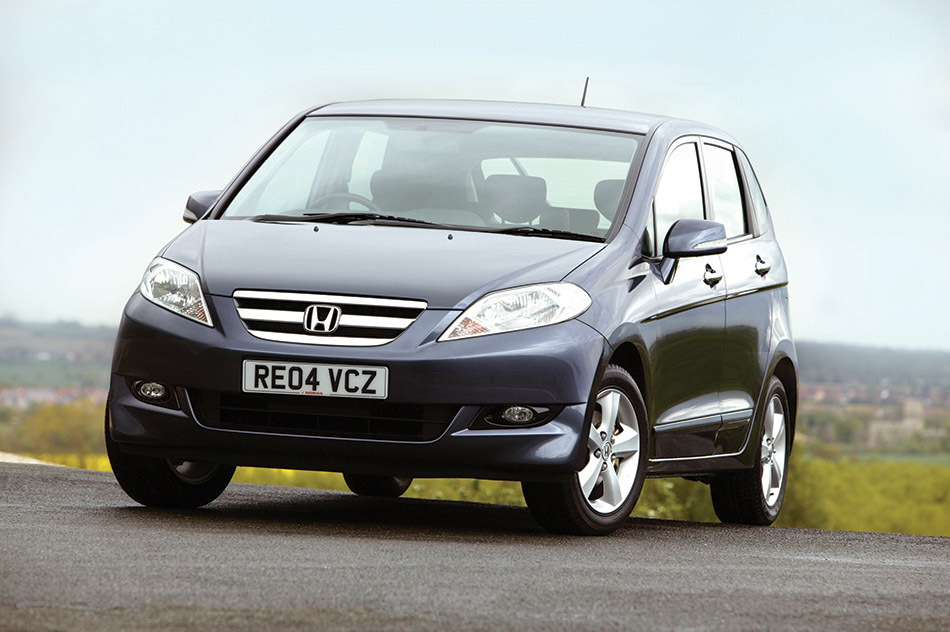 Multifunctional front seat converts into table, acts as storage
Sliding centre seats – the front can be moved up to 270 mm (more than the front outer seats' sliding length = 230 mm) in seven notched positions, the rear centre up to 170 mm in three notched positions – provide passengers with the opportunity to maximise shoulder and leg room. Reclining rear seats (two steps) further enhance comfort.
The multifunctional front centre seat also features a seatback that can be folded forward to form a comfortable armrest or table. In this position, it also allows long loads to be carried. Further versatility comes from a split seat squab, the front half of which flips through 180 degrees to reveal secure storage beneath for small valuables. A pull out storage tray is located beneath the seat.
Dive-down rear seats can be collapsed with minimal effort
Expanding the luggage area requires only three steps: making sure the front centre seat is slid forward (step one), pushing down the rear seat headrests (step two) and collapsing the 'dive-down' style second row seats by means of a catch on each seat back (step three). No tricky double folding of seats is required, and neither do they need to be removed from the car and somewhere found to store them. What's more, the seats just disappear into the floor to give a completely flat load floor.
FR-V can carry six people and 439 litres (VDA) of luggage. With three occupants in the front row, 1049 litres (VDA) can be carried, whereas a five seater MPV would require a second row seat to be brought into action, thus compromising load space. Seven seater MPVs may have the potential to carry an extra passenger, but their three rows of seats also result in compromised load space.
Supreme flexibility
Six independent seats mean of course that many different seating and loading permutations are possible: parents in front, grandparents in the rear and two children in the centre seats with front centre slid back; or driver and partner alone with front centre seat in table mode; or three passengers in front and their bikes (with front wheels removed) standing in the rear – the combinations are endless. And many couples will welcome the fact that they can sit alongside their child, enabling them to share experiences together. Certainly children will welcome the opportunity to ride up front with mum and dad, even if mum and dad might not be quite so keen….
Safety of paramount importance
Passenger safety has been a prime consideration and FR-V features dual stage front airbags; side airbags for front seat occupants; full length curtain airbags; and three point seatbelts on all six seats. Additionally, the front seats have pre-tensioners and load limiters. So that both front seat passengers are equally well protected, the extra large passenger airbag opens to a width of 860 mm.
ISOFIX fittings are included on the front centre seat as well as the two rear outer seats for the safe securing of child seats. Each also has a tether anchor point in the base of the seat backs. Where small children are placed in the front centre seat, Honda recommends that it is moved to its rearmost position.
Stylish contender
Rather than follow convention with a somewhat utilitarian approach, Honda chose instead to give the FR-V a tapering, arrow-like nose, upwards sweeping waistline and sloping tailgate, which, combined with its wide, planted stance, helps to create a sporty dynamic, design.  4285 mm long, 1810 mm wide and with a wheelbase of 2680 mm, its dimensions are close to the sector average, while at 1610 mm tall, its height is below the average. A turning radius of 5.2 m is one of the best in class.
Inside, Honda has set out to create a high quality interior on a par with premium D-segment saloons by ensuring good fit and finish and careful selection of materials and colours. In particular, the fascia presents a modern, high-tech appearance, with a centre section housing the fully integrated audio system providing a strong visual focus.
The driver enjoys good all round visibility, and a steering wheel adjustable for reach and rake, and a height adjustable seat allow an optimum driving position to be selected. The main instruments appear as a darkened panel with the ignition switched off, transforming to a bright display when the key is inserted. The gearshift is mounted on the fascia alongside the steering wheel and falls easily to hand.
As well as the storage tray and storage compartment contained within the front centre seat, plenty of space for odds and ends is provided throughout the cabin: a large glovebox, large door bins – those in the rear shaped to accommodate large drinks bottles, a covered cubby hole in the central fascia, a fold down coin holder alongside the steering column and a pull out three-capacity cup holder in the lower fascia. 
A neat touch is the provision of a sun visor, footrest and dedicated air vent and heater outlet for the front centre seat passenger.
FR-V is offered in three model grades: base (RHD, S) (1.7 litre only), Comfort (RHD, SE) (all engines) and Executive (RHD, SE-S) (2.0 and 2.2 litre engines only). Even the 1.7 base is comprehensively equipped, with a specification that includes front and side airbags plus full length curtain airbags, electric windows front and rear, keyless entry, automatic air conditioning, radio/CD player and immobiliser. Among the items added to the Comfort grade are an alarm, heated door mirrors, steering wheel audio controls, and, on 2.0 and 2.2 litre models, VSA and 16 inch wheels. Finally, Executive models are equipped with front foglamps, cruise control (also 2.0 Comfort), a sunroof, heated seats, alloy wheels, rain sensing wipers, retractable door mirrors and a premium radio/6 CD player. 
Powerful petrol and diesel engine line-up
Contributing to the FR-V's driving pleasure is its range of engines. Initially there will be a choice of two petrol engines: a 125 PS (92 kW) 1.7 litre SOHC VTEC unit (mated to a 5-speed manual transmission ) and a 150 PS (110 kW) 2.0 litre DOHC i-VTEC unit (mated to a 6-speed manual transmission). In 2005, they will be joined by Honda's acclaimed 2.2 litre i-CTDi diesel engine with 6-speed manual transmission. All three surpass Euro IV requirements
The 1.7 litre engine's peak torque of 154 Nm delivered at 4,800 rpm provides excellent flexibility during everyday driving, while boosting fuel economy. The particularly flat torque curve ensures that the 1.7 litre FR-V pulls strongly across the rev range, particularly between 2,000 and 4,000 rpm, for effortless performance.
The 2.0 litre engine combines VTEC with Variable Timing Control (VTC) to match outstanding fuel economy and cleaner emissions with high output and strong torque in all speed ranges. It is mated to a six-speed manual transmission which, with its overdrive top gear, delivers superior high speed cruising and fuel economy. Peak torque is 192 Nm at 4,000 rpm, but even by 3,000 rpm the engine is generating 188 Nm.
Honda's 2204 cc, all-aluminium diesel engine delivers 140 PS at 4,000 rpm and maximum torque of 340 Nm at just 2,000 rpm. Key features of the 4-cylinder unit are DOHC, four valves per cylinder, balancer shaft, second generation common rail direct injection, and variable nozzle turbocharger with intercooler.
Tried and trusted suspension design
Although a number of chassis components are unique to FR-V, the overall layout is very similar to the suspension arrangement of CR-V. That means the toe control link MacPherson strut design at the front in conjunction with a high-mounted steering rack, and reactive link double wishbone at the rear, both of which provide significant packaging benefits. 
Supple ride, minimal body roll
To ensure that the FR-V is both comfortable and fun to drive, Honda's chassis engineers set out to reduce the body roll normally associated with MPVs. A relatively wide track, and optimised suspension geometry that moves the roll centre closer to the centre of gravity, have allowed the use of softer springs. The result is a supple, flat ride, high stability during cornering and good ride comfort.
Vehicle Stability Assist
Added driving security comes from Honda's own 4-channel Vehicle Stability Assist (VSA) system fitted to 2.0 and 2.2 litre models, while all models are equipped with ABS, Electronic Brake force Distribution (EBD) and brake assist system for emergency braking. Braking is by ventilated discs at the front and solid discs at the rear.
With sales planned to start this November, the FR-V takes the concept of the compact MPV onto another level of sophistication and desirability.
Source: Honda
Gallery:
Honda FRV (2004)