First presented at this year's Geneva Motor Show, Mazda2 is the first model of a further developed generation of Mazda automobiles. It enters the growing B-segment, which in Europe has now conquered around 25 percent of the new car market. Mazda2's outstanding total package represents a bold break from traditional trends in the automotive industry, especially in the sub-compact segment: it is not only approx. almost 100 kg lighter than its predecessor, but also 40 mm shorter. With this, Mazda kept the weight of the car under 1,000 kg, which contributes up to 15 percent less fuel consumption and agile handling characteristics. Also its charismatic design and its high level of safety make the Mazda2 a car best suited to meet the demands of European customers.
The Mazda2 does not blindly follow every trend, but reconciles seemingly conflicting attributes like environmental friendliness, lightweight construction, compactness and driving fun. It moves the Zoom-Zoom philosophy, first introduced with the Mazda6, to a new level. This means that fun when driving and interacting with the car is still of primary importance, but it is enhanced in the new Mazda2 by clever technical solutions and, in light of the changed environmental situation, partially newly interpreted.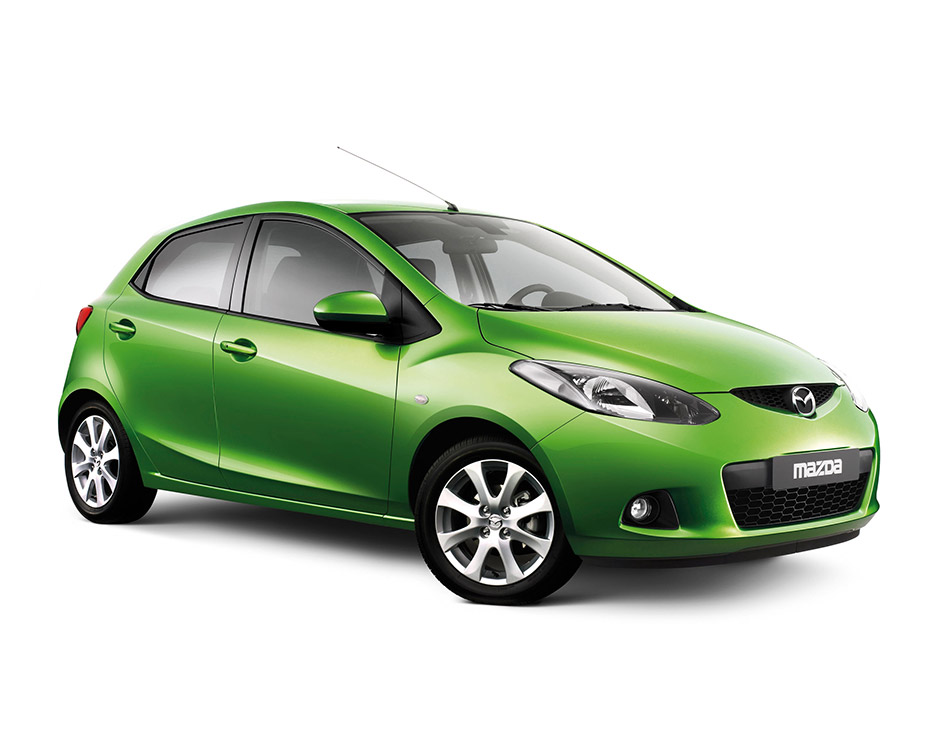 The goals set for Mazda2 developers were clearly defined: low fuel consumption, high functionality, ease of use and dynamic, Mazda-typical performance attributes. Added to this was a design meant to sharpen even more the brand's DNA and – in the form of a true sub-compact car – to create high levels of appeal.
Besides these goals, ingenious weight reduction as an efficient way to reduce fuel consumption and CO2 emissions was at the top of the list of requirements. And once again - following the MX-5 roadster trend - Mazda was able to turn back the spiral of ever increasing weight. An increased use of high-tensile steel led to a "calorie reduction" of almost 100 kg. As a result, the new Mazda2 with the 1.3-litre petrol engine weighs considerably less than a ton, at 955 kg (with the 1.5-litre, 960 kg). Mazda2's trend-bucking character is also evident by its length, which is now four centimetres shorter, at 3.885 metres. By keeping the wheelbase the same, at 2.49 metres, the interior offers a very good interior space for its compact size, with a fairly good-sized boot volume of 250 litres.
Even When Standing still, the Mazda2 Looks Like an Athlete in the Starting Blocks
Mazda2's predecessor was primarily based on a practical box-like form. This has a lot of advantages, but is less able to inspire an emotional attachment in potential buyers. In order to ensure a more dynamic form for this generation, designers combined sharply cut contours with soft transitions. Giving the car a wedge form also created an impression of athletic movement – even when parked, the Mazda2 seems like it is moving. At the same time, they worked on forms that look especially precise – a reflection of the preference of the Japanese for objects that are beautiful because of their simplicity. With "coordinated movement" in mind, the lines of the body combine with the light effects created by the outer skin to create forms of expression that are rich and many-facetted.
With the optional Sports Appearance Package (depending on market), the sporty look of the Mazda2 can be even further enhanced. Side spoilers, a lower front spoiler, and an air intake that is wider at the bottom than at the top, visually lower the vehicle's centre of gravity, together with a special Sports Appearance Package upper grille design and a rear roof spoiler.
Interior Design for a Roomy Interior Feel
The guideline for designing the Mazda2 interior was "a space that communicates movement." Unlike interiors with flat surfaces, the architecture selected here combines confidence-inspiring solidity with strong visual movement. By emphasizing the horizontal plane, a subjectively large spatial feel is achieved. The contrast between silver accents and an otherwise dark background, along with many round elements, add sportiness and individuality to the cockpit. Like on the Mazda5, the shift lever is integrated into the centre console and its position – mounted 38 mm higher than the previous Mazda2 – makes it especially easy to reach.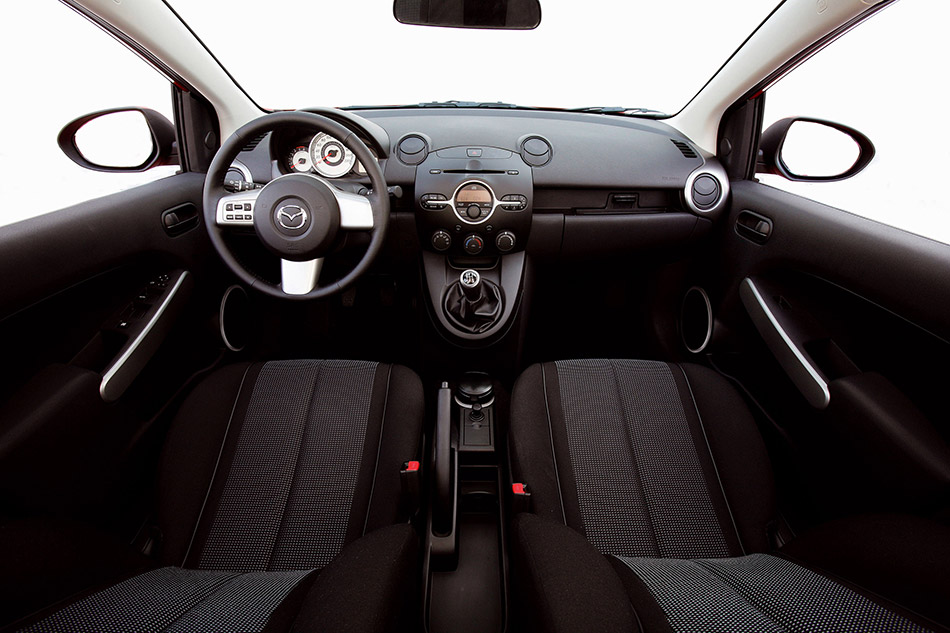 Lower Beltline Improves Visibility Diagonally to the Front and Down
The belt line descends towards the front of the car – it is 40 mm lower than the outgoing model – and together with a lower positioning of the side mirrors means increased visibility diagonally to the front and down. This results in increased safety when driving on narrow roads and turning at junctions, where pedestrians could cross the road. Also very usefully in city traffic is the car's small turning circle of 9.80 metres.
Besides its comparably long wheelbase of 2.49 metres, Mazda2's clever packaging ensures a roomy interior despite the car's shorter length and height. As a result, maximum headroom of 1,004 mm in the front, 959 mm in the rear are amongst the best in the category, as are Mazda2's shoulder room measurements of 1,340 mm in the front and 1,300 mm in the rear. 883 mm of legroom in the rear seating area of the Mazda2 mean there is a lot of free space to stretch your legs.
In designing the cabin, Mazda2 meets the demands for practical storage compartments, especially of younger customers. These include a glove box with an open magazine rack for storing road atlases. The floor console between the seats has two cupholders and a tray behind them for items as large as a handbag. The front door pockets have a design that allows storage of a 0.5 litre bottle and an A4 atlas.
Use of High-Tensile Steel Has Several Positive Effects
Thanks to the optimised structure of its body shell and an increased use of high-tensile steel, the new Mazda2 is not only almost 100 kg lighter, but also improved when it comes to safety, body shell rigidity and NVH performance – all attributes that normally mean more weight for a car. In their search for unnecessary weight, developers left no area of the car untouched. As a result, valuable grams were saved in the exhaust and cooling systems, the cabling, and even in the door speakers. But not only was weight lowered, the level of cabin noise was lowered as well. For example, at 60 km/h, only 71.1 dBA reach the ears of the occupants, which is amongst the best in the segment. With a new, state-of-the-art floor assembly, Mazda aspires to deliver outstanding handling for a car of this class, paired with high stability even on motorways and a harmonious suspension tuning. Special attention was given the spontaneous and linear reacting electric power-assisted steering system. The use of high-tensile steel at specific areas of the body shell also ensured optimal geometry of the front MacPherson strut and the torsion beam rear suspension systems.
Petrol Engines Between 75 and 103 PS at Launch
Mazda2 will have two petrol engines at market launch in autumn 2007. A 1.3-litre engine that (depending on market) produces 55 kW/75 PS and/or 63 kW/86 PS, while the 1.5-litre engine produces 76 kW/103 PS. Both petrol engines have a sequential valve timing (S-VT) system and optimized exhaust-valve timing. In addition to this, the new 1.5-litre adds a variable induction system (VIS) that has a positive effect on torque across the entire rev range.
Mazda will follow this up some months later with an especially fuel-efficient turbo diesel for the European market from the MZ-CD engine line with 1.4-litre displacement.
CO2 Emissions for the 1.3-litre Engine Lowered to 129 g/km
With its two engines optimised for low friction, and its excellent aerodynamics (Cd = 0.31), Mazda2 is one of the most fuel efficient cars in its class. The base model with 1.3-litre petrol uses only 5.4 litres of fuel per 100 km (combined), which results in a combined CO2 emissions value of 129 g/km.
For customers in Europe, dynamic stability control is available either standard or as an option (depending on market). The car's passive safety system is based on the Mazda Advanced Impact Distribution and Absorption System, which disperses impact energy according to exactly defined paths. The crash-resistant passenger cell of the Mazda2 has ultra-high tensile steel in the area of the B-pillar and in the roll-over protection structure. Two front airbags are standard and front side airbags and curtain airbags for all outer passengers are either standard or optional (depending on market).
Unlike its predecessor, which was built in Valencia, Spain, the new Mazda2 will be produced again in Hiroshima, Japan.
Source: Mazda