Aimed squarely at challenging established premium contenders in the D-segment, Honda's all-new Honda Accord saloon and Tourer offer sporty styling, greater refinement and a unique package of safety systems, together with excellent dynamic capabilities and strong environmental credentials in the form of an all-Euro 5-emissions compliant engine line-up.
Significantly wider and slightly lower, the styling adopts a more emotional, sporty motif. The 'sharp-edged' design, with pronounced muscular wheelarches that emphasise the car's wider track, gives the Accord a distinctive, strong stance with a solid, planted feel. The distinctive nose and more flowing lines deliver a tauter, more athletic shape.
The evolution from the previous generation Accord is even more pronounced in the case of the Tourer, where a greater emphasis on load carrying practicality has evolved into a more dynamic expression of its advanced technology, while still retaining a strong degree of versatility and practicality.
Three advanced new engines with some of the lowest emissions in their segment
The new range is one of the first to offer a complete engine line-up that will comply with the forthcoming Euro 5 emissions regulations which aren't due to be introduced until September 2009. Thee exceptional environmental credentials hasn't been achieved at the cost of driving enjoyment, however, and greater frugality is matched by greater performance and flexibility.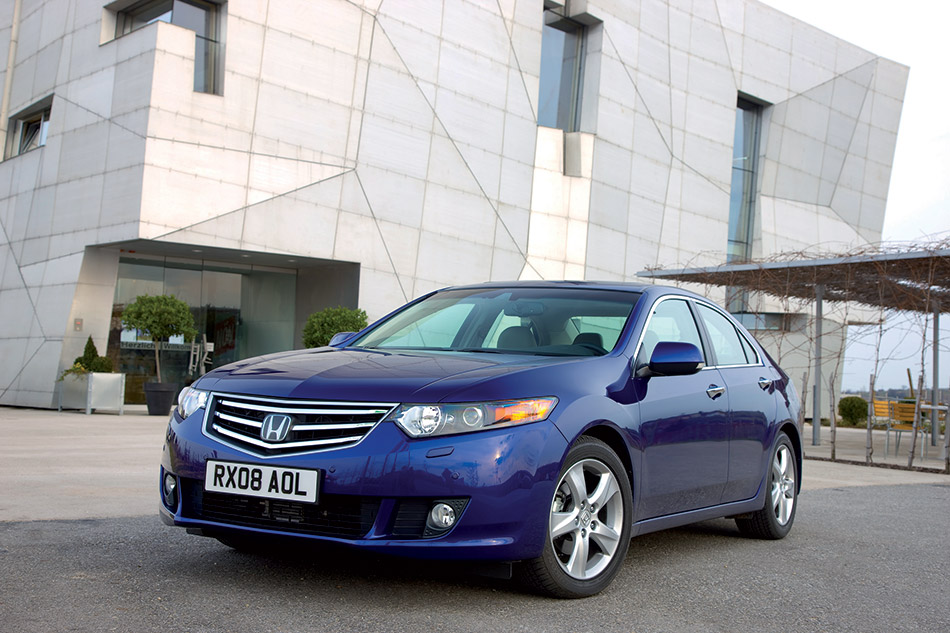 Making its debut is Honda's second-generation diesel engine which builds on the outstanding qualities of the award-winning i-CTDi unit to raise the bar in the diesel stakes once again. Its advanced technology and overall capabilities place it firmly at the forefront of diesel development and underpins the Accord's claim to offer one of the strongest combinations of dynamic performance and environmental responsibility in the marketplace.
Like its predecessor, the new i-DTEC engine is compact, lightweight, refined and quiet in operation. It employs the latest piezoelectric multi-stage fuel injection technology, more efficient exhaust gas recirculation and a particulate filter for significantly reduced emissions. At the same time both power and torque levels have been increased for a sportier driving experience.
Output is 10 PS greater at 150 PS/110 kW at the same 4,000 rpm, while peak torque is now 350 Nm at 2,000 rpm. Improved engine flexibility is reflected in a 9.6 second 0-100 km/h time, yet combined fuel consumption, is only 5.6 l/100km. Equally, CO2 emissions are just 148 g/km.
The 2.0-litre i-VTEC offers similar levels of performance to its predecessor - 156 PS at 6,300 rpm - but builds on its class leading fuel economy. Combined cycle consumption is now 7.2 l/100 km compared to the 7.7 l/100 km of the previous Accord saloon.
Key technological changes include increased diameter intake valves, further optimised valve lift and timing and increased inlet and exhaust air flow volumes.
The 2.4-litre engine is more powerful, delivering 201 PS at 7,000 rpm and peak torque of 234 Nm at 4,500 rpm - up from 190 PS and 223 Nm. Its effortless performance is all the more remarkable given the improved fuel economy - now 8.8 l/100km.
Behind the figures are a compression ratio increased from 10.5 to 11.0:1, larger diameter valves, revised valve timing, and reduced exhaust system pressures.
6-speed manual/5-speed automatic
All three engines are matched to a 6-speed manual transmission, while both petrol engines have the option of a 5-speed automatic.
Manual models feature a 'Shift Indicator Light' or SIL which appears in the centre of the rev counter. 'UP' or 'DOWN' are displayed to advise the driver of the optimum point at which to change gear; Honda tests have demonstrated fuel savings of as much as 5 per cent simply by following these commands.
The 5-speed automatic transmission now has a straight 'P R N D S' gate: using the steering wheel paddles in S mode provides a sequential shift mode, allowing manual shifting and gear hold.
Agile, secure handling
Enthusiastic drivers will also appreciate the new Honda Accord's greater agility. A lowered centre of gravity, a wider track and the all-new front double wishbone and rear multilink suspension with variable rate dampers, plus greater body rigidity mean that the Accord more readily reacts to driver input. Handling is more responsive and confidence-inspiring and body roll is much reduced.
Speed sensitive electric power steering is standard on all models and the new axial system features a high output, low inertia brushless motor which provides excellent steering feel at higher speeds for a sense of stability and confidence. A quicker steering ratio has also been adopted in keeping with the Accord's more agile chassis characteristics.
A comprehensive safety package
Complementing an armoury of passive safety features is an outstanding array of dynamic systems delivering even greater security.. VSA (Vehicle Stability Assist) is standard across the range and is designed to assist the driver in maintaining control during cornering, acceleration and sudden manoeuvres by applying braking to the right or left hand wheels as necessary and modulating the engine torque output as required.
Motion Adaptive EPS
The new Honda Accord also features an innovative system in which the capabilities of both VSA and the car's Electric Power Steering are brought to bear. Called Motion Adaptive EPS, it detects instability in slippery conditions both during cornering and under braking and automatically initiates steering inputs aimed at prompting the driver to steer in the correct direction.
The input is barely noticeable and control of the steering remains with the driver at all times. But this supporting steering torque is enough to prompt the driver to act intuitively and the driver's reaction as a result is enough to regain stability or to shorten braking distances, allowing control to be maintained.
ADAS optional across the range
Optionally available on Executive grade on 2.2 i-DTEC and 2.4 i-VTEC is Honda's Advanced Driving Assist System (ADAS), a suite of three ground-breaking technologies that raise safety to a new level. The first of these is the Lane Keeping Assist System (LKAS) which uses a camera to detect the car deviating from a traffic lane and provides steering torque when necessary, thereby reducing the burden of motorway driving while at the same time enhancing safety.
Adaptive Cruise Control (ACC) uses a millimetre-wave radar to maintain a consistent distance to a vehicle directly in front, for more relaxed, less tiring driving: and Collision Mitigation Brake System (CMBS) monitors the following distance and closing rate between the Accord and the car directly in front of it, warning the driver when a collision is likely and helping reduce impact when a collision becomes unavoidable.
These systems complement the Accord's passive safety features which include front seatbelt pre-tensioners and load limiters, dual stage front airbags, driver and front passenger side airbags, full length curtain airbags and ISOFIX fittings and tether anchor points for secure childseat fixture on all models. There are also front seat active headrests which are triggered when the occupant is pushed into the seat in the event of a rear impact, so causing a rigid plate to activate a link to the headrest which pushes it forward to support the head.
Advanced Compatibility Engineering (ACE) Body Structure
Progressively introduced throughout the Honda range, the Accord's Advanced Compatibility Engineering (ACE) Body Structure provides significantly enhanced occupant protection in a variety of real-world crash conditions.
A front-mounted polygonal main frame is designed to prevent cabin deformation by distributing forces through multiple major load bearing pathways - and away from the passenger compartment. This is particularly important where a frontal collision occurs between vehicles of differing heights, weights or frame construction.
To achieve top level, side impact safety, Honda's engineers have increased the side section of the frame and chosen different material specifications to provide the desired level of stiffness and strength for critical areas, without adding unnecessary weight.
The new Honda Accord also incorporates many of the pedestrian-protection design features already familiar from recent Honda models, including windscreen wiper pivots designed to break away on impact, energy absorbing front wing mounts and bonnet hinges alongside an unobstructed area beneath the bonnet allowing greater space for deformation.
Premium interior with carefully selected materials and outstanding fit and finish
The sporty feel of the cockpit is reflected in a fascia design characterised by a strong feeling of personal space for both the driver and front passenger. Distinctive silver trim sweeps inwards across the fascia from either side before continuing down into the centre console. Stylish and highly supportive front seats have larger bolsters while a new internal structure is designed to reduce any transmission of vibration.
Black with silver trim, the sporty three spoke steering wheel holds a complete suite of controls - including audio , cruise control and mobile telephone control. It is fully adjustable for reach and rake, with an extra 10 degrees of tilt adjustment compared to the previous Accord.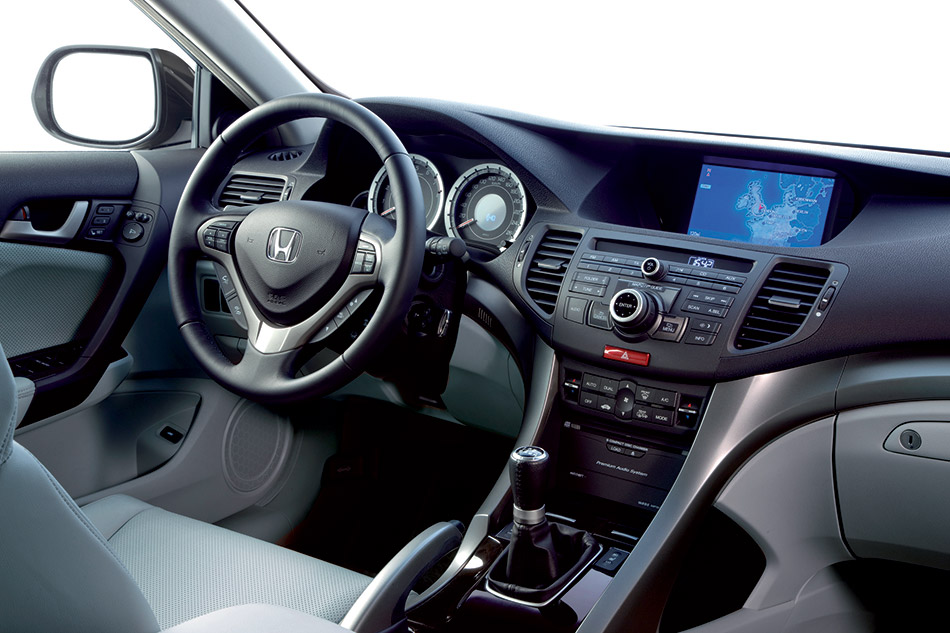 The new Honda Accord features 'floating' backlit instruments and contained within the centre of the speedometer face is an LCD multi-information display showing a variety of information - controls positioned on the steering wheel allow the driver to cycle the display through multiple screens of information.
A new feature is a service reminder that presents the driver with either the distance or days remaining to a required service, with an enlarged warning symbol appearing when the due date is imminent.
Storage space includes two centre console side pockets; a lidded storage area to side of the steering wheel; large front door pockets able to hold bottles and maps; bottle holders in the rear door panels, and a large centre console box. Rather than a fold-down pocket design, the large glovebox now has an independent lid and is subdivided with a tissue box compartment as well as space secured for a manual. The lid of the centre console box doubles up as an armrest and is slide-adjustable by 89 mm. Two cupholders are provided in the centre console, while rear seat passengers have access to a further two contained in the centre armrest, revealed when it is folded down.
Comprehensive equipment availability
The Accord's comprehensive specification includes power windows all round, those in the front with auto up and down and an obstruction detection device; auto lights and wipers on Sport and Executive models; dual-zone automatic climate control and, on higher grade models, rear seat vents with a feed to the centre console storage box to enable drinks to be cooled or warmed..
Entry level Accords are equipped with a radio/single CD player with built-in 30W 4 channel amp and six speakers. Higher grade models have a premium audio system with 6 CD changer unit located in the centre console, a separate high power amp delivering 45W x 8 channels and no fewer than 10 speakers.
Fifth generation and later iPods can now be played via the USB docking point located in the centre console storage box, where an auxiliary jack point and power outlet can also be found.
The advanced satellite navigation system - standard on Executive grade and optional on other models - now boasts an 8-inch screen, RDS, voice recognition in five languages (English, French, German, Italian and Spanish) and covers most European countries including for the first time Poland, Slovakia, Hungary and the Czech Republic.
Load Capacity
At 467 litres (VDA), the saloon's luggage capacity is best in class measured against other premium contenders. The boot loading height is also a convenient 678 mm, down 80 mm. Further practicality is provided by highly visible and easily reached rear seat release catches located just within the upper edge of the boot opening.
Despite its dynamic styling, the Tourer's luggage capacity at 395 litres (VDA) with all seats in place, is one of the best in the sport wagon category. In practical terms, that is sufficient to comfortably accomodate four 46 inch golf bags or four large suitcases. Larger loads can be carried with the rear seats folded, and in this configuration the Tourer is able to transport a mountain bike, without the need to remove the bike's wheels first.
To open up the Tourer's luggage area, the one-motion rear seats can be readily collapsed in a single action to create a virtually flat load space with flush, clean sides.
Set within the rear half of the load area is an underfloor storage space which is a useful 250 mm deep and adds 53 litres to the Accord Tourer's overall load space. On either side are two smaller compartments accessed by means of their own covers.
The highly practical, retractable tonneau cover features a large, easy-to-grip handle, and large guides on either side of the luggage area into which it can be quickly and easily slotted.
Like its predecessor, the new Honda Accord Tourer is available with a power operated tailgate, operation is via the key fob or via a switch located in the tailgate's lower edge.
Source: Honda
Gallery:
Honda Accord (2009)