All-new Honda Jazz builds on the key attributes of its hugely popular predecessor with even more interior space, better functionality and more powerful, more frugal engines, in a stylish, contemporary design
The exterior design is at first glance an evolution rather than a revolution, but this subtle change of appearance is only one small part of the thousands of changes that push the all-new Honda Jazz forward. It retains the concepts of the previous Honda Jazz with its centre fuel tank layout and Magic Seats which gave it world beating interior flexibility. Yet while the best features are retained, including cabin space to rival mid-sized saloons, new Honda Jazz brings change to every area, raising the bar even further and promising to expand on its success in the supermini segment where sales have exceeded over two million around the world since its 2001 launch.
A slightly larger, 'cab forward' style body brings better visibility and means Honda Jazz is even more spacious, benefiting rear legroom and boot space in particular. The Magic Seats now dive down in one easy action and their versatility is now complemented by a new Double-Trunk boot feature in the luggage bay.
There are greater levels of safety equipment including the introduction of Honda's Advanced Compatibility Engineering (ACE) body structure, active front seat head restraints and VSA. Larger wheels, revised suspension and a longer wheelbase/wider track bring greater agility while enhancing ride comfort.
And new 90 PS 1.2-litre and 100 PS 1.4-litre i-VTEC engines deliver better performance characteristics while boosting economy to exceptional levels. There's also now the option of a 6-speed automated manual transmission on the 1.4-litre engine - a first in this class.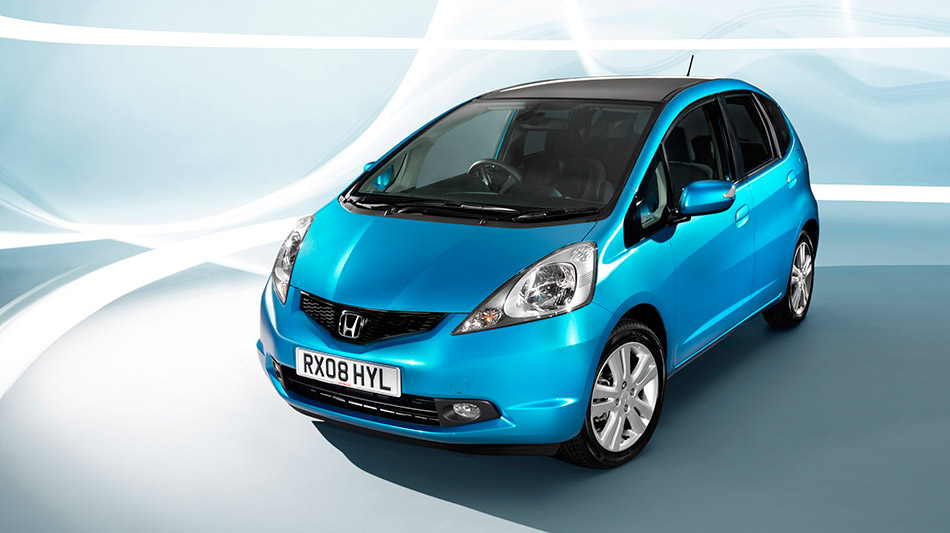 Greater economy and lower emission from two new engines
New, more powerful petrol engines, capable of outstanding economy, are designed to appeal to customers who might be downsizing as well as those looking to achieve fuel economy comparable to diesel powered models. Their balance between economy and fun-to-drive performance are unmatched in the class. Adopting Honda's VTEC variable valve timing technology, the new 1.2 and 1.4-litre four-cylinder engines are connected to either a 5-speed manual transmission or, on 1.4 models, Honda's i-SHIFT 6-speed automated manual transmission which includes steering wheel-mounted paddle shifters.
Both engines deliver lively performance and plentiful torque across all engine speeds.
The new SIL (Shift Indicator Light) fitted to manual models, similar to that found on the new Honda Accord, provides a visual prompt of the best gear shift points to maximise economy.
New cab forward styling and increased dimensions
At 3900 mm long, 1695 mm wide and 1525 mm tall, the new Honda Jazz occupies its own unique niche between superminis and compact MPVs, offering the style of the former and the practicality of the latter.
Overall height remains the same, but the length of the new Honda Jazz is up by 55 mm and it is also slightly wider - by 20 mm. A wheelbase increase of 50 mm, and front and rear track increases of 35 mm and 30 mm, respectively, aid handling stability.
Despite those increased dimensions, the turning circle at 9.8 m kerb to kerb is no larger than that of the previous Honda Jazz and together with improved visibility, the new car's around town abilities are even better.
Furthermore, Honda Jazz is even easier to get in and out of, thanks to wider-opening rear doors which now open in three steps like their front counterparts for added convenience in tight parking spots.
The key styling theme of the new Honda Jazz is its 'cab forward' look with a windscreen 'pushed' forwards to give a virtually seamless curve flowing from front to rear bumpers. There's a reassuring face with large headlamps that curve along the car's flanks, an upward curving front bumper and a sporty honeycomb grille.
The wide track, long wheelbase chassis imparts a strong sense of solidity, emphasised by muscular wheelarches and larger wheels on all models - 15 inch steel items on 1.2 models and 1.4 LS, 15 inch 5-spoke alloys on 1.4 ES and 16 inch twin 5-spoke alloys on 1.4 EX.
Rear styling is equally distinctive with a narrowing of the upper body towards the rear and a rear roof line that slopes downwards without compromising rear passenger headroom. A black, high gloss trim above the licence plate 'extends' the window line downwards to give a unique rear appearance.
Honda Jazz 1.4 LS is also offered with a Sport Pack which includes a larger front grille, additional side sill panels, rear bumper diffuser and 16 inch alloy wheels.
New ACE body structure
Even more efficient safety performance results from the introduction of the ACE (Advanced Compatibility Engineering) body structure, a concept that is being progressively rolled out across the Honda range. is composed of highly efficient energy-absorbing polygonal cross-section side frames, a bulkhead (upper frame) which absorbs the upper part of the collision energy, and a lower member. This helps prevent misalignment between vehicles of different sizes and construction. It also provides multiple energy absorbing pathways to disperse impact energy and prevent cabin deformation.
Standard on all models are dual front and side airbags, full length side curtain airbags and three-point seatbelts in all five seating positions, those in the front with load-limiting pretensioners. The front passenger airbag can also be deactivated to allow a rear facing child seat to be fitted to the front seat and for the first time Honda Jazz is equipped with seatbelt reminders for both the front and rear seats. Front seats are also fitted with active headrests to minimise the potential for whiplash injuries.
The new Honda Jazz, like all Honda models has been subject to the manufacturer's rigorous car-to-car crash testing in the R&D centre at Tochigi. These crash tests which are conducted to enhance real world crash safety are done using a number of different models with different sizes and weights. By using a range of vehicles, Honda is able to ensure the Jazz is optimised to minimise injuries to occupants of both vehicles in an impact.
Two ISOFIX fittings in the left and right rear seats together with tether anchors in the roof ensure correct child seat installation.
Larger, more refined cabin with even better functionality
The ingenious interior layout of the previous Honda Jazz, with its compact suspension and centrally-mounted fuel tank liberating more load space, together with the increased external dimensions of the new model, mean interior comfort has been taken to a new level.
The slightly increased length and width have clearly benefited passenger space, but a windscreen 'pushed' further forward has also paid dividends making the new Honda Jazz the roomiest, most flexible contender in the class.
Rear seat passengers now have 18 mm greater kneeroom, while the distance between front and rear passengers is up by 30 mm. The slightly wider body also means shoulder room increases by 44 mm in the front and 43 mm in the rear.
Visibility gets a considerable boost, too. Reduced width A-pillars, a larger windscreen and quarter windows three times the size of those in the previous model make for more relaxed driving, while retractable rear headrests ensure the view out of the rear window is now totally unobscured.
Magic Seats now one-motion dive-down
Given the popularity of the previous Honda Jazz's innovative 'cinema' style rear seats, it comes as little surprise that Honda chose to offer a similar arrangement in the new car; but while the latest Magic Seats operate on the same principle, they are even more convenient since they have a one-motion, dive-down operation. No longer is there a need to move the front seats forward to collapse the rear seats. Instead, thanks to headrests that are virtually flush with the seatback, the 60:40 split rear seats are able to clear the front seats even when the latter are slid back to their rearmost position.
The resulting flat floor in this Utility Mode measures 1720 mm in length, enough to accommodate three 26 inch mountain bikes with their front wheels in place. Load length in Long Mode is even greater - slide the front passenger seat fully forward, recline the seat back and you have 2.4 m long load space.
When lifting the rear seats up again, the seat bases stay locked to the seat backs, in which position they can be left - Tall Mode - to create a useful secondary load area between front and rear seats and able to swallow items up to 1280 mm tall - and now even easier to access given that the rear doors open wider. There's even a storage compartment in the base of the left hand rear seat, able to accommodate, amongst other things, the owner's manual.
New Double-Trunk boot feature (1.4-litre models with tyre repair kit)
The outstanding practicality of the Magic Seats concept is complemented in the new Honda Jazz by a flexible luggage area based on similar principles to the arrangement found in the Honda CR-V. Standard on 1.4 models, which are equipped with a tyre repair kit, the Double-Trunk boot features an underfloor storage area concealed by a double hinged panel - Regular Mode. The 230 mm deep, 64 litre capacity lower compartment is ideal for stashing sports gear or wet items, and once covered, won't soil other luggage.
The floor can be removed altogether or folded up against the rear seats to make full use of the total depth available - ideal for particularly tall objects (Tall Mode). Alternatively, rather than folding the complete panel against the seat backs, its rear half can be folded up to create a load shelf at half height - so creating a double load space - Upper/lower Mode. Heavier items can be stored below, while lighter items can be placed on the upper shelf, and since it incorporates a load net, is perfect for carrying awkwardly shaped items, preventing them from moving around.
Total luggage space available is 399 litres (VDA) in models with a tyre repair kit, greater than that of some compact MPVs and class-leading in the supermini sector. The previous Honda Jazz had a total of 380 litres (VDA).
Refined cabin environment
High quality, pleasant-to-the touch materials, stylish design and tasteful colours give the cabin a more upmarket feel.
More comfortable front seats with better support, a driver's footrest, a height adjustable driver's seat, a steering wheel adjustable for reach and rake and larger rear seats are just some of the features that contribute to the more cosseting, more relaxed cabin environment. Extra sound insulation and the increased body rigidity also play their part in making the Honda Jazz a pleasant place to be. And for a real sense of spaciousness, the Honda Jazz 1.4 EX is equipped with a panorama roof that extends over the rear seats for a great aerial view. Heat absorbing glass and a power sun shade ensure a comfortable cabin environment all year round.
1.4 ES and EX models add heated front seats and a leather trimmed steering wheel and gear shift knob, while the EX also has front and rear seat armrests and the added convenience of cruise control and automatic lights and wipers.
Exterior mirrors are heated on 1.2 LS and above, and power retractable on 1.4 LS and above.
The three-meter instrument cluster is permanently back-lit to ensure good legibility at all times and features silver surrounds, gun metallic-finish dials and a raised red acrylic scale. All models feature soft-touch indicators that deliver three indicator flashes for effortless motorway lane changing.
A useful multi-information display set within the centre of the speedometer provides a wide range of information including a speed alarm, instant and average fuel economy, vehicle range, outside temperature and a service indicator - controlled by steering wheel buttons.
iPod compatible
Stylishly integrated into the fascia, the single CD/radio fitted to all models from 1.2 LS upwards offers MP3/WMA playback capability and speed-dependent volume adjustment. The four speakers are supplemented on 1.4 ES and EX models with a pair of tweeters together with a USB adapter located in the centre console storage box; this enables fifth generation iPods and a variety of other portable music devices to be played via the Honda Jazz's audio system while providing simultaneous charging (depending on type).
The Honda Jazz 1.4 EX also comes with a Bluetooth wireless mobile phone interface allowing hands-free operation via a steering wheel mounted switch.
Lots of handy storage spaces are scattered throughout the cabin and there are no less than 10 cup/bottle holders - two at the front of the centre console, two behind the handbrake, one at each end of the fascia, and one in each of the four door panels. Other storage includes upper and lower gloveboxes, a pocket to the right of the steering wheel, a flexible compartment in the centre console and, on most models, a passenger seatback pocket.
Air conditioning is standard on 1.2 LS and above, with automatic operation on 1.4 models and the new system is more efficient and with added cooling ability. 1.4 ES and EX models feature a valve contained in the upper glove compartment which can be opened to provide a stream of cool air, so enabling a drinks can or bottle to be chilled.
Honda i-SHIFT (6-speed automated manual transmission)
Honda's i-SHIFT 6-speed automated manual transmission first introduced in the Honda Civic range, is available as an option on 1.4-litre models. Offering better economy than either a conventional automatic or a CVT, it gives the driver a choice of either Auto Mode for a more relaxed driving style, or Manual Mode for a sportier driving experience, using the gear lever or steering wheel mounted paddles.
The switch between Manual and Automatic Modes is selected by moving the gearshift to the left of the main gate, while sequential changes in Manual Mode are made by moving the lever forwards (to change up) or backwards (to change down) in the main gate.
Only short movements are required, adding to the sporty driving feel, and the clutch actuator provides particularly smooth and quick changes.
When in Automatic Mode, it is perfectly possible to revert to Manual momentarily by switching to paddle operation. In this way, the driver can change down a couple of gears for added acceleration.
i-SHIFT models are also equipped with Hill Start Assist (HSA) which momentarily holds the brakes when pulling away from standstill on an incline, thus preventing roll back.
Responsive driving dynamics, enhanced comfort
Larger wheels - 15 inch or 16 inch depending on grade - hint at enhancements to the Honda Jazz's suspension and steering which are intended to provide greater agility while building on ride comfort.
Body rigidity is considerably enhanced, in particular lateral rigidity at the front of the car which has permitted sharper handling while allowing more supple suspension characteristics. Overall stability and grip benefit from the longer wheelbase, wider track and larger wheels, but there have also been a number of changes to the geometry and structure of the front MacPherson strut and rear torsion beam suspension. These include revised bushes, caster angle and trail at the front and a different torsion beam cross section and longer trailing arms at the rear. Improved rear steer characteristics further improve stability.
Improved feedback and stability characterise the substantially revised electric power steering which builds on the sense of driving enjoyment achieved by improvements in other areas of the chassis. Strengthened components, increased capacity and the geometry changes mentioned above produce a lighter steering feel at low speeds, good stability at high speeds and improved on centre feel.
All models can be equipped with Honda's Vehicle Stability Assist (VSA) which maintains control during cornering, acceleration and sudden manoeuvres using brake intervention and engine torque management.
Stopping ability has been increased with larger brake front callipers, while revised brake pedal characteristics have improved feel. Front ventilated discs and rear discs are matched with ABS, EBD and Brake Assist.
Source: Honda
Gallery:
Honda Jazz (2009)