Honda Motor Co., Ltd. announced the sales in Japan of the all-new Honda Odyssey starting October 17th, 2008. The fully remodeled Odyssey features a low-floor and low center-of-gravity package that enables a low profile roofline and performance beyond ordinary minivans together with a spacious cabin. The new Honda Odyssey is also equipped with advanced safety technologies, including the new Multi-view Camera.
Designed around the concept of emotive quality that will move all who experience it, the new fourth generation Honda Odyssey provides an advanced fusion of the human/machine interface, a liberated feeling for all occupants, and a distinctive presence. So, the all-new Odyssey was developed with the goal of generating strong feelings in every circumstance: riding in it, driving it, and looking at it.
To fulfill customer expectations for excellent fuel economy related to growing awareness of environmental issues, the all-new Honda Odyssey is equipped with a 2.4L DOHC i-VTEC engine and torque converter-equipped CVT, a combination that enables the vehicle to achieve both superior performance and class leading fuel economy of 13.2km/L. Moreover, the all-new Odyssey features DBW (drive-by-wire) control and an ECON mode which improves fuel economy by applying collaborative control of the CVT and air conditioner to reduce engine load.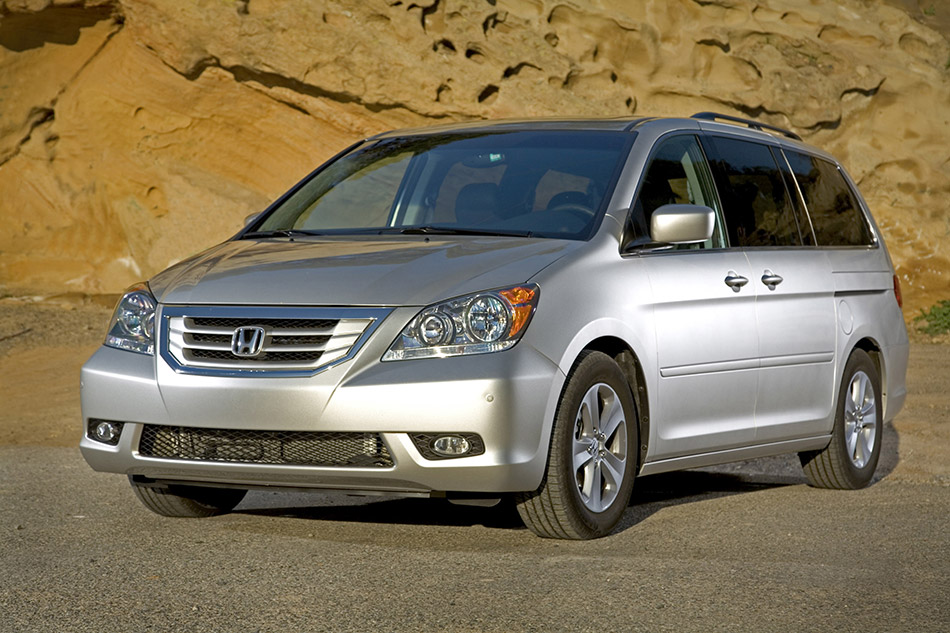 Exterior design
The exterior is designed around a concept of sensual dynamism, with richly contoured surfaces to express both dynamism and solidity for conveying elegance and power.
The front view features sharp graphics, with headlights flowing out from the chromed bumper center portion and a sculpted V-line extending up over the hood from the front grill to impart a sense of speed and power. The narrow headlights add an intrepid feel.
The side view features a fluid silhouette with a one-motion line from front nose to roof end. This combines with the strongly contoured surface in an expression of sleekness and power.
For the rear view, the cabin has been strongly tapered and the rear window rounded to impart a compact feel for the cabin. Horizontally oriented rear combination lights add a feeling of breadth.
The voluptuous body contours are further highlighted with a super platinum coating.
Six color variations are available, including two new colors.
Interior design
The interior is designed to achieve an advanced feel in a refined and comfortable space.
The double-layered, gently sculpted instrument panel imparts a feeling of comfort and spaciousness.
The 3D self-illuminating gauges and indicator lamps are laid out around the centrally positioned speedometer in a 3D arrangement and grouped into functional zones for instantaneous recognition.
The audio, climate control, and navigation controls are positioned for easy operation in a highly intuitive center panel.
The front seat cushions employ low-resistance urethane for low fatigue and an outstanding hold.
A telescopic & tilt steering mechanism helps maintain the optimum driving position.
Power train
The 2.4-liter DOHC i-VTEC engine combines outstanding fuel economy with powerful performance, featuring class-topping 13.2km/L and strong, torquey response at all speed ranges.
The torque converter-equipped CVT combines outstanding fuel economy with smooth and seamless acceleration, for a more comfortable driving feel in a wide range of situations.
Efficiency improvements and weight reduction in the engine and transmission have helped boost fuel economy, while ECON mode supports even more economical operation.
Utility
The second-row seats feature a three-way split back that allows the left, right, and center seatbacks to be independently folded down, allowing a variety of seating arrangements with a single action.
The third-row seats employ an under-floor storage mechanism to create a flat, easy to use luggage space.
The tailgate has been made thinner and shaped to secure more luggage space than the previous model. The luggage space is even easier to use, with a flat floor and a flexible luggage board that extends all the way to the backs of the second-row seats when the third-row seats are stowed.
Body
Improved joint efficiency at the upper and lower front pillar ends and other innovations result in a frame construction with outstanding rigidity. Optimized front/rear rigidity balance and stronger joints throughout also contribute greater dynamic rigidity.
Strong, lightweight, high-tensile steel has been effectively deployed along with a larger cross-sectional area to allow the use of thinner materials while ensuring efficient strengthening.
Road and wind noise have been kept to an absolute minimum by reducing sources of noise and vibration while making the body and chassis more rigid throughout to effectively prevent the vibrations caused by engine and road noise from reaching the cabin. Damping and absorption materials are also strategically located to block out unwanted noise.
Chassis
The low center-of-gravity chassis combines nimble handling with a comfortable ride for all occupants.
In the front, a double-wishbone suspension delivers outstanding straight-line stability and ride comfort.
In the rear, the reactive-link, double-wishbone suspension achieves a compact design that significantly contributes to the low-floor platform.
A more compact powertrain and innovative body design secure ample tire turning angle to achieve an outstanding, class-leading minimum turning radius of 5.4m.
Driver support functions
Active Cruise Control (ACC) and the Lane Keeping Assist System (LKAS) help alleviate the burden on the driver during highway driving. Availability varies depending on the type.
All types come equipped standard with Motion Adaptive EPS, which works in concert with Vehicle Stability Assist (VSA) to provide steering assistance for more stable vehicle control.
Camera images are displayed on the navigation screen to reduce blind spots around the vehicle and facilitate smoother parallel and garage parking, as well as enhancing feelings of safety and security when driving along narrow roads or approaching 3-way intersections where visibility is poor. The Multi-view Camera System is available as a factory option on all types.
Safety
The vehicle's Advanced Compatibility Engineering body provides a higher level of protection to vehicle occupants while also helping to mitigate impact on the other vehicle in a collision.
The vehicle is also designed to mitigate pedestrian injury in the event of a collision, particularly to the head and legs, thanks to the use of impact-absorbing structures.
The Collision Mitigation Brake System (CMBS) with E-Pretensioners (driver and front passenger seats) helps anticipate collisions and mitigate injuries and vehicle damage should an accident occur. Availability varies depending on the type.
A side-curtain airbag system helps mitigate head injuries due to a side collision in all three rows. Availability varies depending on the type.
ISO FIX-compatible child seat anchoring bars and tether anchors (left and right second-row seats) are standard on all types.
Environmental performance
All models are certified by the Japanese Ministry of Land, Infrastructure, Transport and Tourism as having emissions levels 75% lower than what is required by 2005 standards.
The M, L, and Li FWD types exceed Japanese government fuel economy standards for 2010 by 25%; the M, L, and Li 4WD types by 10%; and the Absolute by 5%.
Source: Honda
Gallery:
Honda Odyssey (2009)