The all-new 2012 Honda Civic represents the ninth generation of one of the company's most popular and globally recognized products. Having earned a reputation for being a fun-to-drive compact that is simultaneously fuel efficient, sporty, stylish and durable, the Honda Civic has become a beloved and relied-upon member of the worldwide transportation family. Cumulatively, the Civic has reached 8.8 million customers in the United States through 2010 since its launch as a 1973 model.
Each generation of Honda Civic has improved with a specific development theme in mind. The 2012 Civic embraces the fundamental concept of a "futuristic and distinctive compact," a direction that introduces new values that reach ahead of present-day needs and elevates the experience that Honda Civic represents. Major strides include improvements to refinement throughout, increased fuel economy on all models, the further addition of interactive technologies for personalization and convenience, along with enhancements to performance, ride and interior packaging.
Civic customers span the entire public spectrum of automotive drivers. They are high school graduates and college students just beginning their adult lives; they are families with young children; they are schoolteachers, soccer parents and professionals, environmentalists and performance enthusiasts; and they are Generation Y, baby boomers and retirees. And they live in Snow Belt states, Sunbelt states, in the Midwest and in Hawaii and Alaska. But regardless of their demographic and psychographic makeup, Honda Civic customers are tied together by one thing - they are young at heart. Because at the end of the day, beyond its myriad attributes (including safety, economy, durability, comfort and style), the Civic is fun to drive.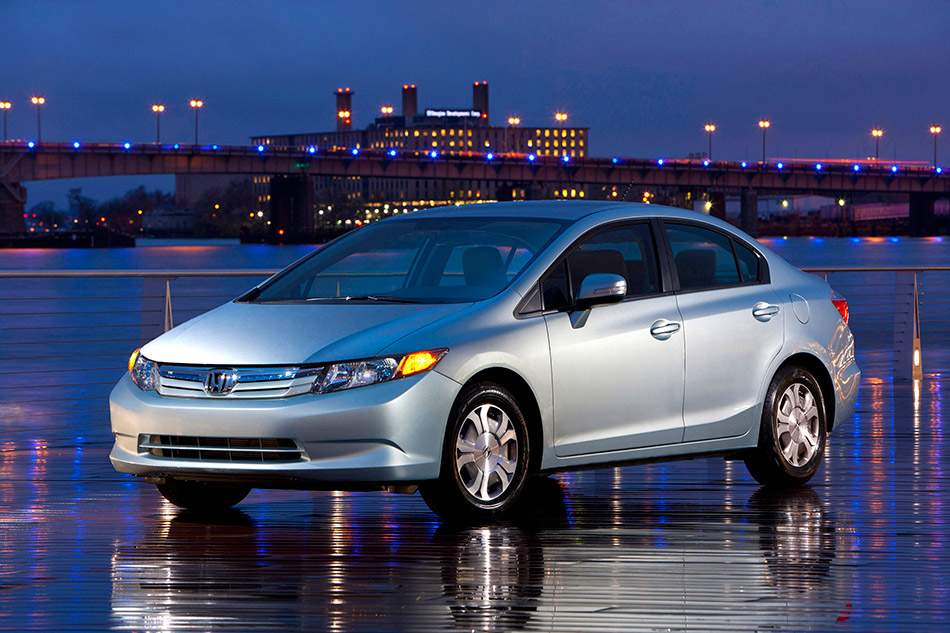 2012 Honda Civic Model Lineup
The automotive landscape has rapidly evolved in the last decade with increased interest in fuel economy, low emissions and overall affordability. All of these traits are among the Civic's strongest advantages. The new 2012 Civic lineup further embraces these concepts with six different variants that span from ultra efficient to high performance, with specific models designed to better meet individual needs and preferences. For 2012, a highly affordable and highly efficient Honda Civic HF has been added to the lineup. The aero-enhanced Civic HF achieves an estimated highway fuel economy rating of 41 miles per gallon, two more mpg than the regular Civic Sedan, and the highest highway fuel economy rating in America for any gasoline-only compact sedan equipped with an automatic transmission.
The 2012 Honda Civic model lineup is comprised of:
    Civic Sedan (Civic DX, Civic LX, Civic EX and Civic EX-L)
    Civic Coupe (Civic DX, Civic LX, Civic EX and Civic EX-L)
    High-efficiency and value-oriented Civic HF (new)
    High-performance Civic Si Sedan and Civic Si Coupe
    Ultra-efficient Civic Hybrid (with new Lithium-Ion batteries)
    Ultra-clean Civic Natural Gas, previously known as Civic GX (available at qualified dealers nationwide)
The Foundation of Civic
Beneath the aerodynamic skin of every 2012 Civic is Honda's commitment to its foundational pillars of safety, fun-to-drive performance, style, comfort, convenience, durability, quality and refinement. The end result is a vehicle that's not only a smart decision when new, but can also provide long-term joy of ownership unique to this class of vehicle.
Safety - Advanced safety systems include Honda-exclusive Advanced Compatibility Engineering™ (ACE)™ body structure for frontal collision energy management and vehicle-to-vehicle crash compatibility, and a long list of standard safety equipment including two-row side curtain airbags, dual-stage, multiple-threshold driver's and front passenger's airbags, driver's and front passenger's side airbags, Vehicle Stability Assist™ (VSA®), an anti-lock braking system (ABS) with Brake Assist, and a new Motion Adaptive Electric Power Steering system that helps the driver steer in the ideal direction to mitigate oversteer or understeer situations. Internal crash test information indicates that the new Honda Civic should achieve top marks in both the federal government's National Highway Traffic Safety Administration (NHTSA) New Car Assessment Program and the independent Insurance Institute for Highway Safety (IIHS) designation as a "TOP SAFETY PICK."
Fun to Drive - Every Honda Civic model is designed to be fun to drive, with a MacPherson strut front suspension, a multi-link rear suspension, and front and rear stabilizer bars. Motion-Adaptive Electric Power Steering (EPS) improves steering response at low speeds while rewarding the driver with outstanding feel at higher speeds. In addition, with EPS there is no parasitic power loss to the engine as is common with a traditional hydraulically boosted steering system - which benefits both power output and fuel economy. Standard 15-inch diameter wheels with all-season tires, 16-inch wheels on Civic EX and Civic EX-L models, and 17-inch wheels on Civic Si models (with performance-oriented summer tires available) provide a satisfying blend of ride comfort and all-weather grip. The Civic Si Sedan and Civic Si Coupe further expand the driving fun with a new, larger displacement (201 horsepower) engine and specially tuned suspension.
Distinctive, Aerodynamic Styling - As a new interpretation of the Honda Civic's iconic "one-motion" mono-form shape, the 2012 Civic is designed to convey an even more substantial, high-energy appearance. The exterior styling of both Civic Sedan and Coupe models showcases the clean-yet-powerful body lines with sleekly angled windshields, wide stances and pronounced character lines along the profile. The look of the Civic Coupe conveys an aggressive attitude with a more angular front fascia, mesh grille and a tapered rear roofline that flows smoothly into the trunk. Hidden aerodynamic features such as flat-bottom unit-body construction, precisely placed aero strakes, and other features work together to help the Honda Civic achieve excellent fuel-economy.
Comfort, Convenience and Personalization - Crisp, smart and driver focused, the new Civic's 5-passenger interior is a careful blend of form and function, with an advanced instrument layout that is unique in its class. A "smart interface" approach divides the interior into different areas, with key instrument displays located above the steering wheel. Secondary information is located lower in the area, while a third area to the driver's right groups controls that are not essential to driving. New for 2012, the intelligent Multi-Information Display (i-MID) on all models (except Civic DX) provides a 5-inch color monitor for the display of vehicle information and audio information including album artwork (if available). Along with customizable vehicle settings, the i-MID includes the ability to upload personal wallpaper backgrounds. The Civic can be further personalized for driving with Eco Assist on all models (except Civic Si), the first time this feature has been included on any non-hybrid Honda model in America. The performance-oriented Civic Si exclusively features a new Sequential Rev-limit Indicator and a Power Monitor screen that can be displayed on the new i-MID.
Durability, Quality and Reliability - For many customers the Durability, Quality and Reliability (DQR) of the Honda Civic is what keeps them returning year after year. These fine qualities - and the resale or trade-in value they engender for the Civic - become a powerful purchase incentive. Virtually every major study of vehicle residual value has shown that the Honda Civic typically has one of the highest residual values in the industry. As an end result, a high residual or resale value makes the Civic's true cost of ownership less than many lower-priced competitors.
Powertrain
Honda has long been known for its world-class engine technology and a continuous process of innovation and improvement. At the core of Honda's powertrain engineering is the ongoing pursuit of greater performance, enhanced fuel economy and low emissions. The 2012 Civic model range embodies Honda's ongoing effort to offer a wide range of powertrain choices including gasoline, hybrid and Compressed Natural Gas (CNG) that offer unique solutions for different buyers.
An advanced 140-horsepower, 1.8-liter i-VTEC® engine is standard in the Civic Sedan, Civic Coupe and Civic HF, with a choice of a 5-speed manual or 5-speed automatic transmission (automatic only for Civic EX-L Coupe, Civic EX and EX-L Sedans, and Civic HF). A variant of the same 1.8-liter engine develops 110 horsepower in the compressed natural gas (CNG) powered Honda Civic Natural Gas, which comes standard with a 5-speed automatic transmission. The performance-oriented Si model has a 201-horsepower, 2.4-liter i-VTEC® engine, matched with a close-ratio 6-speed manual transmission. And finally, the Civic Hybrid is powered by an ultra-efficient 1.5-liter i-VTEC® engine with Integrated Motor Assist® producing 110-horsepower. This is coupled to a Continuously Variable Transmission (CVT).
Civic Sedan, Civic Coupe, Civic HF and Civic Natural Gas Powertrain
The Honda Civic Sedan, Civic Coupe, Civic HF and Civic Natural Gas benefit from an updated and refined version of the 1.8-liter I-4 engine that powered the previous generation Civic. The new engine has extensive changes that reduce friction, improve emissions performance and increase fuel economy.
The engine is a Single Overhead Cam (SOHC) 1.8-liter inline 4-cylinder design with 16 valves, i-VTEC®, and a dual-stage intake manifold. In the Civic Sedan, Civic Coupe and Civic HF, the engine produces 140 horsepower at 6300 rpm, and 128 lb-ft. of torque at 4300 rpm. In the Civic Sedan and Coupe, the 1.8-liter engine has an estimated EPA city/highway fuel economy rating of 28/39 miles per gallon when equipped with automatic transmission.
Honda Civic Si Powertrain
The 2012 Civic Si is powered by a new 2.4-liter inline 4-cylinder engine that is the largest and most powerful of any Civic introduced in the United States. The dual overhead cam (DOHC) engine is an all-aluminum design that uses four valves per cylinder (16 valves total), a high-performance version of the i-VTEC® system and a specially tuned high-volume intake manifold. The Civic Si produces 201 horsepower - up four horsepower from the 2.0-liter engine it replaces. The i-VTEC® "intelligent" valve-control system, new friction-reducing technologies and extensive weight control measures helps the Civic Si deliver exhilarating acceleration, improved fuel economy and low exhaust emissions.
The new larger displacement engine in the Civic Si delivers peak power at a more accessible 7000 rpm compared to the previous Si engine's 7800 rpm power peak. The engine's increased displacement results in a substantial 22-percent increase in peak torque. The new 170 lb-ft rating occurs at just 4400 rpm, 1700 rpm lower than the previous engine's 139 lb-ft at 6100 rpm. Even with its increase in displacement, horsepower and torque, the 2012 Civic Si has an estimated EPA city rating of 22 mpg (up 1 mpg compared to the 2011 Civic Si) and increases highway fuel economy with a rating of 31 mpg (up 2 mpg compared to the 2011 Civic Si). In addition, the Civic Si engine meets strict Ultra-Low Emission Vehicle (ULEV-2) emissions standards.
The Honda Civic Si is available exclusively with a 6-speed manual transmission with a short-throw shifter. Designed to be compact and lightweight, the 6-speed has also been engineered to provide quick and precise shift action. The Civic Si also includes a clutch with a torsion mechanism that enhances refinement in terms of engagement and feel.
Honda Civic Hybrid Powertrain
The newest-generation Integrated Motor Assist (IMA) system fitted to the Civic Hybrid uses a gasoline engine as the primary source of power while an electric motor provides additional power and electricity regeneration capability. The new IMA system consists of a larger 1.5-liter i-VTEC® 4-cylinder engine connected to a larger, more powerful electric motor and a Continuously Variable Transmission (CVT). A new Lithium-Ion (Li-Ion) battery pack is used to capture and store electricity for the upgraded 23-horsepower electric motor. The new Lithium-Ion battery is more powerful, lighter and more compact than the nickel-metal hydride (NiMH) battery it replaces.
Together, the gasoline engine and electric motor team to produce 110 horsepower at 5500 rpm and 127 lb-ft of torque at 1000-3500 rpm. Compared to the previous generation Civic Hybrid, the new Civic Hybrid has the same peak horsepower, but achieves it at 500 fewer rpm. The new Hybrid has gained 4 lb-ft of torque, and it is spread over a wider rpm range (between 1000 rpm to 3500 rpm) for improved performance during normal city driving.
During acceleration, the engine or the engine and electric motor propel the vehicle. During sustained cruising, the gasoline engine and/or the electric motor can individually propel the vehicle. During braking, the gasoline engine deactivates and the electric motor acts as generator to replenish the Li-Ion battery pack. When the vehicle is at a stop, the engine can enter an idle-stop mode to conserve fuel and reduce emissions - and the engine remains off until the brake pedal is released.
Compared to the previous Honda Civic Hybrid, the fifth-generation Honda IMA powertrain provides improved acceleration at highway speeds, while simultaneously delivering a combined city/highway EPA-estimated fuel economy rating of 44 mpg - an increase of 3 mpg from the previous model.
Source: Honda
Gallery:
Honda Civic Hybrid (2012)