The all-new 2015 Honda Fit arrived at the 2014 SEMA Show in strength, with nine personalized versions on display in the Honda booth, quickly winning the coveted SEMA Award as the "Hottest Sport Compact" at a ceremony formally opening the show. The Honda booth at the SEMA Show is highlighted by the Fit customized by Tjin Edition, voted as the Fan Favorite in the 2015 Fit Performance Project, which enabled fans to track the build processes of several teams through an interactive Honda Tumblr site.
"The 2015 Fit is a worthy addition to Honda's strong heritage of developing tuned sport compact vehicles, and it wears the mantle of "Hottest Sport Compact" well," said Jeff Conrad, SVP & General Manager of Honda Division, American Honda Motor Co, Inc. "Fun to drive, versatile and a great value, the new Fit does so many things right, and it's great to see it becoming a popular platform for owner personalization."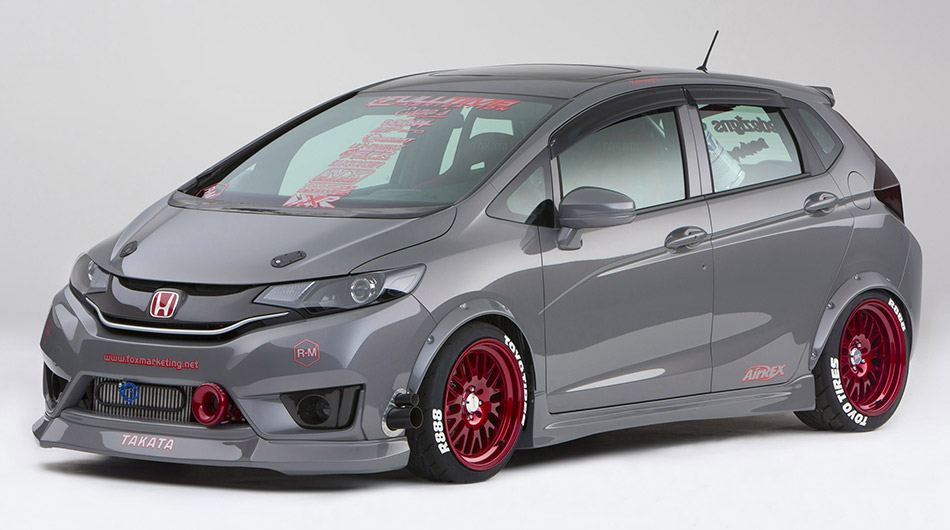 Over the past few months, Honda and its fans followed the progress of six build teams that customized the all-new 2015 Fit through an ambitious project vehicle program and interactive Tumblr experience dubbed the 2015 Fit Performance Project (#ProjectFit). The six build teams, Tjin Edition, voted Fan Favorite; Bisimoto Engineering; Kontrabrands; MAD Industries; Spoon Sports USA; and the award-winning Kenny Vinces, each personalized the Fit virtually in public, something rarely seen in a very competitive industry.
Three additional personalized 2015 Honda Fit vehicles are on display in the automaker's booth including a Fit B-spec race car prepped for competition by Honda Performance Development (HPD), Honda's North American racing company; a Fit loaded with available dealer-installed Honda Genuine Accessories; and an additional Fit personalized by prominent tuner, Bisimoto, on behalf of Norm Reeves Honda in response to fan feedback prompted through the 2015 Fit Performance Project.
HPD is back at the SEMA Show displaying its extensive line of racing engines which are available for purchase for sanctioned racers in North America. HPD has long supported grassroots through pinnacle racing, and the display highlights the broad spectrum of available engines ranging from go-cart motors to IndyCar and ALMS engines.
Bringing a "fun to ride" element to the Honda display, a range of Honda Powersports products help highlight Honda's broad range of enthusiast oriented products beyond automobiles. On display at the show: the Pioneer 500 side by side, the NC700X, CBR300R, and the wildly popular Grom.
After viewing all of the impressive vehicle displays at the 2014 SEMA Show, attendees with media credentials are also invited to celebrate at the second annual "Honda Soiree" on Nov. 4 from 10 p.m. to 2 a.m. at the Tao Nightclub inside the Venetian hotel complex. Members of the media are invited to visit the Honda booth in the Central Hall at the SEMA Show on Nov. 4, where a limited number of media entry wristbands will be available.
Source: Honda
Gallery:
Honda Fit Kenny Vinces (2015)