HUMMER is bringing its unmistakable style and unmatched capability to the truck market with the 2009 H3T. It is based on the architecture of the popular H3, but features a five-passenger crew cab and a separate five-foot-long (1.5 meters) bed.
The H3T is bigger than a midsize truck and smaller than a full-size truck, creating its own niche in the market. It also is infused with the attributes expected of a HUMMER, including exceptional off-road capability and a premium interior that is as functional as it is comfortable.
With its unique size and HUMMER traits, the H3T is ideal for the customer who works hard and plays harder, said Martin Walsh, HUMMER general manager. "It offers the combination of truck versatility and HUMMER off-road prowess that delivers customers to the trail in style.
In addition to its segment-defying size, the H3T also stands apart from other trucks with its signature HUMMER off-road capability. It is the only midsize truck to come standard with full-time four-wheel drive, 32-inch tires and functional skid shields. It also is the only midsize truck to offer front and rear locking differentials, as well as 33-inch tires. The V-8-powered H3T Alpha can tow up to 5,900 pounds (2,676 kg).
The H3T is offered in four trim levels, including five-cylinder models and the popular, V-8-powered H3T Alpha edition. Production is scheduled to begin in the third quarter of 2008 at GMs Shreveport, La., assembly plant, with vehicles arriving at HUMMER dealerships shortly thereafter. HUMMER will sell the H3T in North America, Europe and the Middle East.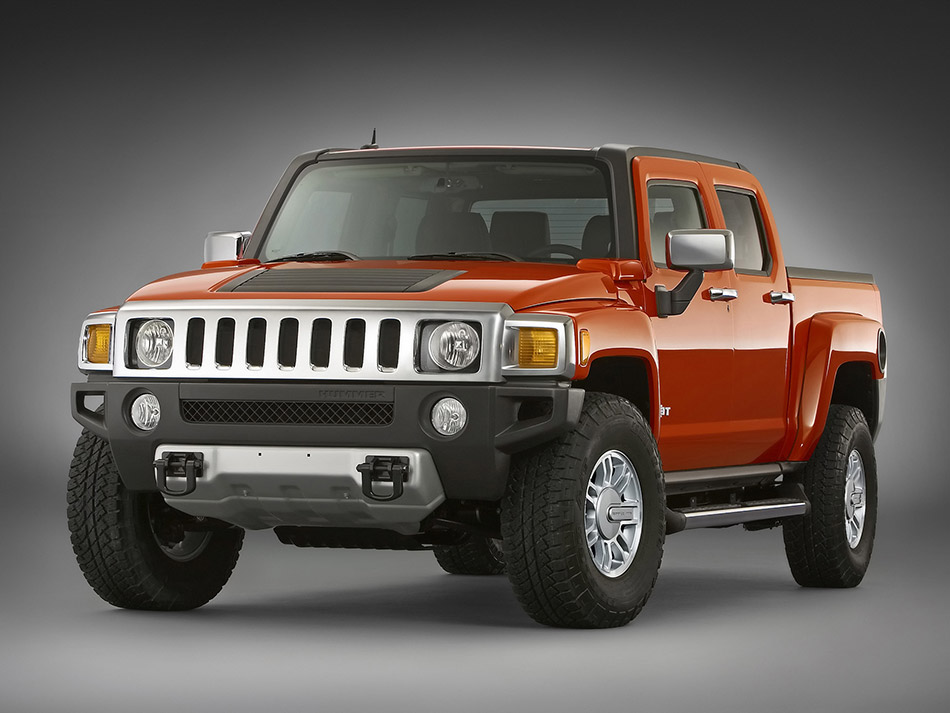 Design
Like all HUMMER models, the H3T has a purposeful design. Its consistent and iconic styling cues include a wide, aggressive stance; a low roofline and high beltline; and large, off-road tires. The wide, seven-slot grille and round headlamps mounted in square housings are signature HUMMER design elements.
Form following function is at the core of HUMMERs design philosophy, and the H3Ts capability reflects that mantra, said Carl Zipfel, HUMMER director of design and former motocross professional. It has a distinctive look that could be mistaken for nothing except a HUMMER and it also has the functionality to get the driver to and from the trail in style.
The crew cab body shares H3 styling and components from the B-pillar forward, while the rear section of the cab and the separate bed are unique to the H3T. The five-foot bed is similar in design and function to GMs recently redesigned full-size trucks, including an easily removable tailgate and provisions for a bed-rail accessory system. A full-size spare tire is mounted beneath the bed.
The bed is sized to carry a wide range of popular outdoor necessities, from hauling motocross bikes to Baja, a quad to camp, or backcountry gear to the trailhead. One of the industrys largest portfolios of accessories complements the H3Ts bed, offering different cargo management options to suit all of those lifestyle interests.
Accessories
One of the industrys broadest portfolios of vehicle accessories has been developed for the H3T. Centered on active lifestyles, items such as removable and lockable bed-mounted storage boxes; an adjustable bike chock that can be used to help secure mountain bikes or motorcycles; and a bed extender make full use of the standard bed-rail cargo management system. A range of additional accessories that improves off-road capabilities, provides passenger entertainment and enhances exterior styling is also available. There are more than 75 HUMMER Genuine Accessories offered.
In addition to the factory-developed accessory portfolio, HUMMER has partnered with top automotive aftermarket companies to develop more than 50 Officially Licensed HUMMER Accessories a first for the brand. A variety of exterior enhancements, such as a Slant Back Bed Cover, hard tonneau covers and a winch are offered, along with cargo management solutions such as the BedSlide and bed divider, offering countless possibilities to personalize the H3T.
Interior
The H3Ts crew cab cabin offers seating for five adults, with a 60/40-split rear bench seat that folds flat for increased cargo-carrying options. The cabins layout is essentially identical to the acclaimed H3 SUV, with premium materials and attention to detail that give the vehicle a functional yet refined aesthetic.
Standard amenities also include air conditioning, power locks, power windows and remote keyless entry. An AM/FM radio with CD is standard and a premium Monsoon audio system is available. XM Satellite Radio also is standard and includes three months of trial service.
HUMMERs Rear Vision system and a navigation system are available. The Rear Vision system uses a camera mounted on the rear bumper, directly above the trailer hitch mount, to provide a view of objects directly behind the vehicle. Also, the safety and security of OnStar is standard, with Turn-By-Turn Navigation and hands-free Bluetooth connectivity available.
Powertrain
Standard in the H3T is the Vortec 3.7L I-5 with dual overhead cams and variable valve timing. This inline five-cylinder engine offers an excellent combination of power and efficiency, delivering 242 horsepower (180 kW) at 5600 rpm* and 242 lb.-ft. of torque (328 Nm) at 4600 rpm. It is backed by a five-speed manual transmission or an available four-speed, electronically controlled automatic.
The H3T Alphas 5.3L engine is a powerful and efficient member of GMs legendary small-block V-8 family. It is rated at 300 horsepower (224 kW)* and 320 lb.-ft. of torque (434 Nm).* An aluminum cylinder block is used with the H3 Alphas engine. It helps reduce overall mass and maintains a more desirable front-to-rear weight balance.
A Hydra-Matic 4L60 electronically controlled four-speed automatic transmission is paired with the 5.3L engine. Flat towing is enabled on all H3 and H3T models.
Chassis
The H3Ts frame and suspension system are based on a stretched version of the H3 SUVs chassis and suspension the same race-proven design found on Baja 1000-winning stock-class race trucks. The wheelbase measures 134.2 inches (3,409 mm) 22 inches (86 mm) longer than the H3 SUV.
A ladder-type frame is the trucks foundation and it has a modular, three-piece design that incorporates fully boxed components for outstanding strength and stiffness. An independent SLA torsion bar front suspension and multileaf Hotchkiss-type rear suspension are used. There are two suspension packages available:
Z85 Heavy-Duty Handling and Trailering This standard suspension delivers an excellent balance of on-highway comfort and off-road capability. It includes 32-inch all-terrain tires mounted on 16-inch, smoke-color steel wheels, specially tuned heavy-duty shocks and either a 4.56-ratio (3.7L) or 4.10-ratio (5.3L) rear axle.
Off-Road Adventure Designed for more aggressive off-road performance, this optional suspension package includes taller, 33-inch tires, specifically tuned shocks, locking front and rear differentials, 4.03:1 low-range gearing in the transfer case and industry-leading crawl ratios of either 68.9 with the manual transmission or 56.2 with the automatic.
To support the torque output of the 5.3L V-8, the H3T Alphas front differential case is made of cast iron; other models feature an aluminum case. V-8-powered vehicles also receive higher torsion bar rates to support the increased mass and specific shock valving. The chassis and suspensions were validated in real-world testing on off-road trails in Moab, Utah; the Rubicon Trail in California, and other challenging off-road venues.
Off-road capability
The H3T lives up to HUMMERs legendary off-road reputation, with best-in-class extreme off-road capability. Highlights include:
Ability to climb a 60-percent grade and traverse a 40-percent side slope
Exceptional 10.2-inch (285 mm) ground clearance (with 33-inch tires)
38.7-degree approach angle and 30.1-degree departure angle (with 33-inch tires)
Segment-first available front- and rear-locking differentials
Standard HUMMER Hill Hold Assist for improved hill ascension
For most lifestyles, theres almost nothing the H3T cant handle, said Walsh. Its a truck with HUMMERs immutable capability.
Complementing the features that enable the H3Ts impressive off-road prowess are a host of first-class protective elements, including four standard skid shields: a front shield, an oil-pan shield/front-axle shield, a transfer case shield and a fuel tank shield.
Safety
Continuing HUMMERs tradition of delivering a broad range of safety systems, the H3T offers the following standard features:
Dual frontal air bags with GMs passenger sensing system
Head curtain side-impact air bags
StabiliTrak electronic vehicle stability control system
Four-wheel ABS with traction control
Tire pressure monitoring system
LATCH rear child seat anchors
OnStar with one-year Safe & Sound service
The H3T was also designed for vehicle-to-vehicle compatibility in the event of a crash, and its rigid body structure provides good passenger protection.
Source: Hummer
Gallery:
Hummer H3T Alpha (2009)