Almost two decades ago, Jeep invented the premium SUV (sport-utility vehicle) segment with the introduction of the Jeep Grand Cherokee. More than 4 million worldwide sales later, Jeep has comprehensively honed this winning formula and is now delivering the ultimate combination of Jeep 4x4 off-road capability and on-road refinement with the all-new 2011 Jeep Grand Cherokee.
New Jeep Grand Cherokee has been designed on a new platform to deliver premium on-road performance while maintaining the Jeep brand's legendary four-wheel drive, torque-on-demand two-speed transfer case for extraordinary off-road capability and durability.
The new vehicle also offers significantly lowered emissions and improved fuel economy (up to 39 mpg) with its new turbocharged 3-litre V6 CRD engine, together with a world-class interior providing luxury, comfort and enhanced safety. Despite its rugged, trail-tested off-road capabilities, the new Jeep Grand Cherokee is a sophisticated, luxury SUV that can easily be driven on an everyday basis by anyone.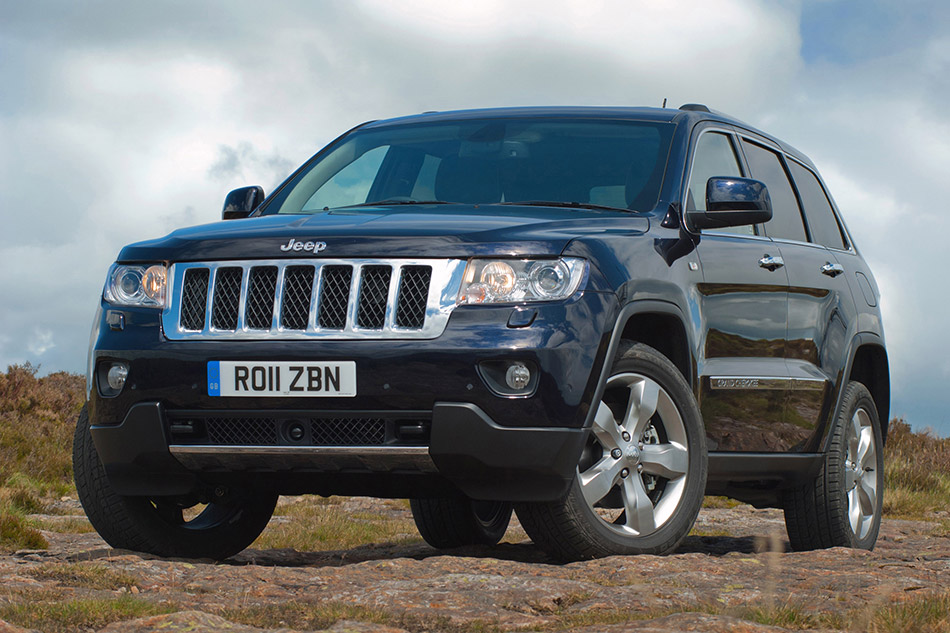 "With the all-new 2011 Grand Cherokee, Jeep has created the benchmark, premium SUV," says Mike Manley, President and Chief Executive Officer — Jeep Brand, Chrysler Group LLC. "Advanced features such as our new Quadra-Lift air suspension and Selec-Terrain traction control systems take the new Grand Cherokee to the next level of 4x4 capability. The new generation of the iconic Jeep Grand Cherokee delivers the perfect blend of on-road refinement, superb craftsmanship, world-class design, improved fuel economy, innovative features and legendary, real-world capability."
In the UK, new Jeep Grand Cherokee is available in two versions, Limited and Overland, both of which are powered by an all-new 237bhp 3-litre V6 turbodiesel.
Exterior Design and Dimensions
The all-new Grand Cherokee features a muscular and athletic new look with a high waist line and a steeply raked windscreen. A low drag coefficient illustrates the efficient aerodynamic shape of the vehicle.
The contemporary design language is nevertheless unmistakably Jeep, and is instantly recognisable thanks to the classic trapezoidal wheel arches together with the familiar Jeep seven-slot grille.
In terms of dimensions, although the car is approximately 7cm wider and 7cm longer than the model it replaces, the wheelbase has been stretched by over 13cm to give extra boot space, and more specifically, extra rear leg-room.
With regard to the cargo area, new Jeep Grand Cherokee offers up to 782 litres of space with all the seats in place - 11% more than the previous model; and the tailgate is power operated on the Overland version. Notwithstanding the amount of luggage space available, a full size spare wheel is carried.
The new Jeep also features short front and rear overhangs for much improved approach, departure and breakover angles and consequent superior off-road capability. The front spoiler is removable for when the terrain gets really tough, giving an extra four degrees of approach angle.
Interior Design
A world-class interior has been achieved thanks to fine materials and elegant appointments, while maintaining a focused attention to detail with high quality interior fit and finish throughout.
Premium materials such as real wood, leather, chrome accents, LED lighting, and premium seating deliver a strong impression of refinement and luxury - expressive design, quality of materials; the precise fit of all panels… these elements also contribute to enhanced noise isolation.
New, soft-touch materials are used at key 'touch points' throughout; including doors, consoles and armrests.
The quality of the seat upholstery is another important feature of the world-class interior. Both front seats are heated and ventilated with eight-way power assistance and four-way lumbar adjustment, with a memory system on the driver's side. In fact, the front seats feature an all-new structure with enhanced bolster contours for improved comfort. The moulded shape of the upper seat shoulder area adds to the look and feel of the seating, while the 12-degrees reclining rear seats, (60/40 split folding), together with the longer platform, enhance comfort for rear passengers who have over 100mm of additional rear legroom.
Interior Equipment
Alpine Premium Sound System
The standard equipment Alpine Premium Audio System creates a full, realistic sound experience using a high-powered 12-channel, 506-watt amplifier powering nine speakers and a subwoofer. Optimally placed throughout Jeep Grand Cherokee's cabin, this surround-sound speaker system delivers an unparalleled aural experience. This premium audio system allows everyone onboard to hear music precisely as the artist intended it.
Media Centre
The Media Centre features an AM/FM radio, CD/DVD player, satellite navigation system (standard on Overland) that's controlled via a 6.5-inch touch-screen, and a 30GB hard drive. Owners can store up to 6700 tracks on the hard drive and upload music and photos through the USB port or from a CD/DVD. The system includes a single-disc CD player, and can also play DVDs when the vehicle is stationary and the transmission is in Park. Uconnect Bluetooth® with voice commands means that the sound system, sat nav and mobile phones can be operated hands-free.
iPod Interface
With the iPod Control, most iPod-compatible devices can be connected directly to the vehicle's audio system using the iPod control cable. The iPod can then be operated through the Media Centre sound system or via the steering wheel-mounted controls. While connected, the system even charges the iPod.
Keyless Enter-N-Go
As long as the vehicle's ignition keys are somewhere on the driver's person (maybe in a pocket or a bag) the vehicle picks up signals from the transponder and unlocks it, when the driver touches the door handle. It also activates the push-button starter: the driver just presses the brake pedal and pushes the button to start.
The vehicle's equipment can also be activated without starting the engine. Without a foot on the brake, the driver pushes the button once; pushes twice to turn on the heating/air conditioning and instrumentation; or three times to turn it off again.
CommandView® panoramic sunroof (standard on Overland)
The front roof panel opens rearward, providing additional light and fresh air to front seat passengers. This front glass panel features an express one-touch open and close operation. The rear glass panel, which is fixed, provides extra light and visibility for rear seat passengers. A standard one-touch power sun-shade may be extended to cover the tinted glass panels when closed.
Platform
The all-new Jeep Grand Cherokee is the very first vehicle in the market to be built on this brand new platform. The structure was co-developed with Mercedes-Benz and will be used in next generation Mercedes vehicles. With an increase of 146% in overall torsional stiffness, it is now much stronger and more durable than before. As a result, noise, vibration and harshness levels have been drastically improved, giving much better on-road and off-road ride quality. The new platform engineering brings improvements in the following key areas:
Manoeuvrability
Overall agility
Cornering ability
Steering precision
The all-new Jeep Grand Cherokee tips the scale at 2,272kg, which is 38kg less than the outgoing model and represents a considerable achievement when the increase in dimensions is taken into account.
Outstanding touring attributes are another Jeep Grand Cherokee forte. The maximum towing capacity with a braked trailer is a class-topping 3,500kg, which includes an anti-sway damping system featuring a neutral position for flat towing.
Legendary 4x4 Capability
The all-new Jeep Grand Cherokee offers the new Quadra-Lift air suspension system, (standard equipment on Overland versions). Quadra-Lift air suspension system features five height settings for optimum ride performance:
Normal Ride Height (NRH): 8.1 inches of clearance offers improved fuel economy and improved aerodynamics during on-road driving
Off-road 1: Lifts the vehicle an additional 1.3 inches for added height in clearing obstacles (9.4 inches)
Off-road 2: Delivers legendary Jeep off-road capability and provides an additional 2.6 inches of height for 10.7 inches of ground clearance
Park Mode: Lowers the vehicle 1.5 inches from NRH for easy entry/exit and roof rack loading. NRH and Park mode are driver-selectable, giving the driver control over vehicle ride height
Aero Mode: Lowers the vehicle 0.6 inches from NRH. Aero mode is controlled by vehicle speed and adjusts for optimal performance and fuel economy
Quadra-Lift adds up to 4.1 inches of lift span that is supported by four-corner air springs that provide a cushioned, premium ride. It operates automatically, or may be controlled manually via console controls. Quadra-Lift enhances the ride quality and takes the Jeep Grand Cherokee another leap forward. It's a first-class closed system with a stored air reservoir for a faster response and no lift-time deterioration.
Driver benefits are numerous, and include:
Ease of entry/exit for passengers
Easier cargo loading and unloading
Improved off-road capability by increasing ground clearance, approach, departure and breakover angles
Improved on-road ride comfort
Improved fuel economy at motorway speeds - automatically lowering vehicle height to reduce aerodynamic drag
In addition to the Quadra-Lift air suspension system, the all-new Selec-Terrain traction control system (standard equipment on both Limited and Overland), lets customers choose the appropriate off-road setting for the optimum experience on all terrains. This feature electronically coordinates up to 12 different powertrain, braking and suspension systems, including throttle control, transmission shift, transfer case, traction control and electronic stability control (ESC).
Selec-Terrain, coupled with the all-new Quadra-Lift air suspension system, offers drivers an adjustable suspension span that delivers world-class capability. The system's control dial allows the driver to choose from five driving conditions in order to achieve the best all-terrain driving experience.
Sand/Mud: Traction control and Quadra-Lift operate with sensitive response to wheel spin, and torque is tuned for optimal performance
Sport: Provides enhanced on-road fun-to-drive capability
Auto: Automatically adapts to any on- or off-road situation
Snow: Vehicle traction adjusts for ultimate performance over snow-covered roads
Rock: Quadra-Lift air suspension system raises to maximum height (10.7 inches) and the transfer case, differentials, and throttle coordinate to provide low-speed control
With the front air dam removed, and the available Quadra-Lift air suspension system, the all-new Jeep Grand Cherokee features a 34.3-degree approach angle, (compared to 32.3 on previous model), a 29.3-degree departure angle (compared to 27.5 on previous model) and 23.1-degree breakover angle (compared to 20.4 on previous model).
The all-new front and rear independent suspension features isolated front and rear suspension cradles. Variable-rate rear springs deliver improved on-road handling and comfort that complement the vehicle's off-road capability. The new multilink rear suspension features lower control arms and camber/tension links that individually control cornering, bump and braking forces. This is regarded as the optimum set-up for ride comfort and handling stability. The compact design of the system also allows the spare tyre to be stored inside the vehicle as opposed to underneath. Anti-roll bars are features on both axles.
Go Anywhere 4x4 Systems
The 2011 Jeep Grand Cherokee employs a 4x4 system called Quadra-Trac II® which features a two-speed transfer box with low ratio gears and an electronically controlled clutch that allows variable torque distribution.
Quadra-Trac II's two-speed transfer case uses input from a variety of sensors in order to determine tyre slip at the earliest possible moment and take corrective action. The system uses Throttle Anticipate to sense quick movement in the throttle from a stop and maximises traction before slippage occurs. When tyre slippage is detected, as much as 100 percent of available torque is instantly routed to the axle with the most traction. Selec-Terrain is standard with Quadra-Trac II.
The drivetrain is further enhanced with sophisticated stability, hill assist and hill descent control systems featuring Brake Traction Control Systems on both axles (BTCS). BTCS uses the brakes to act on any wheel that is slipping, and allows additional torque transfer to those wheels with traction.
In addition, Hill Descent Control allows smooth and controlled descent on rough or slippery terrain without the driver having to touch the brake pedal. It applies the brakes to each wheel individually to slow the vehicle down and maintain driver control on steep slopes.
Meanwhile Hill Start Assist helps drivers make a hill start by keeping the brakes on for a short period of time after a driver's foot is removed from the brake pedal. If the throttle is applied when the driver's foot is removed from the brake pedal, the brakes are released.
Engine
Jeep first showed the Euro 5-compliant V6 3.0-litre turbodiesel engine, available in the Jeep Grand Cherokee for the UK and Europe, at the 2011 Geneva Motor Show. The new CRD engine is more powerful, more fuel efficient and produces lower emissions than its predecessor.
Built by VM Motori and developed together with Fiat Powertrain Technologies, this new engine produces maximum horsepower of 177 kW (237bhp) at 4,000 rpm and torque of 550 Nm (406 lb-ft) at 1,800-2,800 rpm. This translates to 10 per cent more power and eight per cent more torque than the engine it replaces.
Even with its improved performance, fuel economy for the new 3.0-litre turbo diesel engine is 34.0 mpg (8.3 L/100km) on the combined cycle, an improvement of 19 per cent over the previous diesel engine. CO2 emissions (combined cycle) are also reduced by 20 per cent, now at 218 g/km.
From a retail perspective the improvement in CO2 emissions represents a saving of £1,220 in current VED taxation over a five year period compared with the outgoing model.
The V6 turbodiesel engine is fitted with new-generation, 1,800-bar injectors along with new MultiJet II technology, developed and patented by Fiat Powertrain, which made its debut in 2009 on the 1.3-litre diesel engine in the Fiat Punto Evo.
Engine Block Structure
The new engine features a compressed graphite iron, 60-degree block with aluminium cylinder heads and a two-piece structural aluminium oil pan. Bore is 83 mm (3.27 in) and stroke is 92 mm (3.62 in) for a total displacement of 2987 cc (182 in3). Bore spacing is 96 mm (3.78 in).
The engine is compact and lightweight, with overall dimensions of 695 mm (27.36 in) in length, 729 mm (28.7 in) in width and 697.5 mm (27.46 in) in height. Weight of the new engine, including ancillaries, is 230 kg (507 lbs).
The engine block features a notably stiffened crankcase construction, including a bedplate that provides a rigid and stiff carrier for the crankshaft. This in turn helps reduce overall noise from the lower reciprocating assembly and contributes to significant improvements in lowering overall noise, vibration and harshness.
Adding to the structural rigidity of the block, the two-piece aluminium oil pan has been designed to provide strength and contribute to the quietness of the engine. The lower pan has been reinforced for off-road use. Crankcase capacity is 7.7 litres.
Cylinder heads are constructed of aluminium and feature a chain-driven, dual overhead-camshaft design with four valves per cylinder. Intake valves measure 28 mm (1.1 in), and exhaust valves are 24.5 mm (0.96 in) in diameter. Combustion-chamber volume is 24.68 cm3 (1.51 in3).
A forged-steel crankshaft is supported by four main bearing journals fitted with four-bolt main bearing caps incorporated into the bedplate. Externally balanced, the crankshaft measures 442.2 mm (17.41 in), reducing the overall packaging requirements of the engine. Connecting rods, with an overall length of 162.9 mm (6.41 in), are constructed in cast iron.
Lightweight, cast-aluminium pistons are designed to provide minimal friction. The compression ratio of the new diesel engine is now 16.5:1, reduced from 18.1:1 on the previous model, contributing to cleaner combustion and providing more power.
All main bearings are a lead-free design for reduced environmental impact during construction and later recycling of the engine.
Engine Performance Features
The induction system includes swirl control to optimise combustion. Fitted between the intake system and the combustion chamber, swirl control effectively provides an ideal air/fuel mixture at all engine speeds.
Precise fuel delivery is through a 1,800-bar common-rail fuel injection system. Thanks to the new MultiJet II technology, which makes use of a special balanced solenoid valve, the new injector is capable of making up to eight injections per cycle with the possibility of managing the two main injections in a single modular profile (IRS - Injection Rate Shaping). This guarantees a reduction in consumption and polluting emissions of approximately 2% compared to a traditional injector and ensures a drastic reduction in noise levels.
The new 3.0-litre diesel engine utilises a single Garrett VGT 2056 turbocharger with variable turbine geometry. Compact and lightweight, the turbocharger provides near-instant response and includes an air-to-air intercooler.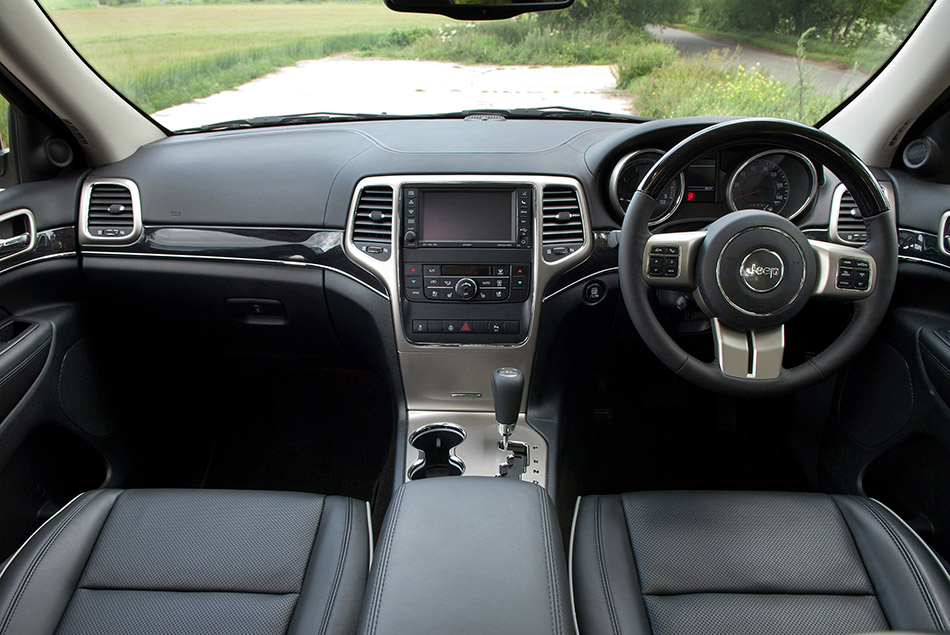 Fuel Economy and Emissions
Fuel economy for the Jeep Grand Cherokee with the 3.0-litre turbodiesel engine is rated at 27.4 mpg on the urban cycle and 39.2 mpg on the extra-urban cycle. For the combined cycle, the fuel economy is rated at 34.0 mpg. At motorway cruising speeds, 700 miles can easily be achieved on a single tank of fuel. The engine is designed to run on EN590 ultra-low-sulphur diesel fuel.
For this power unit, cast-iron exhaust manifolds are utilised. Additional emissions controls include a close-coupled diesel oxidation catalyst and standard diesel particulate filter. Euro 5 emissions are met through an exhaust-gas recirculation (EGR) system that includes an EGR valve with DC motor and a high-performance EGR cooler with bypass valve.
Combined cycle CO2 emissions are now 218 g/km. Not only is the engine more frugal and environmentally-friendly, but it also delivers outstanding performance, providing the new Jeep Grand Cherokee with a 0-62mph time of 8.2 seconds and a top speed of 126mph.
Safety and Security
Thanks to the immensely stiff new platform featuring advanced Multi-Stage front airbags and side curtain airbags as well as supplementary side airbags, the new Jeep Grand Cherokee provides unprecedented levels of safety for all passengers.
All of the following equipment comes as standard on both trim levels:
Sentry Key® Theft Deterrent System
Thatcham Category 1 Alarm and Immobiliser
Active head restraints
Advanced Multi-Stage front airbags
Side curtain airbags
Supplementary side airbags
Anti-lock 4-wheel disc brakes
Centre rear 3-point seat belt
Child seat upper tether anchorages
Electronic Stability Control
Enhanced Accident Response System
Traction Control
Front seat mounted side airbags
Laminated front door glass
Power locks
Rear fog lamps
Anti-sway damping system
The top-of-the-range Overland version possesses exclusive and state-of-the-art features, which are options on most of the Jeep Grand Cherokee's rivals:
Uconnect navigation system with Media Centre 6.5" touch screen display and 30GB hard drive
Blind-spot and rear cross path detection (Overland only)
Adaptive cruise control (Overland only)
Forward collision warning (Overland only)
Quadra-Lift air suspension
Safety and Security Summary
Both UK versions of the new Grand Cherokee are fitted with Thatcham Category 1 alarm and immobiliser systems, and the main safety and security features also include Active Head Restraints, advanced multi-stage airbags, Electronic Stability Control with ABS and ERM (Electronic Roll Mitigation), Tyre Pressure Monitoring System (TPMS), Bi-Xenon headlamps, ParkView rear back-up camera, Trailer Sway Control which reduces trailer sway and improves handling in adverse towing conditions; rain-sensing wipers, ParkSense front and rear park assist system; SmartBeam headlamps and a system called EARS which, after an accident, turns on the interior lights, unlocks the doors, turns on the hazard warning flashers and initiates fuel shut-off.
The latest safety and security features are also available, including Adaptive Cruise Control, Forward Collision Warning, Ready Alert Braking, Rain Brake Support, Blind Spot Monitoring and Rear Cross Path Detection.
Source: Jeep
Gallery:
Jeep Grand Cherokee UK Version (2011)