In 1995, the Hyundai California Design studio (HCD), located in Fountain Valley, Calif., U.S.A., began a cooperative venture with Hyundai design studios in Korea to develop and engineer an all-new sport utility vehicle. Hyundai's first SUV would be engineered to provide consumers with V-6 power and strength at an affordable price. It also would feature enough room to carry families and cargo in comfort and style, without being too large or fuel-thirsty. While designers kept the North American market first in mind, other markets around the world also were considered important and the needs and desires of these consumers were considered as well.
In addition to Korean-American cooperation on the project, additional input was received from Hyundai's other design centers in Japan and Germany. While not involved on a day-to-day basis, ideas were freely shared among all of Hyundai's multi-nation design centers, making the result a true international project.
The Santa Fe concept vehicle is the first expression of these design goals.
"The joint venture between California and Korea was in direct response to what our dealers were telling us they needed for their customers," said Finbarr O'Neill, president and chief executive officer of Hyundai Motor America. "HCD was a natural partner for our Korean designers because the United States has the largest market for sport utility vehicles and American-based design teams best know the interests and desires of the SUV consumer segment."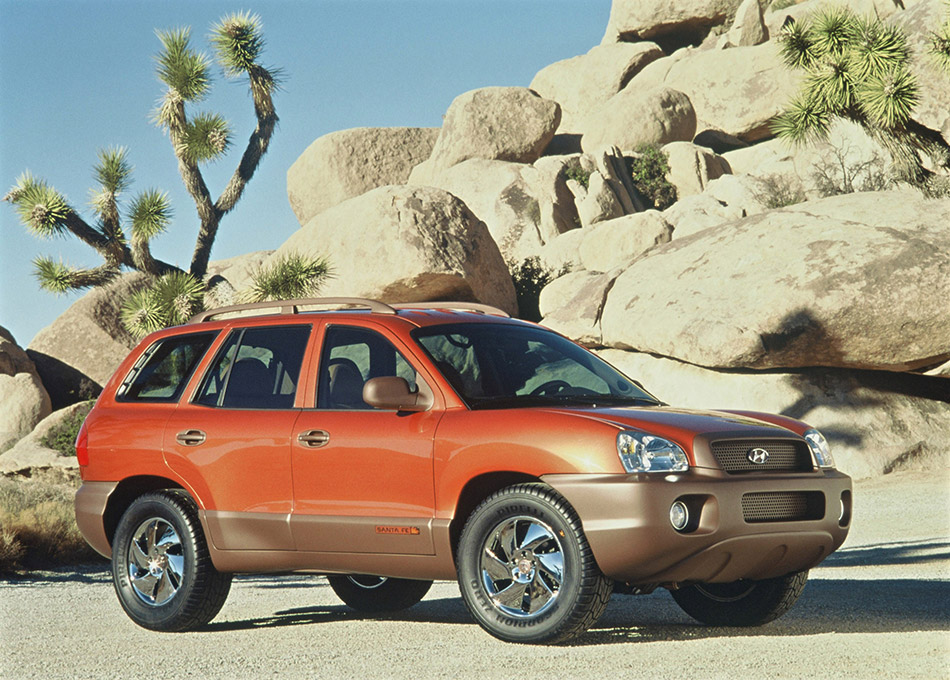 "Right-Sized" with a look of strength and sophistication
Throughout development of the Santa Fe, Korean and U.S. designers aimed at creating an SUV that was sized just right, one that featured a modern, sophisticated look inside and out, and also had sufficient off-road ruggedness to meet the needs of the average SUV buyer.
Hyundai designers crafted an SUV that was small enough for good maneuverability, easy parking and reasonable fuel consumption, yet large enough for plenty of gear and small families. Without being overly tall and with a low access height, the Santa Fe provides a commanding seating position with a better view of the road than passenger cars.
The Santa Fe's width helps it meet the needs of consumers who feel the smallest SUVs lack sufficient space. A wider stance than most mini SUVs, plus aggressive 17-inch wheels and tires, also give the latest Hyundai design a feeling of off-road strength and ruggedness.
With the exterior, the Santa Fe needed to encompass the styling of the current Hyundai product line. Family ties to Hyundai's Tiburon are obvious when looking at the character lines over the Santa Fe's front and rear wheel wells, while its large ovoid headlights are reminiscent of the Sonata.
These passenger-car cues give the Santa Fe's body a modern, sophisticated look. Meanwhile, inside, driver and passengers will find purposeful placement of the sound system and ventilation controls, an all-leather interior, and thoughtful touches such as the "free-floating" door handles, triple power outlets and pull-out picnic table. The result of all this work was seen in the results of early consumer clinics. Participants clearly responded to the vehicle as an SUV but indicated they saw it as luxurious and sophisticated. They indicated it appeared to provide ruggedness and security but with a surprising level of luxury.
Designs for the future
Established in 1990, the Hyundai California Design studio plays a vital role in the company's commitment to advancing concepts that satisfy both the North American and world markets. Working closely with Hyundai studios in Korea, HCD has long demonstrated its ability in developing innovative automotive design concepts with its "HCD" series of unique futuristic concept vehicles.
The styling of today's Hyundai Tiburon (known as the Hyundai Coupe in other markets) flows directly from HCD II Coupe, which was debuted in 1993 at the New York Auto Show. HCD I was first shown at the North American International Auto Show in Detroit in 1992. This convertible two-seater had lines which were precursors to HCD II and Tiburon.
HCD III also was first seen in 1995 at the North American International Auto Show. It was a combination of a sports car and a sport utility in one package, the first time in recent history that such a vehicle had been displayed. Since that time, several other concept vehicles have been seen with this cross-over approach.
The Santa Fe is Hyundai California Design's first pure sport utility vehicle. It shows the progression and diversity of thought present in the HCD studio.
Final fabrication and preparation of the Santa Fe was handled by Italdesign California Inc. (IDC), located in Irvine, Calif. IDC is a wholly owned subsidiary of the renowned Italian design house, Italdesign, founded by Giorgetto Giugiaro and Aldo Mantovani.
Hyundai Motor America, based in Fountain Valley,Calif., is a subsidiary of Hyundai Motor Company of Korea. Hyundai cars are distributed in the United States by Hyundai Motor America and are sold and serviced through nearly 500 dealerships nationwide.
Source: Hyundai