The Hyundai ix-Metro Concept, the fifth in the Hyundai Namyang Design (HND) series of concept cars to be created by the Global Design Team in Korea, is an entry-level hybrid CUV which brings a new form to the traditional sub-B segment.
Targeting young European urbanites, the Hyundai ix-Metro Concept offers all the practicality, robustness and versatility of a CUV in a stylishly sophisticated package.
For thematic inspiration, the design team reached for the stars and during ideation sessions immersed themselves in the rich visual world of space travel — the ultimate aspiration of mobility. "We wanted the ix-Metro to be something out of this world. We took our inspiration from NASA and even sci-fi movies because spacecraft are universally understood symbols of progress and innovation," explained Rogelio J. Flores, Chief designer on the Hyundai ix-Metro Concept project.
The Hyundai ix-Metro Concept represents a striking departure from the flowing design language found on recent Hyundai production and concept cars. It explores a new direction with its use of faceted surfaces and strong triangulating lines achieving a pleasing dynamic tension. The high beltline gives a protective feeling, while twenty-inch rims give the vehicle a purposeful muscular stance.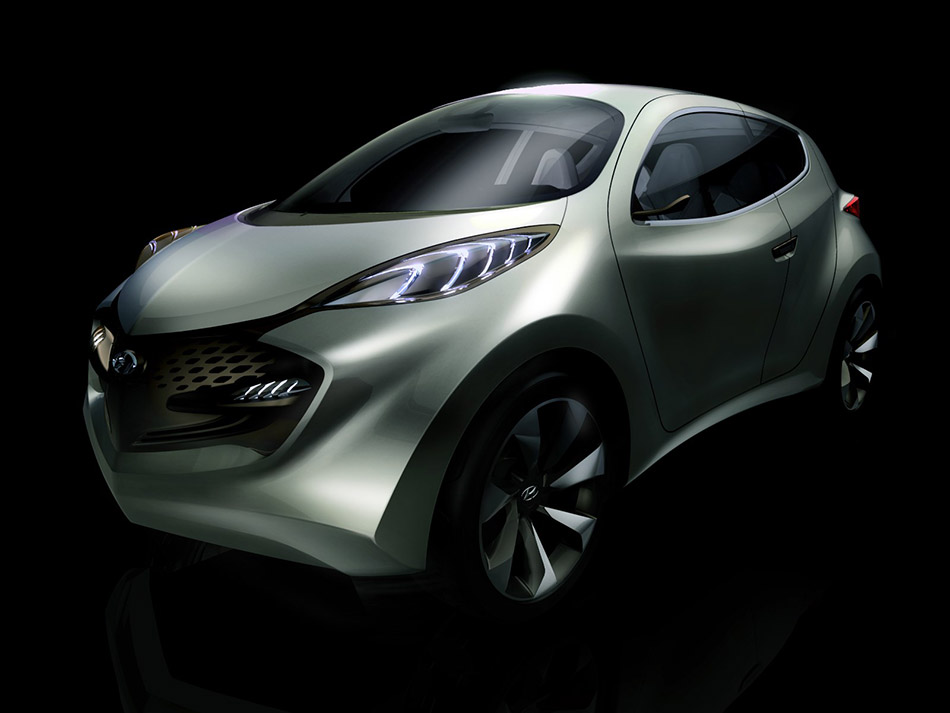 Up front, ice-blue LED lighting elements interplay with subtle shades of gold, while the faceted front grille with its integrated fog lamps projects a striking, imposing look.
While to outward appearances the lack of a B-pillar may lead one to conclude the Hyundai ix-Metro Concept adopts a conventional 'suicide door' configuration, engineers rejected the rear-hinge in favor of a sliding mechanism for the rear door. The pillar less design not only enlarges the greenhouse to improve all-round visibility, but more importantly allows easier entry and egress into the rear passenger area.
The idea of a protective capsule served as the guiding principle for the interior designers, who opted for a wraparound effect connecting the dashboard, center console, door panel and front seats for a strongly unified look. Surfaces for the seating, cargo space and other key panels are divided by light-filled gaps. Ice-blue illumination creates a high-tech effect.
Taking inspiration from sci-fi movies, the designers have chosen a white semi-transparent silicon-like material to cover the dashboard area, which conceals the central display to deliver route information and key controls. The effect is thoroughly modern and unified.
Other high tech accoutrements include digital side view cameras, whose ultra-slim profiles minimize air turbulence and wind noise, yet have maximized outward visibility for safety.
Supporting the concept of a small-sized SUV are the foldable rear seats and cargo area, which are connected into one functional loading area. As for the front seats and front exterior illumination, ice-blue lighting is used to divide the cargo area into handy compartments for different purposes.
As a CUV, the Hyundai ix-Metro Concept conveys a feeling of safety, an all-important factor in today's challenging urban environment. And with its greater ground clearance and higher seating position, the ix-Metro driver will simply feel safer.
The Hyundai ix-Metro Concept promises to deliver zippy performance while striving to be ecologically-correct with CO2 emissions of just 80g/km thanks to its hybridized powertrain which is capable of 92kW @ 6000rpm. Displacing just 1-litre, the three-cylinder petrol engine incorporates highly sophisticated features to maximize output while minimizing fuel consumption. These include continuously variable valve timing, turbocharging and direct injection. Up to 5kW of torque assistance comes from the starter motor-alternator with power stored in an ultra capacitor (Electric Double Layer) and a 12V battery. The hybrid system delivers 16.0kg.m of peak torque at 1750~4500rpm through a six-speed dual clutch transmission.
Source: Hyundai
Gallery:
Hyundai ix-Metro Concept (2009)